Jurassic World: Dominion Dominates Fandom Wikis - The Loop
Play Sound
SPOILER WARNING

This article contains spoilers of important plot details regarding the plotline of OMORI.

---
The truth... I am used to know it...
But... I am... cannot remember...

— ABBI
ABBI is a character and enemy in OMORI. ABBI is known as the wisest of the "three great creatures" of HEADSPACE, now banished to THE ABYSS for unknown reasons. She also serves a boss exclusive to the OMORI ROUTE, accessible after collecting all the keys that complete the HANGMAN drawing.
PROFILE
APPEARANCE
ABBI appears as a large head laying down, embedded in the ground. She can only be viewed from the side, where one of her eyes and the outline of a fringe can be seen. Eight tentacles rise out from the ground in front of her, most likely forming a part of her.
PERSONALITY
Little is known about ABBI's original personality, but she now comes off as very child-like and innocent, as her speech pattern consists of many pauses and is riddled with grammatical errors. She is genuinely frightened when defeated, repeatedly apologizing and asking for forgiveness. If spared, she shows sincere gratitude through a multitude of gifts for OMORI and friends.
STORY
BACKGROUND
Long before the events of the game and before HEADSPACE existed, ABBI was one of the three "great creatures", serving the role as the wisest. Later on, she was stripped of such wisdom and banished into THE ABYSS for committing an act of some kind against her better judgement.
The exact reason for ABBI's banishment is unknown, but it is widely speculated that she was banished for telling SUNNY to forgive himself for MARI's death.[1]
OMORI ROUTE
ABBI can only be found from ONE DAY LEFT. On this day, HITCHHIKER appears in the UNDERWATER HIGHWAY to lead OMORI and friends into THE ABYSS. She is found at the very end of THE ABYSS, a static-covered room with a side-scrolling view and only a picnic basket in the corner. As OMORI and friends approach her, she will awaken and attack them without dialogue, initiating a boss fight.
Once defeated, ABBI will apologize profusely, and begs for OMORI to forgive her. The player can choose to spare her or not. Choosing not to spare her yields ABBI'S EYE, while the rest of her disappears with the area's BGM going silent. This will also render THE ABYSS inaccessible once the party heads back to the UNDERWATER HIGHWAY, as the HITCHHIKER will vanish afterwards.

If she is spared, she will thank OMORI and tell him that her tentacles are spread throughout HEADSPACE and will gift the team with "gifts" (equipment) if found.[2]ABBI will remain in her prison and speaking to her again causes her to remark that she has forgotten a certain "truth" that she used to know.[3]
BATTLE
GENERAL
STATS
HEART
JUICE
ATTACK
DEFENSE
SPEED
LUCK
HIT
8,000
2,500
63
76
90
20
95
REWARDS
TYPE
EMOTION
NEUTRAL
HAPPY
SAD
ANGRY
EXP
20,000
20,000
15,000
30,000
CLAMS
10,000
15,000
7,500
10,000
ITEM
0%
0%
0%
0%
SKILLS
SKILL
NOTES
DAMAGE
ATTACK
ABBI attacks _____!
(Attack x 2 - Foe's Defense)
REVIVE TENTACLES
ABBI focuses her HEART.

Summons a TENTACLE to assist her in battle.

-
ATTACK ORDER
ABBI stretches her tentacles.

All enemies become ANGRY and their ATTACK increases.

-
SKILL
NOTES
DAMAGE
ATTACK
TENTACLE slams _____!

_____ takes moderate damage.

(Attack x 2 - Foe's Defense)
WEAKEN
TENTACLE weakens _____! _____ let his/her guard down!

______ becomes vulnerable for one turn; any following attack will hit right in the HEART.

-
WRAP
TENTACLE wraps around _____!

_____ takes damage and becomes AFRAID.
This attack only has a 10% damage variation.

100
GOOP
_____ is drenched in dark liquid!

_____'s ATTACK, DEFENSE, and SPEED decreases.

-
All skills, unless stated otherwise, have a 20% variance rate. This means they will do between 80% and 120% of their regular damage.
AI
SKILL
NOTES
EMOTION
NEUTRAL
HAPPY
SAD
ANGRY
REVIVES TENTACLES
ABBI focuses her HEART.*
70%
70%
70%
70%
ATTACK ORDER
ABBI stretches her tentacles.**
35%
35%
35%
35%
ATTACK
ABBI attacks _____!
100%
100%
100%
100%
SKILL
NOTES
EMOTION
NEUTRAL
HAPPY
SAD
ANGRY
ATTACK
TENTACLE slams _____!
40%
25%
30%
45%
WEAKEN
TENTACLE weakens _____! _____ let his/her guard down!
30%
35%
25%
20%
WRAP
TENTACLE wraps around _____!
30%
35%
45%
35%
GOOP
_____ is drenched in dark liquid!
100%
100%
100%
100%
Every turn, each enemy will start by trying to use the skill listed at the top. If the calculation fails, they move on to the second skill and so on, until reaching the final skill which is guaranteed to activate. Each calculation is done independently from the previous ones, so the added percentage is not 100%.
*If there are less than 5 enemies in battle, then ABBI will have a 70% chance to summon another TENTACLE to aid her if one of them is brought down.
**If she is not alone, then ABBI will have a 35% chance to use this skill, which boosts up all enemies' ATTACK and turns them ANGRY.
STRATEGY
Residing in the deepest section of THE ABYSS, ABBI is a dangerous secret boss. Alone she isn't very effective, but the real threat of the battle comes from the four TENTACLEs that accompany her, each classified as a separate entity that does its own action so that the player is fighting five enemies at once. The result is the TENTACLEs firing off strong attacks, debuffing party members, and inflicting AFRAID at a rapid pace. ABBI can take advantage of this numbers advantage by "stretching her tentacles" to give herself and all active TENTACLEs an ATTACK boost and making them ANGRY, resulting in a rare case (Only otherwise seen in PYREFLY FOREST if HERO is attacked by an ANGRY BUG BUNNY) where the player will see that ANGRY has an advantage over AFRAID.
Frustratingly, the TENTACLEs' AFRAID-inducer calculates damage after changing the emotion, which can result in a cheap moving attack. Additionally, if any TENTACLEs are defeated, ABBI is capable of reviving them one at a time. While ABBI is a little weak damage-wise as far as endgame bosses go, if the TENTACLEs aren't brought down quickly, the party will find themselves overrun by the sheer number of attacks the enemy can do per turn.
Like all SOMETHING-based battles, all party members (except for OMORI, who is immune) begin the battle AFRAID -- a problem when it not only restricts Follow-Ups and most Skills, but has a disadvantage against ANGRY enemies; having some CONFETTI on hand to prevent this is highly recommended. Being able to attack all enemies at once is key to this fight so that the TENTACLEs don't overwhelm the party: this is a simple task if OMORI has gotten his extra skills from the LOST LIBRARY, but not having done this makes ABBI a lot harder.
In this case, it's recommended for OMORI to use FINAL STRIKE constantly, and for AUBREY to choose between using WIND-UP THROW for additional damage (but not much as it is less effective with more enemies) or focusing solely on ABBI. HERO should avoid MESMERIZE-tanking as if he is made afraid, he can end up toast. KEL can focus on ABBI with RICOCHET and eventually CURVEBALL after she becomes ANGRY, and he can do a Follow-Up with HERO to attack all enemies; otherwise the brothers will probably be keeping everyone alive and managing all the stat debuffs the TENTACLEs apply.
It is not impossible for a very high-level party to defeat ABBI through simply bursting her down before her debuffs pile up to a dangerous extent. If OMORI has RED HANDS, he can inflict massive amounts of damage to her, especially if the party has the emotional advantage (HAPPY is recommended due to ABBI being able to ANGER herself and her tentacles en masse) and KEL uses TICKLE to guarantee critical hits on all attacks, AUBREY can start off with POWER HIT to mangle ABBI's defenses before moving to BEATDOWN, and thanks to her relatively low damage output, HERO can get a few TENDERIZE uses early on. Defeating ABBI will instantly get rid of her tentacles as well.
GIFTS
If OMORI forgives ABBI, she will give him items. If not, she will drop ABBI'S EYE.
QUOTES
ABBI NPC (After Defeat)
Please... No more... I am... sorry...

I am eight small pools... red tentacles...
across HEADSPACE...

I am bring... offerings there...

Please... please... please... Forgive me... My best friend...

Thank you... DREAMER...

I am... a gift for you... DREAMER.

ABBI Battle Quotes
ABBI:
Ngh...

ABBI:
Goodbye...

GALLERY
IN-GAME
ABBI
TENTACLE
SPRITES
TRIVIA
It's often speculated that ABBI may have been based on "TAKO-CHAN", who appears briefly in the original OMORIBOY Blog. This has never been officially confirmed nor denied.
She refers to OMORI as "Dreamer", implying that her knowledge extends far beyond HEADSPACE.
In the game's data, ABBI is sometimes referred to as ABBY.
In-battle, like the other SOMETHING variants, ABBI's tentacles seem to be made of a dark clay-like material, this can be a reference of the use of clay in psychology, a fairly common practice used with children to help them express their fears and other delicate information, as well as for other treatments with both children and adults.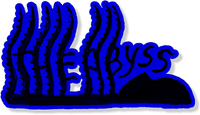 The intro card for THE ABYSS is largely based on ABBI and her dark TENTACLES.
REFERENCES
↑ BRANCH CORAL: The wisest, against her reason, committed an act that opposed the DREAMER's will. It is an act that is not even known to me. As a result, she was stripped of her wisdom and banished to isolation... a special prison somewhere deep, deep down.
↑

ABBI: I am eight small pools... red tentacles... across HEADSPACE... I am bring... offerings there...

↑

ABBI: The truth... I am used to know it... But... I am... cannot remember...
SITE NAVIGATION