SPOILER WARNING

This article contains spoilers of important plot details regarding the plotline of OMORI.

---
Hi, OMORI!! We were hoping that you'd come by soon! Wanna play cards with us?

— AUBREY
AUBREY is one of the three deuteragonists in OMORI that join OMORI's party. However, in the FARAWAY TOWN sections in the game, she serves as a minor antagonist. When AUBREY is in the lead, she can smash obstacles with a bat.
PROFILE
APPEARANCE
In HEADSPACE, AUBREY wears a light-blue dress and a pink bow in her long hair. As the other four, she does not wear socks or shoes and her hair and eyes are purple/dark blue like KEL and HERO. She also carries around a blue plushie known as MR. PLANTEGG.
Naturally, AUBREY has dark brown hair and eyes but she dyed her hair pink and wears teal contacts. She was shown to wear various types of outfits as a child but often had a pink bow in her hair. As an older teenager, she is seen wearing a bright-blue handkerchief tied into a bow, white and yellow varsity jacket, a crop top and mini skirt, and wields a nail bat.
PERSONALITY
During her youth, AUBREY is very cheerful and is always happy to play with her friends. Despite this, she becomes sad and worried quite easy, such as being the most anxious when BASIL goes missing. Often she is clumsy, resulting in yelling from KEL, who she always fights with. She is also shown to be very emotional at times when something bad happens but still retains her happy lucky-go attitude. These traits are shared with her HEADSPACE counterpart, albeit slightly different with her puppy love persona towards OMORI.
In the REAL WORLD, after finding out about MARI's death, she began coping through having strong feelings of hatred against her old friend group, interpreting their reactions as them moving on too quickly. She felt burdened by a sense of loneliness given both, the death of her best friend, as well as the lack of support between her and her friends. She turned short tempered and violent, taking those bursts out on others, one of the main victims of her bullying being BASIL with THE HOOLIGANS. She's cold and hostile to her old friends at first, not afraid to fight them. Even so, she's trying to find peace by praying.
When re-conjoining with SUNNY, HERO, and KEL's party, she begins to be more understanding of the past and people's feelings, becoming civil and open about her feelings as well. She's shown expressing care for SUNNY'S physical health and apologizes to BASIL.
STORY
BACKGROUND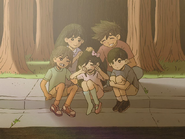 AUBREY was born to her unnamed mother and father the same year as SUNNY, KEL, and BASIL. She lived with her parents at their house, though it is suggested that they may have lived in squalor. She met HERO, KEL, MARI, and SUNNY, when they found her crying on the sidewalk because she lost her shoe[3]. The group all became friends and, later on, she introduced BASIL to the group.
The 6 friends made many memories together, such as playing cards in the treehouse together, visiting the beach, picnicking, playing the rain, and attending BASIL's birthday party. AUBREY and BASIL sold cookies and lemonade in the summer to save up money and, for Christmas, she along with the rest of the group pooled their money to get SUNNY an expensive violin.
On the day of SUNNY and MARI's recital, AUBREY and her dad were getting ready for the two siblings' performance. It was supposed to be that night, but when they came home in the evening, they found out that MARI had died, believing that she hanged herself.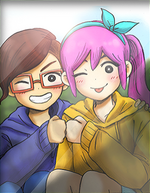 In the few months after MARI died, SUNNY and BASIL became more closed off, KEL made a bunch of friends playing sports, and HERO always seemed to be busy studying. She was angry at how life kept moving on and felt like everyone abandoned her and MARI. After SUNNY stopped coming to school, she saw BASIL sitting alone during lunch and asked him if he wanted to study together at his house. He seemed kind of uneasy about it at first but after she begged him, he agreed.
The walk there was quiet and BASIL wouldn't look at her. When they got to his room, she tried to talk to him, but he said he had to go to the bathroom and ran off. That's when she spotted his old PHOTO ALBUM on his bookshelf. When she opened it, she had found some of the photographs scribbled with marker, and assumed it was BASIL's doing, though it was actually SUNNY's. She stole his PHOTO ALBUM and started calling him "creep" and other insults. And eventually, she wasn't the only one calling him names. Ever since then, she has been trying to cut herself off from everyone.
She dyed her hair pink and became friends with KIM as well as becoming the queen bee of the local delinquents, THE HOOLIGANS, always carrying a nail bat. She also started attending church sermons regularly, hoping to find peace of mind.
THREE DAYS LEFT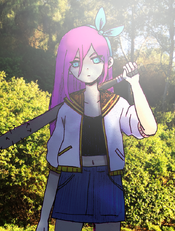 KEL and SUNNY can first encounter AUBREY and the rest of THE HOOLIGANS riding their scooters down the lower street in FARAWAY. Later, when they see BASIL asking KIM to talk to AUBREY for him, KEL gets involved as he sticks up for him. This causes a commotion that alerts the attention of AUBREY, who shows up with the other HOOLIGANS. SUNNY and KEL fight AUBREY, but the group flees after noticing SUNNY is armed with a knife, potentially after SUNNY stabbed her with it depending on the actions the player took during the preceding fight.
Upon learning that AUBREY stole BASIL's PHOTO ALBUM afterwards, SUNNY and KEL head off to interrogate the HOOLIGANS for AUBREY's whereabouts. SUNNY and KEL go about FARAWAY TOWN, asking from and fighting with each member of the HOOLIGANS before being told that AUBREY's at CHURCH.
They later encounter her again in CHURCH where they ask to get BASIL's photo album and they fight again. KEL questions AUBREY for stealing BASIL's PHOTO ALBUM, which leads to an heated argument. AUBREY repeatedly questions why they're coming back into her life. She wants to keep distance from them.
Realizing that there's no point explaining her reasons due to KEL's argument, AUBREY fights them both once again. The fight ends as the church attendants around them gossip about her history, which causes an tearful AUBREY to run off. She later throws out the photo album, leading to SUNNY and KEL digging through the trash to retrieve it, but some photos are missing. Even though she acts cold to her old friends and tries to distance herself, she always cared about them, washing off the black marker on the photos of them together until it was spotless.
TWO DAYS LEFT
The next day, AUBREY and THE HOOLIGANS are seen eating pizza at GINO'S, with AUBREY ignoring SUNNY and KEL's presence silently. She later heads over to HANGOUT SPOT and finds BASIL there as well for unknown reasons. The HOOLIGANS attempt to force BASIL to leave but this leads to the latter to cry out for help. SUNNY and KEL arrive at the spot, and KEL attempts to stop them as usual.
AUBREY then decides to fight the two, this time with the HOOLIGANS backing her up. A fight ensues, and it doesn't matter if the player wins or loses. Either way, KEL tells AUBREY that even though she spends more time with her new friends, she still comes over to the old hangout spot, meaning she still cares about her old friends. This causes AUBREY to back down in silence.
Having enough of constantly tormenting BASIL, the HOOLIGANS exit the secret hangout spot, leaving AUBREY alone with her former friends. AUBREY then has a emotional breakdown, angrily questioning her old friends why do they keep coming back into her life. BASIL tries to talk to her but this only results in AUBREY accidentally shoving him right into the lake. It's implied she's angry about the photographs when she's yelling at BASIL, thinking he had covered them in black marker.
AUBREY immediately regrets her action and panics as KEL yells at her for harming BASIL. Knowing that BASIL might drown, KEL tells SUNNY to dive in to save him. However, SUNNY isn't able to fully rescue BASIL. HERO manages to arrive at the HANGOUT SPOT in the nick of time, saving both SUNNY and BASIL. Once SUNNY regains consciousness, the boys decide to take BASIL back to his home for recovery. AUBREY demands where they're all going, to which KEL bluntly tells her she's already done enough harm. As the group leaves, AUBREY is left alone once again.
ONE DAY LEFT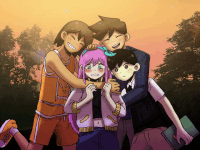 On the final day, AUBREY's best friend, KIM, knocks at SUNNY's door to ask them to go check on her, because she's upset and won't come out of her house. All the delinquents are outside her house and are genuinely worried about her. The party enters her unlocked door to discover trash scattered everywhere and her mother unresponsive and fixated in front of the TV.
They climb the ladder up to her room and she gets angry, but HERO finally gets her to talk, have a heart-to-heart and makes up with everyone, and leading her to apologize being 'such a jerk'. They find the missing photos, which all picture MARI, on her corkboard, and she says she took them because "it's all she has left of her." They put them back in the PHOTO ALBUM and she joins the party.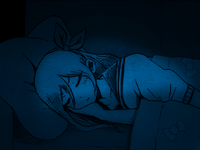 For the rest of the day she hangs out with everyone, reminiscing at some spots in town, and then they go see their old treehouse. She leaves her pink pinwheel in the stump of the tree where MARI was found and starts being open with everyone about her feelings. She apologizes for blaming them for not being there and starts to come to terms with the past. She also reveals the reason as to why she's mad at BASIL.
Then they go to BASIL's house and, even though he won't open his door or talk to anyone, she apologizes sincerely to him. They all sleep over in the living room. However, their peaceful sleepover ends right after SUNNY manages to stop BASIL from committing suicide despite getting a severe eye injury in the process.
MOVING DAY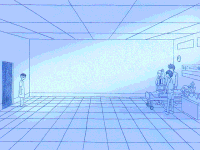 AUBREY and the others wake up and find the two boys unconscious and soon rushed to the hospital. After a climatic struggle against OMORI within his mind, SUNNY awakens in his hospital bed crying with a bandage over his right eye, finally coming to terms with MARI's death. He then limps out of his room and visions his HEADSPACE friends and STRANGER for the final time as he heads towards BASIL's hospital room.
From there, AUBREY can be seen standing beside BASIL's hospital bed alongside KEL and HERO. The group then notices SUNNY standing at the doorway, ready to tell them what truly happened when MARI died. The friends' reactions are left to the viewer's imagination as the game cuts to the credits.
RELATIONSHIPS
AUBREY is one of SUNNY's childhood friends. In the DREAM WORLD, AUBREY is shown to have feelings for OMORI.[4][5] Due to OMORI's apathy and silence, her advances on him are ignored or unreciprocated, with the exception of a fully leveled "LOOK AT OMORI" FOLLOW-UP. However, it is hinted that SUNNY had or still has a crush on AUBREY.[6][7][8]
After SUNNY dropped out of school and became a shut-in, AUBREY changed her personality and appearance and made new friends. When AUBREY first encounters SUNNY in the real world, she is surprised but resentful to see him for the first time in four years. Later on, when SUNNY and KEL interrogate her at CHURCH to get back BASIL's photo album, she calls SUNNY a psychopath for carrying around a knife. She picks a fight with SUNNY and KEL whenever they confront her or try to protect BASIL.
Once AUBREY makes up with SUNNY and KEL on the last day, AUBREY expresses concern for SUNNY'S current state, even when she finds it hard to express herself in the present.[9][10] Before SUNNY goes outside to visit his old treehouse, AUBREY is about to tell SUNNY something before being interrupted by KEL. When they sleep over at BASIL's house that night, AUBREY requests SUNNY to visit once in a while after he moves away.
KEL and AUBREY often bicker, getting into many childish arguments. Even so, they care about each other as childhood friends. KEL annoys AUBREY by picking on her, and it is implied he did so in the past because he thought she was cute.[11] After MARI'S DEATH, AUBREY grew apart from KEL due to him making new friends at sports.
KEL learns that AUBREY stole BASIL's photo album, prompting him and SUNNY to track her down. During their encounter at CHURCH, she becomes extremely upset at him for not being there for her after MARI's death and then barging back into her life after four years. Meanwhile, KEL condemns her delinquent behavior, especially her treatment of BASIL, though he believes it is just an act.[12] When KEL apologizes for not being there, she does not accept and lashes out. She picks a fight with SUNNY and KEL whenever they confront her or try to protect BASIL. Eventually she makes amends with him on the final day. KEL apologizes for being "a crappy friend" and promises to always be there for her. HERO describes their relationship as possessing mutual candidness, and as something special.
HERO and AUBREY are childhood friends. They have a familial relationship, with HERO usually refereeing between her and KEL's arguments.
HERO does not recognize AUBREY at first, showing concern over her drastic change after he left for college. On Day 3, HERO helps AUBREY reconcile with KEL and SUNNY. AUBREY had blamed HERO for not being there for her after MARI's death, with him being too busy with school. He apologizes for not taking care of everyone and not being there for her, promising he will be in the future. When she claims she does not deserve friends like HERO, he assures that her cleaning of the PHOTO ALBUM is proof she still cares about her childhood friends.[13]
BASIL is AUBREY's childhood friend. It is shown in SUNNY's flashback that AUBREY is the one who introduced BASIL to SUNNY, MARI, HERO and KEL.
In the DREAM WORLD, AUBREY and BASIL get along well. When BASIL doubts himself and his photography, AUBREY along with the others encourage him and make sure he is okay. When BASIL disappears, the thought of him being alone and scared was enough to bring her to tears.[14]
In the REAL WORLD, after MARI's death, he and AUBREY grew apart. One day, AUBREY begged to study at BASIL's house. When he eventually complied, she found his photo album. Hoping to see their old happy memories, she opened the PHOTO ALBUM to find all the photos blacked out with marker. AUBREY steals the PHOTO ALBUM to protect it from BASIL, unaware that the photos were vandalized by SUNNY.
Because of this misunderstanding, AUBREY started calling BASIL a creep and eventually others joined in on the bullying. When AUBREY, KEL, SUNNY, BASIL and THE HOOLIGANS meet at their old hangout spot in the REAL WORLD, AUBREY lashes out at BASIL and pushes him into the water. She panics and feels regret for almost drowning BASIL. During the final day of the game, AUBREY attempts to apologize to him for her behavior.
KIM is one of AUBREY's closest friends. Both KIM and AUBREY have the same picture of the two together beside their beds.
It is implied they became friends because AUBREY felt a lack of support from KEL, SUNNY, BASIL and HERO when MARI died. Becoming friends with KIM introduced her to THE HOOLIGANS and AUBREY became the group's de facto leader. It is also shown that KIM worries for her whenever she feels upset, often trying to understand why she feels down at times.
AUBREY'S MOM is AUBREY's only caretaker after her father left.
CHURCH goers pity AUBREY'S MOM for dealing with AUBREY's delinquency,[15] but it is heavily implied that she does not take care of her daughter. When SUNNY, KEL and HERO go into AUBREY's house on the last day, AUBREY'S MOM watches TV in an unresponsive state while the living room, kitchen and hallways are full of empty bottles and trash.
AUBREY saw huge strength and perseverance in MARI, and in return, MARI treated her with respect and with the same care as the rest of the group, often hanging out and spending time with her alongside the rest.
She can be seen consoling AUBREY in one of SUNNY's memories. AUBREY, in return, seems to have been heavily attached to her, wanting them to dye their hair together. When AUBREY saw the vandalized photo album, she violently vented her anger towards BASIL, who she believed to be the perpetrator. She also grew angry at KEL for moving on too fast, and was also mad at HERO and SUNNY for isolating themselves from the group.
It is clear that MARI was an important part of her life, being the only person who visited her grave for four years and stealing MARI's photos from BASIL'S PHOTO ALBUM.
BATTLE
AUBREY takes the role of the party's bruiser, capable of handing out some of the strongest hits. She also has a number of skills that can induce HAPPINESS and exploit HAPPY enemies. Her personal FOLLOW-UPS are most varied -- getting her to look at OMORI causes her to strike an enemy again even harder; looking at HERO makes her HAPPY and raises her defense, while looking at KEL causes an argument that makes the both of them ANGRY.
SKILLS
SKILL
DESCRIPTION
DAMAGE
ACTION
SOURCE
PEP TALK
Makes a friend or foe HAPPY.
Costs 5 JUICE.
NONE
BASIC
GUARD
Acts first, reducing damage taken for 1 turn.
Costs 0 JUICE.
NONE
BASIC
COUNTER
All foes target AUBREY for 1 turn. If AUBREY is attacked, she attacks.
Costs 5 JUICE.
(Attack x 2 - Foe's defense)
LEVEL 6
TWIRL
AUBREY attacks a foe and becomes HAPPY.
Costs 10 JUICE.
(Attack x 2 + Luck) - Foe's defense
Level 10
TEAM SPIRIT
Makes AUBREY and a friend HAPPY.
Costs 10 JUICE.
NONE
LEVEL 11
POWER HIT
An attack that ignores a foe's DEFENSE, then reduces the foe's DEFENSE.
Costs 20 JUICE.
(Attack x 2)
LEVEL 14
MOOD WRECKER
A swing that doesn't miss. Deals extra damage to HAPPY foes.
Costs 10 JUICE.
(Attack x 3 - Foe's defense) (HAPPY)
(Attack x 2.25 - Foe's defense) (Else)
LEVEL 17
WIND-UP THROW
Damages all foes. Deals more damage the less enemies there are.
Costs 20 JUICE.
(Attack x 2 - Foe's defense) (Normal)
(Attack x 3 - Foe's defense) (One Enemy)
(Attack x 2.5 - Foe's defense) (Two Enemies)
LEVEL 20
MASH
If this skill defeats a foe, recover 100% JUICE.
Costs 15 JUICE.
(Attack x 2.5 - Foe's defense)
LEVEL 23
BEATDOWN
Attacks a foe 3 times.
Costs 30 JUICE.
(Attack x 2 - Foe's defense)
LEVEL 27
LAST RESORT
Deals damage based on AUBREY's HEART, but AUBREY becomes TOAST.
Costs 50 JUICE.
(Current HP x 4)
LEVEL 30
HEADBUTT
Deals big damage, but AUBREY also takes damage. Stronger when AUBREY is ANGRY.
Costs 5 JUICE.
(Attack x 3 - Foe's defense) (ANGRY)
(Attack x 2.5 - Foe's defense) (Else)
BERLY
HOMERUN
Has a chance to instantly defeat a foe. AUBREY also takes damage.
Costs 25 JUICE.
(Attack x 4 - Foe's defense)
BASIC (FARAWAY).
FRIENDLY FOLLOW-UP
FOLLOW-UP
ENERGY
LEVEL
ACTION
DESCRIPTION
DAMAGE

LOOK AT OMORI
3
1
AUBREY looks at OMORI.
OMORI didn't notice AUBREY, so AUBREY attacks again, dealing damage to a random foe!
(Attack x 2 + Luck) - Foe's defense
2
AUBREY looks at OMORI.
OMORI still didn't notice AUBREY, so AUBREY attacks harder, dealing extra damage to a random foe!
(Attack x 3 + Luck) - Foe's defense
3
AUBREY looks at OMORI.
OMORI finally notices AUBREY! AUBREY swings her bat in happiness, dealing big damage to a random foe!
(Attack x 3 + Luck)

LOOK AT KEL
3
1
AUBREY looks at KEL.
KEL eggs AUBREY on, making her ANGRY!
NONE
2
AUBREY looks at KEL.
KEL eggs AUBREY on, raising both of their ATTACK and making them both ANGRY!
NONE
3
AUBREY looks at KEL.
KEL eggs AUBREY on, raising both of their ATTACK and making them both ENRAGED!
NONE

LOOK AT HERO
3
1
AUBREY looks at HERO.
HERO tells AUBREY to focus, raising her DEFENSE, and making her HAPPY!
NONE
2
AUBREY looks at HERO.
HERO cheers AUBREY, healing some of her HEART, raising her DEFENSE, and making her HAPPY!
Heals 25% HEART
3
AUBREY looks at HERO.
HERO cheers AUBREY, healing some of her HEART, raising her DEFENSE, and making her ECSTATIC!
Heals 75% HEART and 50 JUICE
LEVEL STATS
Those are raw stats (without any item bonuses, nor HEARTS bonuses gained by watering plants, nor any special bonuses).
| LEVEL | HEARTS JUICE | ATTACK | DEFENSE | SPEED | LUCK | ACCURACY |
| --- | --- | --- | --- | --- | --- | --- |
| 1 | 30 10 | 10 | 3 | 3 | 3 | 100 |
| 2 | 43 13 | 12 | 4 | 4 | 3 | 100 |
| 3 | 49 15 | 14 | 5 | 5 | 3 | 100 |
| 4 | 55 18 | 15 | 6 | 6 | 3 | 100 |
| 5 | 60 20 | 16 | 7 | 7 | 3 | 100 |
| 6 | 68 22 | 17 | 8 | 8 | 3 | 100 |
| 7 | 75 24 | 19 | 9 | 9 | 3 | 100 |
| 8 | 81 27 | 21 | 10 | 10 | 3 | 100 |
| 9 | 87 29 | 23 | 11 | 11 | 3 | 100 |
| 10 | 93 31 | 24 | 12 | 12 | 3 | 100 |
| 11 | 97 32 | 25 | 13 | 13 | 3 | 100 |
| 12 | 105 34 | 27 | 14 | 14 | 3 | 100 |
| 13 | 113 36 | 28 | 15 | 15 | 3 | 100 |
| 14 | 125 41 | 31 | 17 | 16 | 3 | 100 |
| 15 | 130 43 | 32 | 18 | 17 | 3 | 100 |
| 16 | 140 47 | 36 | 20 | 18 | 3 | 100 |
| 17 | 148 50 | 39 | 21 | 19 | 3 | 100 |
| 18 | 154 53 | 40 | 22 | 20 | 3 | 100 |
| 19 | 158 54 | 41 | 23 | 21 | 3 | 100 |
| 20 | 164 56 | 44 | 25 | 23 | 3 | 100 |
| 21 | 171 58 | 46 | 26 | 24 | 3 | 100 |
| 22 | 176 59 | 47 | 27 | 25 | 3 | 100 |
| 23 | 182 62 | 48 | 28 | 26 | 3 | 100 |
| 24 | 187 64 | 49 | 29 | 27 | 3 | 100 |
| 25 | 193 66 | 51 | 31 | 29 | 3 | 100 |
| 26 | 200 69 | 53 | 32 | 30 | 3 | 100 |
| 27 | 204 71 | 54 | 33 | 31 | 3 | 100 |
| 28 | 210 73 | 56 | 34 | 32 | 3 | 100 |
| 29 | 221 77 | 59 | 36 | 33 | 3 | 100 |
| 30 | 226 78 | 60 | 37 | 34 | 3 | 100 |
| 31 | 238 83 | 64 | 38 | 35 | 3 | 100 |
| 32 | 244 86 | 66 | 39 | 36 | 3 | 100 |
| 50 | 446 150 | 110 | 70 | 65 | 3 | 100 |
You can increase Aubrey's HEARTS by watering the gladiolus, next to Basil's house.
Aubrey can also gain 50 additional JUICE by talking to BERLY after helping her finding her ball, in the park.
BOSS BATTLE
For an in-battle description, see: AUBREY/ENEMY
GALLERY
IN-GAME
SPRITES
PORTRAITS
BATTLE SPRITES
BACKGROUND
TRANSPARENT
TAGS
PHOTOS
IN-ACTION
BOSS
ARTWORK
STICKERS
TRIVIA
As stated in BASIL'S PHOTO ALBUM, watermelon is AUBREY's favorite food.[16]
It's implied by this artwork that her real name may be AUBERGINE, though this never comes up in the game itself.
REFERENCES
SITE NAVIGATION