Jurassic World: Dominion Dominates Fandom Wikis - The Loop
Play Sound

A GOOD LISTENER is a quest in OMORI. It is one of the many optional side quests available when talking with CANDLIE in PYREFLY FOREST.
STORY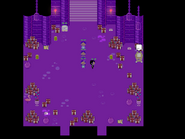 The side quest A GOOD LISTENER can be triggered when talking to CANDLIE. CANDLIE is found sitting next to a tea set at the far right of the second spider puzzle in PYREFLY FOREST. When the quest is activated, she will ask you to find their missing stuffed bear.
The stuffed bear is located in SWEETHEART'S CASTLE, underneath her statue in the courtyard. The stuffed bear will appear upside down and when interacted with will put you into a battle with a RARE BEAR. When the enemy is defeated, you will obtain the stuffed bear. You can return the bear to CANDLIE and complete the side quest.
REWARD
Returning to CANDLIE and interacting with her leads to a cutscene where she finally reunites with her TEDDY BEAR. She then will grant the party the RUBBER DUCK charm, which increases the user's DEFENSE by seven points. Afterwards, CANDLIE will resume her tea party with the TEDDY BEAR, signifying the completion of her sidequest.
INVOLVING
MARI'S ADVICE
MARI (A Good Listener) Incomplete #1
CANDLIE lost her TEDDY BEAR and can't find him anywhere. Sigh... Who will listen to her troubles now?

MARI (A Good Listener) Incomplete #2
Hey! That TEDDY BEAR you got there looks like it might
belong to CANDLIE. You should give it back to her...
I'm sure she misses him very much.

MARI (A Good Listener) Complete
CANDLIE must be so glad to have her TEDDY BEAR back. Now she won't be lonely anymore.

SITE NAVIGATION