Jurassic World: Dominion Dominates Fandom Wikis - The Loop
Play Sound
BASIL
location
HEADSPACE
items
NONE
reward
NONE
This page is about the main mandatory quest in-game. You may be looking for the character BASIL.
BASIL is a quest in OMORI. It is available after BASIL goes missing. This quest serves as the main quest and the overall driving force that gets the party to explore all corners of HEADSPACE.
STORY
PROLOGUE
After visiting BASIL'S HOUSE at the start of the game, BASIL goes missing and OMORI is forced into WHITE SPACE. He has no choice but to stab himself to awaken SUNNY, setting up the true premise of the game.
After SUNNY confronts and overcomes his fear of heights, he goes back to sleep. OMORI reunites with his friends, and begin their quest to find BASIL. Mari first proposes to check out the VAST FOREST. After finding no success in that and returning to the PLAYGROUND, OMORI and his friends decide to climb the high ladder to the OTHERWORLD.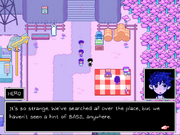 After asking around OTHERWORLD, they get pointed to CAPT. SPACEBOY who might have a lead. However, he's stuck in a slump from his recent breakup with SWEETHEART, and so the party goes off to the JUNKYARD to find his SPECIAL MIXTAPE. They retrieve it, use it to awaken the depressed SPACE BOYFRIEND, and after they beat some sense into him, he admits that he hasn't seen BASIL anywhere in OTHERWORLD.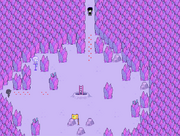 After talking to CAPT. SPACEBOY red footprints will appear. When arriving back at MARI's picnic she will ask the group how the search for BASIL is going. HERO will tell her that they made a detour to help people, AUBREY will show her SNO-CONE TICKET that she got and KEL will show off his new SKILL FLEX.
Wondering where BASIL could be, they make their way back to the ladder leading back to the VAST FOREST. The red footsteps continue on the way to the ladder. A BASIL shaped shadow will be standing to the left of the ladder and will go into the CATTAIL FIELD when approached.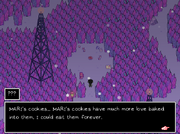 Upon entering the CATTAIL FIELD, OMORI's friends won't be with him anymore. The area has changed significantly, as it's populated with objects hinting at vague memories with his friends. OMORI is guided to the previously-locked BARNHOUSE by a shadowy BASIL, which now has a red glow coming from within.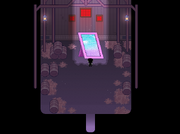 In the BARN OMORI sees the shadow walk into a large frame, and follows it inside to a long black hallway. It leads up to a family portrait, a music stand and the "F" KEY. Getting closer to the portrait will show a noose hanging above it.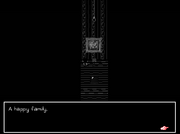 Collecting the KEY will make a sheet of music appear on the music stand, but all the notes have been scribbled out. The Family portrait will also be defaced. With nowhere else to go, OMORI is forced to turn back and leave from where he entered, only for SOMETHING appear and chase him. When it catches him, a short sequence of disturbing images of the past will flash, before OMORI is forcibly returned to WHITE SPACE.
THREE DAYS LEFT
After returning to HEADSPACE, OMORI will be reunited with his friends. AUBREY tells him that they were worried about him, while KEL is very eager to continue the search for BASIL. After some more banter HERO proposes to go to MARI to tell her that OMORI is okay. At the PLAYGROUND, MARI gives OMORI a hug and tells him to stop disappearing. MARI bringing up BASIL causes them all to share how much they miss him. With that in mind MARI asks the group if there is a place they haven't checked yet.
HERO brings up PYREFLY FOREST to the west as a possible next top, even though he is afraid of spiders. With OMORI's fear of spiders overcome they make their way to the Forest.
While journeying through the Forest, they get sidetracked by SWEETHEART's show as they enter SPROUT MOLE VILLAGE. Things go awry as HERO is selected as SWEETHEART's perfect suitor against his will, and for their resistance, the party gets thrown into THE DUNGEON.
They eventually work their way out of captivity and almost escape SWEETHEART'S CASTLE, only to stumble into her wedding aisle at the last moment. After a hectic fight with SWEETHEART herself, CAPTAIN SPACEBOY shows up to tie the knot with her, and the two leave off on a honeymoon, leaving the party without any new headway in finding BASIL.
The stage where the wedding was held has been blown up, leaving a gaping hole that invites OMORI to dive in. It leads to the LOST LIBRARY, and as OMORI confronts the memory of his phobias, a side door he investigates almost leads him to BASIL. A brief glimpse of SOMETHING interrupts things and forces OMORI back into WHITE SPACE.
TWO DAYS LEFT
OMORI returns to HEADSPACE, this time without anyone accompanying him. He heads north after conquering his fear of drowning, and gets led into DEEP WELL to find and reunite with his friends. They have all somehow ended up signing contracts to work for MR. JAWSUM at LAST RESORT. OMORI rounds up his friends and reminds them of their quest to rescue BASIL, but on the way out they realize that they're slowly losing their memory of BASIL.
They cross over to the other side of the UNDERWATER HIGHWAY, but end up following the now-divorced SWEETHEART into DEEPER WELL and into HUMPHREY. By the time they enter HUMPHREY, they have largely forgotten about BASIL. The quest has vanished from the list, never to be completed proper.
REWARD
Despite it being the overarching motivator for the party, this quest will never be completed. By the time the party reaches DEEPER WELL, they gradually lose their memories of what BASIL looked like, and the quest will vanish from the list. At this point in time, watering BASIL's flowers would have no effect. Once HUMPHREY is completed, the EMPTY HOUSE quest takes its place.
MARI'S ADVICE
MARI (Basil) INITIAL
Weren't you all headed to BASIL's house? I think I'll sit this
one out, but go on and enjoy yourselves!

Where could BASIL be? I thought he was with you, OMORI...
You last spotted him at his house, right? Maybe you should
trace your steps.

BASIL's house is just down this path. I hope BASIL is okay...
He doesn't do well alone...

Where could BASIL be? Could he be somewhere in VAST
FOREST? BASIL wouldn't just go off on his own like that...
Maybe something happened to him...

It doesn't look like BASIL is anywhere in VAST FOREST after
all.. I wonder where he could have wandered off to.

Would BASIL wander all the way up here? From what I can see, there hasn't been anything out of the ordinary. Just trees, pinwheels, and the wind.

Before defeating SPACE EX-BOYFRIEND:
Could BASIL have climbed the ladder all the way up to
OTHERWORLD? You can try asking around to see if people
have seen him.

The SPACE PIRATES just north of here may be a good place
to start.

After defeating SPACE EX-BOYFRIEND:
I've been thinking... Maybe BASIL had to go somewhere
important in a rush... But where would he have gone? And why
wouldn't he tell us about it?

I just hope he didn't end up in any trouble... and that he's
somewhere safe.

You can get a really good look of the entire JUNKYARD from
up here... but I don't see BASIL anywhere.

It is strange though... I could've sworn I saw BASIL near the
campsite earlier... but maybe I was mistaken.

I haven't seen BASIL around here, but I don't think BASIL would have come here on his own. He really doesn't like cold weather...

Do you think BASIL stumbled upon here somehow? I'm not sure he would've said hello if he saw me. I would've fed him so many CARAMEL APPLES, even if he doesn't like sweets!

It's not likely that BASIL is around here, though I do think BASIL would have enjoyed this place. All the VEGGIE KIDS would've liked him, too.

Just imagine... BASIL reading the VEGGIE KIDS a book for storytime... Adorable!

MARI (Basil) PYREFLY FOREST IV
I've been thinking... Maybe BASIL had to go somewhere
important in a rush... But where would he have gone? And why
wouldn't he tell us about it?

I just hope he didn't end up in any trouble... and that he's
somewhere safe.

MARI (Basil) KING CRAWLER AREA
Sigh... I've looked all over, but it doesn't look like BASIL is around this area either... We can't give up... BASIL needs us!

Hey! It looks like the SHOW TICKETS you found can be used here. But it might help to take a look around for BASIL first.

Do you think the SPROUT MOLES will know anything? It never hurts to ask!

What if BASIL got in trouble with SWEETHEART and she locked him up? This place is so big... There must be answers somewhere!

Darn... It doesn't look like BASIL was in SWEETHEART's castle either. Where else could he have gone?

MARI (Basil) TWO DAYS LEFT
Hmm... BASIL is missing, huh? Could he be somewhere around here? You know him better than we do, OMORI!

GALLERY
PROLOGUE
CATTAIL FIELD MEMORIES
LOST LIBRARY
SITE NAVIGATION