SPOILER WARNING

This article contains spoilers of important plot details regarding the plotline of OMORI.

---
CHURCH OF SOMETHING

BGM
MOUNTAIN
CHURCH


CHURCH OF SOMETHING, originally known as TEMPLE, is a location in OMORI. This location serves as the final mandatory area of BLACK SPACE in both routes of the game.
GEOGRAPHY
The CHURCH OF SOMETHING greatly resembles a mix of SUNNY'S HOUSE and the CHURCH from FARAWAY TOWN.
This location serves as the final segment of BLACK SPACE as OMORI can no longer suppress the truth behind MARI's death to protect SUNNY. The exterior SNOWY HILLS is snow-covered path featuring remnants of SUNNY's long forgotten memories. There are various shadowy blobs resembling SOMETHING located near the stairs and silhouettes of red hands as well. A gigantic version of BASIL's SOMETHING can be seen in the background.
The interior of the church is entirely monochrome but bears a resemblance to the FARAWAY TOWN version. The only difference is that there are some SCRIBBLES occupying the benches. At the very end of the path is another stairway featuring BASIL, STRANGER, and SOMETHING all waiting for OMORI.
STORY
Upon completing a specific number of doors, OMORI enters a door emitting red light. From there, he reaches a snowy mountain and wanders around until discovering a large monochrome church. He then enters the CHURCH of SOMETHING after obtaining the final black key. He also picks up BASIL's flower crown at the door's entrance if the player is on the OMORI ROUTE. Upon entering the church, OMORI locates BASIL entangled by his SOMETHING and STRANGER confronts the former, with the outcome depending on which route the player takes.
SUNNY ROUTE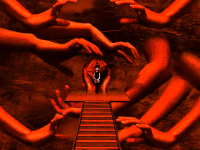 STRANGER tells "SUNNY" that now it's time to face the truth together and disappears once more. BASIL questions "SUNNY" why did things have to turn out this way and begs for forgiveness. However, the darkness absorbs BASIL and OMORI decides to follow him as well (only if the player chooses to save him).
Upon entering BASIL's SOMETHING, OMORI finds himself inside of a strange dark room, where BASIL stands next a red window. BASIL notices that something's out there, noting that its calling both him and OMORI. After conversing briefly, the window opens and several RED HANDS emerge to grab BASIL, dragging him away further into the darkness.
OMORI follows them and enters an eldritch location known as RED SPACE. OMORI ventures through the location and finds BASIL restrained by four RED HANDS. BASIL begs for forgiveness but OMORI doesn't respond. Knowing that BASIL has learned too much about the truth behind MARI's death, OMORI refuses to let him go.
OMORI then commands the hands to lower BASIL down and proceeds to stab him, killing him in the process. He coldly walks over BASIL's corpse and ascends the stairs, reaching his throne of hands. OMORI sets himself on his throne, turning around to look at the player as he becomes more distorted than before. This ends the HEADSPACE segments for good as SUNNY wakes up.
OMORI ROUTE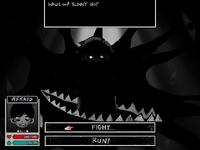 Upon reaching the church, OMORI finds BASIL trapped by his SOMETHING. BASIL awakens and expresses relief at seeing OMORI coming to rescue him. OMORI then frees BASIL by using his knife and two prepare to leave the location. However, STRANGER appears before them, telling "SUNNY" that he refuses to let him suppress the truth and repeating his endless cycle of dreaming. STRANGER disappears, leading to BASIL's SOMETHING fully materializing. The shadowy abomination then lunges at OMORI.
It is possible for the player to attempt to run away from BASIL's SOMETHING, doing so will lead to a chase sequence where OMORI narrowly tries to outrun the shadowy abomination. Either way, BASIL's SOMETHING will catch OMORI and the screen will distort.
SUNNY awakens and finds himself in an unknown room, where STRANGER and BASIL's SOMETHING await him. STRANGER tells SUNNY to face the consequences of his past sins and fights him. SUNNY attempts to fight back but isn't able to withstand the shadowy figure's presence. A weakened SUNNY ends up getting warped to RED SPACE and slowly succumbs to his self guilt and hatred.
OMORI witnesses SUNNY struggling on his throne, and descends down the stairs to help his original self endure STRANGER's wrath. However, upon confronting the STRANGER once again, it appears that he has given up on trying to convince SUNNY to stop his unhealthy coping mechanism. OMORI is then warped back to BLACK SPACE by a nearby RED HAND, allowing him to rescue BASIL and escape back to HEADSPACE.
QUOTES
SUNNY ROUTE (Church of Something)
SUNNY... the truth is here.

You've been running from this for so long.

But this time, we can face it together.

SUNNY... Why did it end up like this?

SUNNY...

I'm... I'm so sorry...

Will you forgive me? My best friend...

OMORI ROUTE (Church of Something)
Basil and Stranger
Oh, thank goodness you're here, OMORI.
I thought I was gonna be stuck here forever.

I can't believe you came here to save me. I missed you so much!

SUNNY... You've been running away from the truth for so long... How long will you keep running?

I won't let this cycle repeat itself...

I... I won't let you leave me, SUNNY...

Not again.

Stranger (Pre-Boss)
SUNNY...

If you won't face the truth... then face me.

Face the suffering you've caused for the people you love...

The pain of knowing what you've lost...

And the hatred of yourself for being too cowardly to change anything about it...

Let those feelings devour you here... until your insides rot.

Stranger (Post-Boss)
So you've chosen to live that way. I wonder... Can you really call that living?

Leave me here. There's no hope left for me.

Basil (Rescued) + Neighbor's Bedroom
OMORI! OMORI! Wake up!

There's light coming from the ceiling!
Do you think it's a way out?

... OMORI... You're so heavy...

Come on... Up the stairs you go...

Phew... Thank goodness you're awake.

Are you hurt at all? I was trying to pull you toward this white light at the top of the staircase...

I get a really nice and warm feeling from it...
Let's go up together!

We can rest now, OMORI... All our friends are here...

GALLERY
MAPS
TRIVIA
BASIL's sprite depends on which route the player is on:

SUNNY ROUTE: BASIL's sprite will be darkened with red eyes.
OMORI ROUTE: BASIL's sprite uses his HEADSPACE appearance.

In a previous build of the game, the CHURCH OF SOMETHING was originally placed after the BACKYARD AREA, proceeding with all the maps showcasing BASIL's many deaths, ending with the area of RED SPACE like in the current build.
SITE NAVIGATION