Jurassic World: Dominion Dominates Fandom Wikis - The Loop
Play Sound
DAISY'S DILEMMA is a quest in OMORI. It is one of the many optional side quests available when talking with DAISY at the FOREST PLAYGROUND.
STORY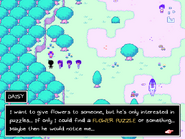 DAISY wants you to help her find a FLOWER PUZZLE so she can give it to her crush, which is none other than the puzzle-loving NEB.
To complete the side quest, the group must head over to OTHERWORLD's JUNKYARD. The FLOWER PUZZLE is located inside of one of the trash containers within JUNKYARD MAP 3; right before the first CONVEYOR-BOT you'll encounter.
Grab it and head back to the FOREST PLAYGROUND to complete the quest.
REWARD
You will be gifted with a DAISY for bringing the FLOWER PUZZLE to DAISY.
INVOLVING
MARI'S ADVICE
MARI (Daisy's Dilemma) Incomplete #1
Awww... DAISY is trying to get her crush to notice her with a
FLOWER PUZZLE. How cute! I think I saw MIKAL throw one
away a while back. Maybe you can find it somewhere!

MARI (Daisy's Dilemma) Incomplete #2
Hey, you got a FLOWER PUZZLE! Wasn't DAISY looking for one
to give her crush? It's pretty obvious who it is.
Cough, cough... It's NEB... Hehe...

MARI (Daisy's Dilemma) Complete
Yay! DAISY has a FLOWER PUZZLE to give NEB now, but will
she ever actually give it to him? Tune in next time to find out!

TRIVIA
This quest can also be completed within the LAST RESORT if the player hasn't already finished it before TWO DAYS LEFT.
SITE NAVIGATION