Jurassic World: Dominion Dominates Fandom Wikis - The Loop
Play Sound

FASCINATING LITERATURE is a quest in OMORI. It is one of the many optional side quests available when talking to DEMI within PYREFLY FOREST.
STORY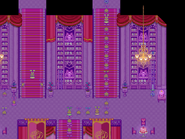 DEMI can be found at PYREFLY SIDE-I, where he is shown musing over what to read next. When interacting with him, this will initiate the FASCINATING LITERATURE sidequest. To complete this optional sidequest, OMORI and friends must head over to THE ROYAL LIBRARY of SWEETHEART'S CASTLE. From there, the group can find an INTERESTING BOOK from one of the bookshelves.
REWARD
Returning to DEMI and interacting with him will complete his sidequest. In terms of gratitude, DEMI will give the group the DEEP POETRY BOOK charm, which inflicts sad any the user at the start of an battle. DEMI will then focus his attention on his new book while murmuring to himself.
INVOLVING
MARI'S ADVICE
MARI (Fascinating Literature) Incomplete #1
DEMI is bored of his books and is looking for something more exciting to read... Maybe you can find one in a library somewhere.

MARI (Fascinating Literature) Incomplete #2
Hey! That INTERESTING BOOK you have there looks pretty interesting. I bet DEMI would want to read something like that!

MARI (Fascinating Literature) Complete
DEMI is going to be really occupied with that book you gave
him. It was just so very interesting.

SITE NAVIGATION