FEED HUMPHREY is a quest in OMORI. It is one of the many optional side quests available when talking with MR. JAWSUM and later HUMPHREY in their respective locations on ONE DAY LEFT. It is also exclusive to the OMORI ROUTE.
STORY
This sidequest is available only on the OMORI ROUTE, triggered by refusing to answer KEL's invitation to leave SUNNY's house. Once OMORI restores HEADSPACE after rescuing BASIL from BLACK SPACE, you can revisit the LAST RESORT and talk to MR. JAWSUM again.
He reveals that the RESORT has been in shambles, so he heads off on a vacation and hands over ownership to HERO, leaving behind a GIANT CHECK for him. The CHECK is worth 1 million CLAMS, the exact amount that HUMPHREY desired.
REWARD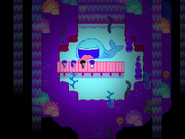 Return to DEEPER WELL through the toilet on the left side of the RESORT, and HUMPHREY is revealed to have resurfaced. Hand him the GIANT CHECK and he will become satisfied, letting you explore his insides again and encounter brand new content.
The player can now face off against two new bosses: MUTANTHEART and PERFECTHEART. Although both are difficult to beat (particularly PERFECTHEART as she serves as the game's superboss), defeating both bosses will yield their respective achievements.
Along with that, there is a new event where the party can refight all of the mandatory story bosses through the BOSS RUSH, run by BOSS himself within MOLLY'S SECTOR. Completing this challenge will grant them four trophies along with an achievement to the boot.
INVOLVING
MARI'S ADVICE
MARI (Feed Humphrey) Incomplete
Whoa! That's a GIANT CHECK for 1000000 CLAMS! I don't know of any banks around here, but I do know someone who might be hungry for CLAMS.

MARI (Feed Humphrey) Complete
HUMPHREY's full and happy now. All is well again! People just aren't themselves when they're hungry.

SITE NAVIGATION