We're Getting Mutants in the MCU - The Loop
Play Sound
FROZEN LAKE is one of the many sub-locations within OTHERWORLD in OMORI. It is small snowy area connecting to both OTHERWORLD CAMPSITE and SNOWGLOBE MOUNTAIN.
GEOGRAPHY
MAIN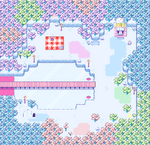 Located south of the OTHERWORLD CAMPSITE. It is a giant frozen lake surrounded by a surface blanketed with tons of snow. The atmosphere is described to be cold and chilly, and there is one of MARI's picnic blanket in the northwest. SNO-CONE JASH runs a SHAVED ICE stand in the northeast. There also dozens of multi-colored trees surrounding the depths of this area. Only a few SNOW BUNNIES roam around with no signs of hostile nature.
IGLOO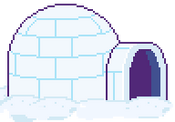 In the southwest is an IGLOO. During the first attempt to enter the IGLOO, a strange apparition appears and flies out of the IGLOO. In addition, the FROZEN LAKE's IGLOO serves as a direct teleporter connecting to SNOWGLOBE MOUNTAIN, which can only be found on the OMORI ROUTE. If one plugs in the BATTERIES for the plastic fish, it will then sings a little tune. Its voice resembles K.K. Slider's.
FISHING ITEMS
The player can also interact with an fishing rod near one of the holes. By interacting, a random member of your team fishes, while the others wait on the bridge. This interaction grants the party an 1/75 chance for a LIFE JAM, a 74/525 chance for an old boot or an orange, and a 37/525 chance for each one else or nothing. Not all attempts give you an item you can keep, and what you cannot keep gets thrown back in the lake. These items consist of:
STORY
After helping SPACE BOYFRIEND calm down, he and his SPACE PIRATE crew can be found enjoying SHAVED ICE. The players can interact with them for extra bits of dialogue. In the OMORI ROUTE, the IGLOO's secret area can be accessed after speaking to PINKBEARD, where he will give you BATTERIES and asks you to find CAPT. SPACEBOY. These BATTERIES can be used in the IGLOO. After using them and letting the plastic fish finish singing, the trapdoor opens and reveals a summoning circle that leads to SNOWGLOBE MOUNTAIN.
QUOTES
Mari (Frozen Lake)
Hey, OMORI... Isn't this place pretty?
The snow comes down so slowly, but all the pieces seem to fall right into place in the end.

It reminds me to be patient.

Hey, I know! We should go ice skating one day!
Doesn't that sound fun, OMORI?

Frozen Lake Picnic
Really, MARI? Shaved ice in this weather?

And what's wrong with that, HERO? It's so convenient!
Shaved ice is way easier to come by than SNO-CONES!

What's the difference between shaved ice and SNO-CONES
anyway?

Well realistically, there's not much of a difference...
SNO-CONES just have larger pieces of ice than shaved ice.

Large pieces of ice, huh? Is that why SNO-CONES are so
much more expensive?

I... I don't know, KEL! I can't really answer that one...

GALLERY
MAPS
UNUSED FISHING ITEMS
TRIVIA
The FROZEN LAKE shares the same battle BGM with SNOWGLOBE MOUNTAIN (excluding the SNOW ANGELS).
This location serves as an one of the few optional areas within OTHERWORLD.
Some of the objects obtainable in the fishing rod interaction consist of minor objects or items.
SITE NAVIGATION