HEADSPACE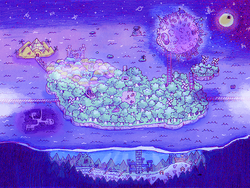 HEADSPACE is one of the two primary locations in OMORI, the other being FARAWAY. It is an imaginary world comprising of the areas SUNNY can visit when he sleeps. Some areas are only accessible in the OMORI ROUTE.
These areas include SNOWGLOBE MOUNTAIN, and THE ABYSS. All other areas can be accessed in all other routes.
LOCATIONS
GALLERY
CONCEPT ART
BETA SCREENSHOTS
TRIVIA
There are some clues throughout the game that implies that HEADSPACE is more than just a imaginary world that SUNNY created. A few dialogue spoken by NPCs such as DADDY LONGLEGS and BRANCH CORAL indicate this assumption.

One of the quotes from MR. OUTBACK supports this theory, stating "Well, this place has been around since the beginning of time, I reckon. It looks different to everyone… but this time around, it's pretty colorful and cutesy for the most part… Not to mention pretty dang big! That's a powerful imagination you've got there, kiddo."
SITE NAVIGATION