Jurassic World: Dominion Dominates Fandom Wikis - The Loop
Play Sound
SPOILER WARNING

This article contains spoilers of important plot details regarding the plotline of OMORI.

---
Awww, man! What the heck, AUBREY! You messed up all the cards! I was winning too...

— KEL
KEL is one of the main three deuteragonists that join OMORI's party in OMORI. Tagging KEL as leader gives him the ability to throw his ball from certain platforms to hit objects otherwise inaccessible to the party.
PROFILE
APPEARANCE
The HEADSPACE version of KEL appears as a young boy wearing a colorful tank top covered in multicolored squares. Like the others in the party, he does not wear socks or shoes and his hair and eyes are purple like AUBREY and HERO.
In the real world, KEL appears as an older teenager. He has grown much taller than most of his friends. Like his brother HERO, KEL has brown hair and dark skin. He also has a well-built body due to constantly playing basketball everyday. His main attire consists of a orange basketball uniform with white stripes that resembles a fox.
PERSONALITY
During his youth, KEL is a bit bratty, impulsive and rude, always getting into little tiffs with his friends. He is very competitive by nature, always wanting to win games or races, and is indeed very energetic and fast. He also thinks romance is gross and that girls have cooties.[2][3] However, even though he is loud and likes to annoy his friends, he genuinely cares about them to the point of constantly protecting them with a strong sense of justice.[4] KEL appears to share a strong bond with his brother HERO and occasionally bickers with AUBREY over petty disagreements over minor topics. He even sees the quiet SUNNY as someone who is a great person and believes the best in him. These traits are shared with his HEADSPACE counterpart.
The present-day KEL still retains his happy demeanor but appears more mature and understanding towards others. He is very social and likes talking with strangers when SUNNY is busy with jobs.[5][6] He constantly tries to help others in-need, which could often lead him to making rash choices at times. KEL also desires to reconnect with his old friends, notably when he encourages SUNNY to be more active and healthy. He even tries to understand AUBREY's reasons for her anger and repeatedly protects BASIL from bullies as well, displaying the same sense of justice he possessed when he was younger.[7][8][9]
However, despite his good intentions, KEL is also shown to have difficulties with reading the room and can be clueless to the more complex feelings and issues other people have going on, unless they outright say them to him to his face. Because of this, AUBREY has accused him of being too simple-minded, and his thoughtlessness has sometimes really frustrated other people when they've been in a really bad place.[10][11] KEL himself has insecurities regarding this and in the past felt he was too stupid to help his friends after MARI's death and HERO yelled at him.[12][13] Regardless, KEL is noted by SUNNY to be a loyal friend, always being there for others and despite his carelessness at times, he posseses a good heart. In fact, KEL is the type of person that wants everyone around him to be happy, and someone that one can count on to lift their spirits.[14][15]
STORY
BACKGROUND
KEL was born to unnamed parents approximately 16 years before the main story. He has an older brother named HERO and, as a teenager, his parents gave him a little sister, SALLY.
Since they were children, KEL and his family lived directly besides SUNNY's HOUSE. He, SUNNY, MARI, HERO, AUBREY, and BASIL were close friends and spent much of their time together. One day, KEL went out to get a haircut with his dad. AUBREY was there with her dad as well because the three were going to watch MARI and SUNNY's music recital. It was supposed to be that night, but when they came home in the evening, they found out she had died, believing that she hung herself.
After the death of MARI, the friend group drifted apart as the latter's death greatly affected all of them. KEL, on the other hand, managed to cope by maintaining his positive demeanor and making new friends playing sports, although SUNNY's MOM mentions that he seemed a bit lonely at times. KEL soon noticed HERO becoming severely depressed and constantly tried helping his older brother regain his sense of self.
KEL tried to encourage HERO one day, but this resulted in HERO taking out his grief and anger on KEL. His parents immediately rushed to comfort him, ignoring KEL who was also in tears. Noticing this, HERO immediately embraced KEL and apologized. Even after the two brothers reconciled, KEL knew that HERO was still closed off but moved on with life as he usually does.
THREE DAYS LEFT
SUNNY wakes up to pounding on his door. If he answers the door, he discovers it's KEL, who's significantly taller than his HEADSPACE version. KEL is surprised that SUNNY's actually answered and has no plan for that. He decides to take SUNNY to HOBBEEZ to help find a gift for HERO, who's due to return home from college.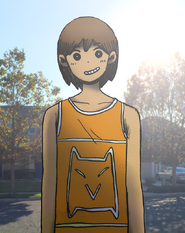 When they pass by FARAWAY PARK, they hear a commotion -- BASIL is being picked on by KIM as he begs her to return something. KEL intervenes, drawing the attention of AUBREY, who's dyed her hair and become leader of THE HOOLIGANS. She mocks KEL and SUNNY and attacks, but backs away quickly after SUNNY slashes her with his STEAK KNIFE.
After AUBREY and the gang vacate, KEL scolds SUNNY for carrying a knife around and confiscates it. He helps BASIL to his feet and escorts him home. BASIL asks the two to help recover his PHOTO ALBUM which AUBREY's stolen. KEL and SUNNY go about FARAWAY TOWN, asking from and fighting with each member of THE HOOLIGANS before being told that AUBREY's at CHURCH. They enter it, and sneak to the pew behind her during a sermon. KEL loudly confronts her about the stolen PHOTO ALBUM. AUBREY is furious and fights KEL and SUNNY again, before storming off tearfully amidst the judging eyes of the other churchgoers.
On the way home, KEL and SUNNY catch a glimpse of AUBREY disposing of the PHOTO ALBUM. KEL digs through the trash bin and recovers the PHOTO ALBUM and delivers it back to BASIL. They join BASIL for dinner, and then return home once they realize it's way past his curfew.
TWO DAYS LEFT
KEL starts the day knocking on SUNNY's door. HERO is only due to return home later that day, so to pass the time he takes SUNNY with him to FARAWAY PLAZA to help retrieve some food for HERO's arrival. When they return home, KEL shows SUNNY to his room and briefly mentions his new baby sister SALLY, only to get interrupted by POLLY knocking on the door, informing them that BASIL's gone missing.
KEL and SUNNY start looking for him. After searching across FARAWAY PARK, they hear him calling for help and bust into the where they end up fighting THE HOOLIGANS. AUBREY continues to argue with BASIL, until she accidentally pushes him into the lake. SUNNY tries to save BASIL, and KEL distracts AUBREY, but HERO comes and saves both SUNNY and BASIL.
After bringing BASIL back home, HERO and KEL have a proper family reunion. They enjoy a good homemade dinner, bring FLOWERS for KEL'S MOM at HERO's insistence, and then decide to have a sleepover at SUNNY's house, since he departs in two days.
ONE DAY LEFT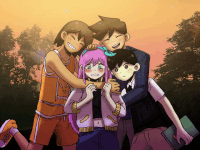 When SUNNY, KEL and HERO wake up from their sleepover, KIM comes to SUNNY'S house to inform them that AUBREY isn't answering her door. HERO insists that they need to go make up with AUBREY, and he directs the party to her house to talk to her. The party goes inside, and HERO talks to AUBREY to convince her and KEL to make up. The group also find the missing photos, which all picture MARI, on her corkboard, AUBREY mentioning that she took them because "it's all she has left of her." They put them back in the PHOTO ALBUM and leave the house.
KEL and friends spend the rest of their day hanging out, while reminiscing the past at some spots in town. They soon return to SUNNY's house and visit their old treehouse. The group somberly finds the stump of the tree where MARI supposedly died, wondering why she would take her own life so soon. KEL comments on how he used to be so good at playing cards while accidentally stepping on some jacks. As SUNNY solemnly remembers the good memories of his childhood, AUBREY storms out of the treehouse.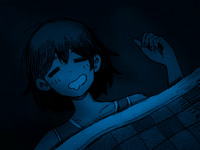 KEL and HERO follow her, with SUNNY leaving last. Near the tree stump, KEL and the others listen to AUBREY being open about her feelings. She apologizes for blaming them for not being there for her, to which both KEL and HERO comfort her in response. The four friends then make up with each other and share a big group hug.
The group heads over to BASIL's house to have a sleepover despite BASIL not coming out of his room. They all eventually decide to stay over for the night to celebrate SUNNY's last day at FARAWAY TOWN. Before falling asleep, HERO, KEL, and AUBREY tell SUNNY that life will soon get better even if moves out, as he still has them in their hearts. They then fall asleep after having a heartfelt conversation.
MOVING DAY
NEUTRAL ENDINGS
After remembering the truth, if SUNNY chooses to go back to sleep instead of confronting and saving BASIL, this will lead to another tragedy as BASIL succeeds in killing himself via suicide. This leaves the entire friend group and POLLY in complete despair upon discovering BASIL's corpse. Upon waking up once more, SUNNY finds the entire living room empty.
Heading up north, SUNNY finds his friends and POLLY in the hallway, distraught over BASIL's suicide. A devastated KEL is shown facing away, confused and crying over his friend's demise. When spoken to, KEL tearfully questions why BASIL killed himself, not before turning around to ask SUNNY why these tragedies keep happening to their friend group. With no other choice left, SUNNY leaves his distraught friends behind with no answers regarding the truth behind MARI's accidental death at all.
GOOD ENDING
The friend group's peaceful sleepover is interrupted right after SUNNY manages to stop BASIL through his disastrous attempt to save him. In the process, BASIL ends up giving SUNNY a severe eye injury with his gardening shears. Being unable to continue fighting due to mental stress and fatigue, both boys fall unconscious during the outcome of the fight. KEL and the others soon wake up and find the two boys unconscious.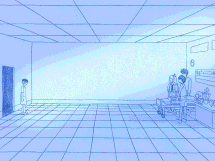 The three friends presumably call an ambulance, evident by the sirens going off during the aftermath of the fight, and both boys are immediately rushed to the hospital. After a climactic struggle against OMORI within his mind, SUNNY awakens in his hospital bed crying with a bandage over his right eye, finally coming to terms with MARI's death. He then limps out of his room and visions his HEADSPACE friends and STRANGER for the final time as he heads towards BASIL's hospital room.
From there, KEL can be seen standing beside BASIL's hospital bed alongside AUBREY and HERO. The group then notices SUNNY standing at the doorway, ready to tell them what truly happened when MARI died. The friends' reactions are left to the viewer's imagination as the game cuts to the credits.
RELATIONSHIPS
KEL and HERO are shown to have a very close brotherly relationship, both in HEADSPACE and the real world. As the older of the two, HERO almost always takes the role of the responsible one, most notably settling down fights between KEL and AUBREY.
HERO is also shown to be a high academic achiever compared to KEL, owning several awards and pursuing a career as a doctor. KEL does not seem to harbor any negative feelings towards his brother for this, but has shown some jealousy towards his brother's talents, such as calling him a "show-off" when HERO played MARI's old piano. KEL seems determined to "win" against HERO at various things, such as being the taller brother, or physical competitions like arm-wrestling. KEL can become frustrated if he loses at these competitions, though he and HERO always make up in the end.
While HERO is shown to be the more responsible brother, he freezes up whenever he sees a spider. He relies on KEL to kill and take care of spiders. KEL states that this is one of the rare circumstances where he feels like he is the older brother.
When HERO became severely depressed for almost a year after MARI's death, KEL was incredibly worried about his brother and missed spending time with him; however, he and his parents seemed to want to give HERO time to grieve, simply offering to take care of HERO when they could. Almost a year after MARI's death, seeing that HERO was still in his depressive state, KEL attempted to make him feel better. This resulted in HERO lashing out until they both cried. After coming to his senses, HERO embraced KEL and apologized repeatedly. Though HERO began attending school and being active once more, KEL still believes his brother is somewhat closed off. However, they continue to hang out together once HERO returns from college and are just as friendly around each other.
KEL is one of SUNNY's childhood friends and his next-door neighbor. The two were close friends and hung out often. According to KEL, when they were kids, SUNNY and him would sneak out at night to go to HOBBEEZ.[16] He also says that SUNNY was the better of the two when it came to video games.[17]
Although both of them grew apart after MARI's death, it is after SUNNY's house is put on sale that KEL attempts to reach out to SUNNY again.[18] Should SUNNY open the door for KEL when he knocks on DAY 1, he reacts with surprise, but immediately opts to hang out.
Though they might not be as close as they were before, KEL quickly warms up to SUNNY, repeatedly insisting that they (along with the others, though with the exception of AUBREY for awhile) are still friends, no matter what. Despite how circumstances have changed, KEL tries to treat SUNNY normally and hang out with him just as he had when they were kids, and appears to trust SUNNY a great deal. At FARAWAY CEMETERY, he opens up to SUNNY, sharing for the first time how he and HERO dealt with MARI's death and its aftermath.
When they were younger, KEL and AUBREY often bickered and argued with each other over minor topics, leading to many childish arguments. These mannerisms are shared with their HEADSPACE counterparts. Even so, they still cared about each other and were close friends, seen together more often than not in BASIL's photos. HERO has stated that KEL and AUBREY's constant bickering is not a sign of a negative relationship, but rather shows how comfortable they are in each other's company, due to the fact that they always make up after fighting.
After MARI'S death, similar to everyone else, AUBREY grew apart from KEL. His seeming lack of grief over MARI's death frustrated AUBREY, and she was extremely upset at him for not being there for her. Their rivalry turned into full-on resentment as AUBREY started becoming a bully, and though KEL repeatedly brought up the fact that they used to be friends, he seemed to have given up on AUBREY and decided that she would always be cruel.[19]
During the events of the game, AUBREY grows even more upset with KEL as he barges back into her life while she is trying to find peace. When KEL gives a forced apology for not being there, she does not accept it. Eventually, after pushing BASIL into the lake and realizing how much she has hurt her former friends, AUBREY makes up with KEL (and the rest of the group). KEL apologizes for being 'a crappy friend' and promises to be there for her now.
KEL, like with most others, was a positive and supporting force in his and BASIL's friendship. Though they grew estranged after the death of MARI, KEL is quick to assure BASIL that they are still friends. Despite his care for BASIL, he can be oblivious to when BASIL is struggling, such as when BASIL breaks down after hearing the news of SUNNY moving. Still, even though they have not spent time together in years, KEL is quick to come to BASIL's aid when he is being bullied or has any other troubles. He joins the others in sleeping over at BASIL's house when the group is worried about him, and, in the good ending, can be seen standing with the others beside BASIL's hospital bed.
In the neutral endings, KEL is shocked and distraught over BASIL's suicide, and can be seen crying outside the room along with HERO and AUBREY. His normally-happy demeanor breaks down completely as he wonders why a suicide must happen in their friend group again.
Though KEL and MARI's friendship is amongst the least developed ones in their friend group, it's assumed that they also had a caring and fun relationship. As MARI used to play softball before hurting her knee, it can be assumed that they may have shared an interest in sports at one point. In their dialogue together, MARI is shown to be an older sister figure to KEL, lovingly teasing him regarding his height in comparison to HERO's.
After MARI's death, KEL was the least outwardly affected of the group and able to find acceptance. Rather than lashing out like AUBREY or isolating himself like SUNNY, BASIL, and HERO, KEL tried to put his energy into having fun and making others happy. He became occupied with activities such as playing basketball, as well as being more social and making friends wherever he could.
Though he seems unaffected from an outside perspective, he later tells SUNNY that he still thinks about MARI every day and misses her greatly. Still, he tries not to show this grief in order to remain a positive force for the friend group, offering to lift the others' spirits by stating that MARI would be happy their friend group is back together again.
KEL's parents are shown to care about him, as he is their son. However, HERO seems to be the favorite child due to his various achievements and talents. By prioritizing HERO, their parents can sometimes end up ignoring KEL's troubles; for example, after HERO lashed out at KEL and both of them ended up crying, KEL's parents immediately went to comfort HERO, ignoring KEL. KEL'S MOM also tends to be frustrated by KEL's antics, such as yelling at him for taking too long to gather the preparations for HERO's arrival.
BATTLE
KEL is the fastest party member, but he's very fragile with his low DEFENSE and HEART. His high Speed means he has a lot of opportunities to go first, and combined with his REBOUND skill or his FOLLOW-UPS with HERO he can sweep enemy encounters before they can even threaten the party. Against bosses, KEL's speed can be weaponized through combining FLEX with RUN N' GUN on top of means to make him HAPPY, or he can use SNACKS and TOYS to support the party before the boss can make their move.
SKILLS
HEADSPACE
SKILL
DESCRIPTION
DAMAGE
ACTION
SOURCE
ATTACK
KEL's Basic Attack
(Attack x 2 - Foe's defense)

BASIC
ANNOY
Makes a friend or foe ANGRY.
Costs 5 JUICE.
NONE

BASIC
GUARD
Acts first, reducing damage taken by 50% for 1 turn.
Costs 0 JUICE.
NONE
(No Animation.)
BASIC
REBOUND
Deals damage to all foes.
Costs 15 JUICE.
(Attack x 2.5 - Foe's defense)

LEVEL 4
RUN N' GUN
KEL does an attack based on his SPEED instead of his ATTACK.
Costs 15 JUICE.
(Speed x 1.5 - Foe's defense)

LEVEL 9
CURVEBALL
Makes a foe feel a random EMOTION. Deals extra damage to foes with EMOTION.
Costs 20 JUICE.
(Attack x 3 - Foe's defense) (EMOTION)
(Attack x 2 - Foe's defense) (Else)

LEVEL 10
RICOCHET
Deals damage to a foe 3 times, with a 30% damage variation.
Costs 30 JUICE.
(Attack x 3 - Foe's defense)

LEVEL 16
MEGAPHONE
Makes all friends ANGRY.
Costs 45 JUICE.
NONE

LEVEL 20
CAN'T CATCH ME
Attracts attention and reduces all foes' HIT RATE by 55% for two turns.
Costs 50 JUICE.
NONE
(No Animation.)
LEVEL 21
RALLY
KEL becomes HAPPY. KEL'S friends recover some ENERGY and JUICE.
Costs 50 JUICE.
Restores 4 ENERGY and 30% JUICE to his allies.

LEVEL 26
COMEBACK
Makes KEL HAPPY. If SAD was removed, KEL gains FLEX.
Costs 25 JUICE.
NONE

LEVEL 29
TICKLE
All attacks on a foe will hit right in the HEART next turn.
Costs 55 JUICE.
NONE
(No Animation.)
LEVEL 30
FLEX
KEL deals more damage next turn and increases HIT RATE by 1000% for his next attack. This will also increase the damage of his next attack by 2.5 times.
Costs 10 JUICE
NONE

PLUTO
JUICE ME
Heals a lot of JUICE to a friend, but also hurts 25% of the friend's HEART. (Restores 40% MP)
Costs 10 JUICE
(HP x 0.25)

COCONUT
SNOWBALL
Makes a foe SAD. Also deals big damage to SAD foes.
Costs 20 JUICE
(Attack x 3 - Foe's defense) (SAD)
(Attack x 2.5 - Foe's defense) (Else)

SNOWBALL
FARAWAY TOWN
SKILL
DESCRIPTION
DAMAGE
ACTION
SOURCE
ATTACK
(There is no description for this SKILL.)
(Attack x 2 - Foe's defense)

BASIC
ENCOURAGE
KEL encourages SUNNY.
Raises SUNNY's ATTACK by three tiers.
Costs 0 JUICE
NONE

BASIC
GUARD
Acts first, reducing damage taken for 1 turn.
Costs 0 JUICE.
NONE

BASIC
FRIENDLY FOLLOW-UP
FOLLOW-UP
ENERGY
LEVEL
ACTION
DESCRIPTION
DAMAGE

PASS TO OMORI
3
1
KEL passes to OMORI.
OMORI wasn't looking and gets bopped, taking 1 damage and becoming SAD!
(1)
2
KEL passes to OMORI.
OMORI catches KEL's ball! OMORI throws the ball, dealing damage to a random foe and becoming HAPPY!
(OMORI Attack x 1.5) + (KEL Attack x 1.5) - Foe's Defense
3
KEL passes to OMORI.
OMORI catches KEL's ball! OMORI throws the ball, dealing extra damage to a random foe and becoming ECSTATIC!
(OMORI Attack x 2) + (KEL Attack x 2) - Foe's Defense

PASS TO AUBREY
3
1
KEL passes to AUBREY.
AUBREY knocks the ball out of the park, dealing damage to a random foe!
(AUBREY Attack) + (KEL Attack) - Foe's Defense
2
KEL passes to AUBREY.
AUBREY knocks the ball out of the park, dealing extra damage to a random foe!
(AUBREY Attack x 2) + (KEL Attack) - Foe's Defense
3
KEL passes to AUBREY.
AUBREY knocks the ball out of the park, dealing big damage to a random foe!
(AUBREY Attack x 2) + (KEL Attack x 2) - Foe's Defense

PASS TO HERO
3
1
KEL passes to HERO.
HERO passes back, and KEL dunks on the foes, dealing damage to all of them!
(AUBREY Attack)[20] + (KEL Attack) - Foe's Defense
2
KEL passes to HERO.
HERO passes back, and KEL dunks on the foes, dealing extra damage to all of them!
(AUBREY Attack)[20] + (KEL Attack x 1.5) - Foe's Defense
3
KEL passes to HERO.
HERO passes back, and KEL dunks on the foes with style, dealing extra damage to all of them and lowering their ATTACK!
(AUBREY Attack x 1.5)[20] + (KEL Attack x 1.5) - Foe's Defense
LEVEL STATS
HEADSPACE

The data table shows KEL's base stats (without any item bonuses, nor HEARTS bonuses gained by watering plants, nor any special bonuses).
The player can boost KEL's HEART stat by constantly watering the flowers near the path to BASIL'S HOUSE. Though, just note that KEL can only gain HEARTS from the cactus flowers. In addition, every party member's JUICE can be increased by 5 points for every new CLUB SANDWICH that the party lodges at.
KEL can also gain an additional 50 HEART boost by talking to PLUTO in his hole after defeating him in MR. JAWSUM's office within the LAST RESORT.
DW KEL'S STATS (No Weapons/Charms/Boosts)
LEVEL
HEART
JUICE
ATTACK
DEFENSE
SPEED
LUCK
HIT
1
37
25
4
4
5
7
0
2
38
31
5
5
6
7
0
3
40
33
6
5
9
7
0
4
42
37
8
6
12
7
0
5
47
41
9
7
15
7
0
6
52
47
10
8
17
7
0
7
58
53
11
9
19
7
0
8
61
55
12
9
20
7
0
9
66
61
13
10
22
7
0
10
71
65
14
11
25
7
0
11
75
71
16
12
28
7
0
12
77
74
17
12
30
7
0
13
81
79
18
13
33
7
0
14
90
88
21
15
36
7
0
15
93
91
22
16
37
7
0
16
103
100
24
18
40
7
0
17
108
106
25
19
43
7
0
18
110
108
26
20
44
7
0
19
115
113
27
22
46
7
0
20
119
117
28
23
49
7
0
21
124
123
29
24
51
7
0
22
128
129
31
26
53
7
0
23
133
135
32
27
55
7
0
24
139
141
33
28
58
7
0
25
141
143
34
29
60
7
0
26
147
148
36
30
62
7
0
27
151
154
38
32
64
7
0
28
157
159
40
34
66
7
0
29
165
169
42
36
69
7
0
30
167
172
43
37
70
7
0
31
174
181
46
39
73
7
0
32
179
185
48
41
75
7
0
33
185
189
49
42
78
7
0
34
187
192
50
42
79
7
0
35
192
197
51
43
81
7
0
36
196
201
52
44
84
7
0
37
201
206
54
46
87
7
0
38
205
211
55
47
90
7
0
39
210
215
56
48
93
7
0
40
218
222
58
50
96
7
0
41
227
230
61
52
99
7
0
42
236
239
63
54
102
7
0
43
243
248
66
56
105
7
0
44
251
255
68
58
108
7
0
45
260
265
70
60
114
7
0
46
269
275
72
62
114
7
0
47
276
285
74
64
117
7
0
48
286
295
76
66
120
7
0
49
296
305
78
68
125
7
0
50
300
315
80
70
130
7
0
FARAWAY TOWN
KEL's default stats in FARAWAY TOWN are listed down below. Note that all playable FARAWAY characters only remain at LEVEL 1 as they cannot properly level up in-game.
In addition, the BASKETBALL weapon cannot be unequipped, meaning his initial ATTACK stat is 20, while his HIT only goes up to 95. Despite this, equipping the CHIMERA KEYCHAIN or SEASHELL NECKLACE can slightly increase some of KEL's stats.
RW KEL'S STATS (No Weapons/Charms/Boosts)
LEVEL
HEART
JUICE
ATTACK
DEFENSE
SPEED
LUCK
HIT
1
130
100
18
8
17
15
0
BOSS BATTLE
For an in-battle description, see: the simulated version.
GALLERY
IN-GAME
SPRITES
FACES
BATTLE SPRITES
BACKGROUND
TRANSPARENT
TAGS
PHOTOS
IN-ACTION
PHOTO ALBUM
BOSS
ARTWORK
STICKERS
TRIVIA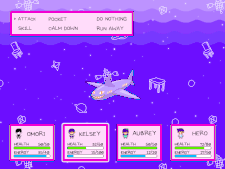 KEL's name was originally going to be different during production, as evidenced by older development screenshots where his name is read as KELSEY.
KEL does not like pickles, and will not eat them when tagged as the leader of the party at the healing locations with them in THE DUNGEON and the GHOST PARTY, forcing the player to tag to another character to be able to use these locations.[21][22]
KEL hates milk, but his HEADSPACE counterpart likes it. This is likely due to ORANGE JOE being an actual character rather than a drink in HEADSPACE. This can be seen from the difference between a photo of KEL in the REAL WORLD and its HEADSPACE version.
KEL is noted to like basketball as shown through his outfit and choice of weapon in FARAWAY TOWN.[23][24]
KEL's name and affinity for orange soda is likely a reference to character of Kel Kimble, from the Nickelodeon sitcom Kenan and Kel.
If the player gives KEL his favorite drink ORANGE JOE in-battle, he'll end up with his HAPPY emotion.
In the original demo, KEL's ability when tagged involved climbing up high structures to retrieve items.
KEL stealing 20 dollars from the player is most likely the developers poking fun at themselves, as the game itself costs 20 dollars when not on sale.
There are a few in-game events exclusive to KEL when starting a battle in HEADSPACE:
From version 1.0.2 and onwards, KEL is given an extra 4 HEART from LEVELS 1-49.
Despite not having an animation in-game, TICKLE does have an entry in the database, where it loads the otherwise unused "k_tickle" sprites and the "e_brag" sprites, used by SWEETHEART and KITE KID when they brag. On frame 6, it plays "BA_tickle." However, it has 0 frames and no animation data, meaning it was most likely cut later on for unknown reasons.
KEL has the potential to deal some of the largest damage in the game while in HEADSPACE. If KEL is under the effects of HAPPY/ECSTATIC, has a higher SPEED weapon, has used FLEX, and finally has consumed COFFEE, the RUN 'N GUN skill can hit for about 3,750 damage per usage. If the target is ANGRY, then the damage can get as high as about 5,500, able to just about one-shot most major bosses. Note that the highest SPEED you can get is 999, so HAPPY may be unnecessary when KEL has equipped CHICKEN BALL or BASKETBALL.
KEL has a secret FOLLOW-UP interaction with HERO. If KEL is SAD, and HERO does the "Call KEL" FOLLOW-UP, it will remove KEL's SAD emotion and make him NEUTRAL. This works with any tier of SAD for KEL, and any emotion for HERO.
REFERENCES
SITE NAVIGATION