SPOILER WARNING

This article contains spoilers of important plot details regarding the plotline of OMORI.

---
I'll be around whenever you need me. If you're ever stuck or don't know what to do, just talk to me, and I'll try my best to help!

— MARI
MARI is a major supporting character in OMORI. She is the older sister of OMORI in HEADSPACE, and was SUNNY's older sister in the REAL WORLD.
PROFILE
APPEARANCE
A girl with long, straight hair and bangs. In HEADSPACE, she has dark hair and eyes which are stylized as purple. She wears what looks like a variation of a Japanese seifuku.
In the REAL WORLD, MARI had black hair, black eyes, and wore a purple jacket or sweater over a white dress. She wore purple shoes. Her appearance also influenced her HEADSPACE counterpart's appearance.
As a spirit, MARI looks slightly older than her HEADSPACE counterpart. Similarly to OMORI, she is completely black and white, and her eyes are black with white pupils. She also wears a long, white dress.
PERSONALITY
She's often spoken of as being kind and gentle, and plays a sisterly role in the friend group with SUNNY, HERO, KEL, AUBREY, and BASIL. Her first appearance shows she has a mischievous side, poking fun at KEL and AUBREY's mannerisms and afterwards teasing HERO. These traits are shared with her HEADSPACE counterpart.
Later in the game, it is also revealed she would pull pranks on HERO especially, such as putting bugs in his school desk. It is also shown that she was a perfectionist, spending hours at a time practicing the same piano piece over and over again.
Even after her death, her spirit form is shown to be forgiving towards SUNNY despite what he did to her. She also tries to help SUNNY forgive himself and reminds him to remember what's important. Despite knowing that her brother accidentally killed her in the past, MARI wishes for SUNNY to move on and live out his life without any regrets.
STORY
BACKGROUND
MARI was born on March 1st to an unnamed mother and father around 19 years before the main game. Three years later, her parents had her little brother, SUNNY. The two grew up in FARAWAY next to KEL's family. She used to play softball before suffering from a permanent knee injury.[2] She was friends with HERO and later became friends with KEL, AUBREY, and BASIL. The group would often spend time together, with a romantic relationship forming between her and HERO.
Once, on a trip to FARAWAY PARK, SUNNY nearly drowned but was saved by MARI. Because of this incident, the group stopped going to FARAWAY PARK.
Prior to the events of the game, MARI would spent a lot of time practicing the piano and taking college prep classes. Because of this, she would spend less time with her younger brother, SUNNY. In an attempt to spend more time with his sister, SUNNY picked up violin again and the both of them would practice together often for an upcoming recital.
On the day of the recital, MARI and SUNNY had an argument that resulted in him accidentally pushing her down the stairs, killing her. In his shock, SUNNY brought her to bed. SUNNY closes in on himself, creating the beginnings of WHITE SPACE.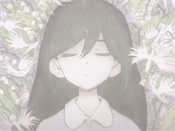 BASIL, who was dropping by, came up with a plan to frame her death as a suicide. Together, they dragged her body into the backyard. BASIL utilized a jumping rope to create a noose to hang MARI's body with, successfully staging her suicide. Stepping back into the house, both of them looked back at her corpse to see one of her eyes looking at them, traumatizing the children and haunting them in the form of SOMETHING. Though SUNNY and BASIL knew the truth, everyone else was under the impression that MARI had committed suicide.
She was buried at FARAWAY CEMETERY, with her gravestone reading "OUR DEAREST MARI ; THE SUN SHINED BRIGHTER WHEN SHE WAS HERE."
PROLOGUE
While confronting SOMETHING, SUNNY hears MARI's voice, telling him to CALM DOWN.
THREE DAYS LEFT
When climbing up the stairs, SUNNY sees SOMETHING, who fades out to MARI's spirit when interacted with, and vanishes when SOMETHING confronts SUNNY. While facing SOMETHING, SUNNY hears MARI's voice again, this time teaching him how to FOCUS. After the house returns to normal, checking the fridge will cause the screen to briefly darken, revealing MARI's spirit behind SUNNY. When going to sleep, a faint outline of MARI's spirit can be seen.
When visiting LOST LIBRARY for the first time after defeating SWEETHEART, a brief vision of MARI's spirit can be seen walking down the stairs before vanishing away.
TWO DAYS LEFT
When SUNNY dives into the HANGOUT SPOT's lake to rescue BASIL, he finds himself inside a dark version of his house that seems to be submerged underwater. From there, he once again encounters MARI's spirit, who calmly guides him down the stairs to a STEAK KNIFE. She then disappears, and a large face appears behind SUNNY, engulfing him in darkness. When facing SOMETHING, SUNNY can hear MARI's voice encouraging him to PERSIST. Sometime after that fight, SUNNY briefly visions MARI saving him from drowning in a similar fashion to the time she saved him four years ago. After SUNNY goes to his house with KEL and HERO in the night, he can briefly see MARI's spirit in his parents' room.
In the SUNNY route, MARI later appears in HEADSPACE, appearing at first as her HEADSPACE counterpart. She asks OMORI to accompany her across NORTH LAKE to find their friends. She also encourages him to enter the water, using the same dialogue when she encouraged him to PERSIST. Before entering UNDERWATER HIGHWAY, MARI remarks that he is still scared of SOMETHING, and that it is harder to OVERCOME it. She then addresses SUNNY by name, telling him that she misses him. She then changes from her HEADSPACE form to her Spirit form and then bids farewell, exiting SUNNY's dream through a window resembling the one in the piano room of SUNNY'S HOUSE. It is left ambigious if this is actually representative of MARI's spirit who was disguised as her HEADSPACE counterpart, or is merely another figment of SUNNY's imagination to help seek closure.
Later, in the SUNNY route, SUNNY wakes up in the middle of the night after exploring BLACK SPACE. In the piano room, he finds MARI's spirit playing the piano. She then tells SUNNY that waltzes were her favorite, leading her to choose one for their recital. She then acknowledges that SUNNY didn't like how MARI practiced over and over again, and how repeated practice eventually drove SUNNY to drop the violin. She apologizes for pushing him too hard during recital practice, and asks him that since they were never able to do the recital, whether he wants to do it with her now. HERO then enters, causing MARI to vanish, and making HERO wonder about the music he heard.
MOVING DAY
After SUNNY's fight with BASIL, he wakes up in a facsimile of FARAWAY TOWN. He follows a vision of MEWO and later talks to a vision of BASIL. He soon enters his house, where MARI's spirit is playing the piano. She requests SUNNY to forgive himself for his involvement in her death, and encourages him to reveal the truth to his friends.
She then reassures SUNNY that she'll always be watching over him. MARI makes one final appearance only if SUNNY chooses to continue against OMORI during their final battle. She appears with an apparition of her old piano once SUNNY regains composure and readies himself to play his violin.
The two siblings perform their duet recital together, with SUNNY remembering the good times he's spent with MARI and his friends during his youth. At the end of their duet, MARI's spirit departs for the final time through the same window she left through at NORTH LAKE. Afterwards, SUNNY is able to overcome OMORI and accept the truth. Upon waking up in the hospital, SUNNY wakes up crying in his hospital bed, finally coming to terms with MARI's death.
RELATIONSHIPS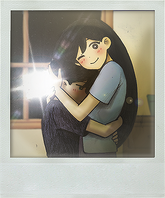 MARI is SUNNY's older sister. Both siblings are shown to dearly love and care for one another as shown throughout many flashbacks and photos from the PHOTO ALBUM.
In an instance when SUNNY was drowning in the FARAWAY PARK lake, MARI was reported to immediately jump in after him. After rescuing and resuscitating him, she collapsed and sobbed out of relief.
Because MARI would spend a lot of time practicing piano, SUNNY picked up violin in an effort to spend more time with her. They practiced together often for the upcoming recital, though it is implied that her perfectionism pushed SUNNY too hard, ultimately resulting in her untimely death.
Though her death and the circumstances surrounding it continued to haunt SUNNY, she is shown to be forgiving in HEADSPACE and beyond, hoping SUNNY can forgive himself and find happiness. She is also seen multiple times in the house, showing she has been watching over SUNNY, and she has stated that she'll continue to do so as long as SUNNY remembers her. Throughout the game, MARI's apparition often appears before both OMORI and SUNNY, offering words of consolation and comfort, and encouraging him to reveal the truth to his friends. When confronting his fears, MARI's words of support can be heard, helping SUNNY learn how to CALM DOWN, FOCUS, PERSIST, and CHERISH over the course of the game.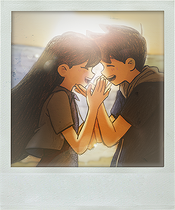 MARI was one of HERO's childhood friends and next-door neighbors. Being the oldest in their friend group (including their siblings, SUNNY and KEL) both MARI and HERO often took responsibility for everyone else, watching over them when they fall asleep and making sure everyone is okay. It is implied that they were in a relationship or at least had mutual feelings for one another[3][4][5][6], though it's unknown if they were dating. Whether this was because they didn't want to make MARI's dad upset[7] or because they were simply just friends, is unknown.
After MARI's death, HERO became severely depressed[8]. After almost a year of isolating himself in his room, KEL confronted him on his behavior, leading to HERO lashing out at him and both of them in tears. It's after HERO comes back to his senses and apologizes to KEL that he picked school back up again.[9]
Though he appears to be the most responsible and emotionally stable of the friend group, he admits that he still thinks about MARI everyday.[10] It's revealed by KEL that HERO hasn't visited MARI's grave in the past four[11] years[12], and says he isn't ready when you try to visit the FARAWAY CEMETERY before DAY 3. When SUNNY leaves him alone in the piano room, he can be found quietly crying to himself.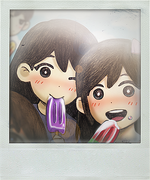 AUBREY saw huge strength and perseverance in MARI, and in return, MARI treated her with respect and with the same care as the rest of the group, often hanging out and spending time with her alongside the rest.
She can be seen consoling AUBREY in one of SUNNY's memories. AUBREY, in return, seems to have been heavily attached to her, wanting them to dye their hair together. When AUBREY saw the vandalized photo album, she violently vented her anger towards BASIL, who she believed to be the perpetrator.. She also grew angry at KEL for moving on too fast, and was also mad at HERO and SUNNY for isolating themselves from the group.
It is clear that MARI was an important part of her life, being the only person who visited her grave for four years and stealing MARI's photos from BASIL'S PHOTO ALBUM.
BASIL was introduced to her after AUBREY invited him to join their friend group.
MARI was thoughtful of BASIL, purchasing a camera so BASIL could take photos. This item led to creation of the PHOTO ALBUM, BASIL's most precious treasure. Like the rest of the group, she was caring, supporting and nurturing of him.
While BASIL's actions with her death can lead one to believe that he did not appreciate her enough, he kept the PHOTO ALBUM and MARI's pictures in it, treasuring it all the same. It can be assumed that he also frequented MARI's grave, as a white egret orchid can be seen next to her grave.
Though KEL and MARI's friendship is amongst the least developed ones in their friend group, it's assumed that they also had a caring and fun relationship. As MARI used to play softball before hurting her knee, it can be assumed that they may have shared an interest in sports at one point. In their dialogue together, MARI is shown to be an older sister figure to KEL, lovingly teasing him regarding his height in comparison to HERO's.
When HERO and AUBREY express grief over how much they miss MARI, KEL opts to lift their spirits, stating that MARI would be happy that their friend group is back together again.
GALLERY
IN-GAME
SPRITES
PORTRAITS
PHOTO ALBUM
ARTWORK
STICKERS
TRIVIA
MARI had a black cat named MEWO.
When they were younger, MARI would hide bugs in HERO's desk.[13]
MARI took flower arrangement classes with her MOM, occasionally bringing SUNNY along.[14]
MARI has trouble falling asleep, so she reads before bed.[15]
MARI and SUNNY traded beds when she realized he had trouble falling asleep.[16]
MARI and HERO are the same age.[13]
SUNNY would sleep in MARI's bed with her when he had nightmares.[17]
In the 2014 trailer, there are a few short clips featuring an early version of MARI, indicating she was already conceptualized during the game's early stages. The closest viewed one is shown very briefly right here.
In the game's files, MARI originally had more portraits of her spirit form, implying she was originally going to have a larger role, but they were scrapped except for the one where MARI bids farewell to SUNNY in

NORTH LAKE

.

In addition, the game's files refers MARI's spirit form as WS MARI, implying some sort of a connection to WHITE SPACE, evident by her briefly appearing on TWO DAYS LEFT in that area as a vision.
If found three to four times total, she will briefly turn into SOMETHING before disappearing with an ominous noise playing in the background.

In the

NORTH LAKE

shore, if the player runs for too long, MARI will tell OMORI to slow down; continuing will cause her to shout at OMORI, disabling running until she leaves him.
Unlike the other main HEADSPACE characters, MARI isn't seen getting into any sort of trouble, no matter where her picnics are set up.

It is later revealed by the voice in DEEPER WELL that she was confined to her picnic blanket and protected by the world itself because SUNNY couldn't bear the thought of her getting into danger and potentially dying again in his dreams.[18]

In his PHOTO ALBUM, BASIL states that SUNNY and MARI's recital is "next month". The photo is dated as being taken on September 22, so it can be assumed that MARI died sometime in October.
In the OMORI ROUTE, when facing SOMETHING IN THE WATER, MARI has an extra dialogue added, where she says that she is right there with SUNNY. This is a reference to how MARI's spirit is there in the house, as opposed to the SUNNY route, where SUNNY is trying to save BASIL from drowning at HANGOUT SPOT.

On TWO DAYS LEFT in the SUNNY ROUTE, HERO comment on the piano being well-taken cared of, despite the fact that neither SUNNY or his MOM had been in the PIANO ROOM recently. This encourages the idea that MARI's spirit is within the house, looking after her beloved piano.

Because of the ambiguity of SUNNY's perceptions being objective reality, it is up to interpretation if MARI's spirit was indeed SUNNY's hallucinations or another manifestation of his dreams or not, as only SUNNY has seen her. and if so, if all visions are him truly being in contact with Mari or some are also visions or are apart his imagination.

However, it may be implied that it is at least not entirely true, or that her spirit at least exists in some form, as HERO says he heard someone playing music, after MARI's spirit plays the piano. Although due to HERO's former relationship with MARI, it could also be interpreted that he also is having similar hallucinations to SUNNY due to being close to MARI as well.

The window MARI's spirit often leaves through bears a striking resemblance to the one present in the piano room of SUNNY'S HOUSE. If MARI's spirit is indeed real and not a hallucination, the window likely represents a door to the afterlife; if she is a hallucination, it may represent SUNNY's interpretation of one.

This may explain why MARI's spirit often appears in the piano room where the window is located.
At NORTH LAKE, MARI tells OMORI the last time he saw the window was at "the lake". When SUNNY fell into said lake, it was a near-death experience, as he would have drowned if not for MARI saving him. This likely references many real-world claims of seeing the afterlife during a near-death experience.
REFERENCES
SITE NAVIGATION