Jurassic World: Dominion Dominates Fandom Wikis - The Loop
Play Sound
MEDUSA'S EXPERIMENT is a quest in OMORI. It is one of the many optional side quests available when talking with MEDUSA after feeding HUMPHREY the GIANT CHECK on ONE DAY LEFT. It is also exclusive to the OMORI ROUTE.
STORY
Once the player has completed the FEED HUMPHREY sidequest, they are able to regain access to the whale's insides. This includes encountering all three of the SLIME GIRLS once again within each of their respective laboratories.
MEDUSA can found within her lab but appears as an disembodied head like her other two sisters. Upon noticing OMORI and the party, MEDUSA expresses shock while noting her excitement over seeing them alive again. She then requires that the group go and get some SNOT to rebuild her body. This can be done by defeating any SNOT BUBBLES roaming around her sector.
Defeating a single SNOT BUBBLE will automatically drop SNOT for the group to collect. From that point on, the player can then return to MEDUSA's lab to finish the sidequest.
REWARD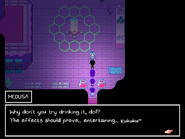 Upon giving MEDUSA the SNOT, a short cutscene reveals that MEDUSA has successfully restored her original body. She will then thank the group while giving them a MYSTERY POTION as a token of gratitude.
She suggests try drinking the potion as the effects should prove... entertaining according to her tone. This will lead to the completion of the sidequest. Interacting with MEDUSA afterwards has her asking OMORI if he has tried out the MYSTERY POTION.

Drinking the MYSTERY POTION will change OMORI's gender from male to female. This effect only works within any of the DEEP WELL and DEEPER WELL areas. The effects of this item will wear off after looking into a mirror or after entering a battle. It has unlimited uses.
It also allows OMORI to enter the Women's restroom with AUBREY in the LAST RESORT, however you can not use the potion within bathrooms.
INVOLVING
MARI'S ADVICE
MARI (Medusa's Experiment) Incomplete #1
MEDUSA is requesting that you find her some SNOT for her new body... Sounds questionable, but she knows what she's doing... probably.

MARI (Medusa's Experiment) Incomplete #2
MARI (Medusa's Experiment) Complete
MEDUSA makes her own body, huh... No wonder she has the perfect body-type.

SITE NAVIGATION