NEIGHBOR'S ROOM is a location in OMORI. This is where OMORI meets up with his friends to go on more adventures throughout HEADSPACE.
GEOGRAPHY
NEIGHBOR'S ROOM is vibrant, colorful room featuring various colorful objects that resemble many of SUNNY's toys he used to play with. The bottom right corner features a TV playing a movie; various cards and food are scattered on the floor. There is also a small pool featuring a red tentacle sticking out from the bottom left corner. A purple-colored clock hangs on the wall too.
A white table right next to where OMORI's friends play their cards features an empty plate holding a tiny bean as well. The room also features a large tree with pink leaves that resides right next a long golden table that holds numerous items such as a toaster or a photo of someone familiar.
The most notable feature of the place is the multicolored staircase that leads to VAST FOREST and the BIG YELLOW CAT that watches over its residents. There is also a SNAKE on the staircase that gives OMORI his allowance that increases in amount as each day passes by.
BACKGROUND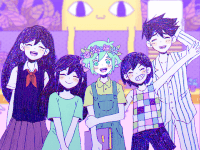 NEIGHBOR'S ROOM was where OMORI first met his friends as shown in one of the cutscenes.
The group would usually spend time playing cards or heading out to go on adventures in HEADSPACE. This cycle would repeat continuously throughout SUNNY's four years as a shut-in.
Like many of HEADSPACE's locations, this area was largely inspired from SUNNY's TREEHOUSE that he and his friends used to play in four years ago before MARI's death.
STORY
PROLOGUE - TWO DAYS LEFT
During the prologue, OMORI visits this location upon entering a white door that appears after he collects his SHINY KNIFE. OMORI is greeted by his friends AUBREY, KEL, and HERO, who were all playing cards until AUBREY accidentally runs over the card deck to welcome OMORI.
From there, OMORI can interact with his friends and helps AUBREY find her STUFFED TOY that KEL hid in an watermelon placed right next to a red tentacle. Completing this side-quest leads to HERO telling OMORI that MARI and BASIL are waiting for them at the FOREST PLAYGROUND. The group proceeds to leave for more adventuring afterwards.
On TWO DAYS LEFT, when OMORI enters the location, he finds himself locked out of WHITE SPACE by SOMETHING, who ominously stares at the young boy behind the door's keyhole. Along with that, OMORI's friends are absent due to working at LAST RESORT.
After defeating HUMPHREY and being clued in to the true nature of HEADSPACE, the tunnel he swims through opens into a shortcut that links the ROOM with DEEPER WELL, allowing for quick passage to BASIL'S HOUSE once the HANGMAN puzzle is complete.
SUNNY ROUTE
On the SUNNY ROUTE, this location makes one final appearance if the player chooses not to continue against OMORI during their final battle. Upon assuming complete control of SUNNY's body, OMORI reawakens in WHITE SPACE once more. He then reunites with his friends, who all appear to be strangely silent as they rejoin his party.
When the party leaves the room for more "adventuring", the scene cuts forward to the REAL WORLD, where SUNNY commits suicide by jumping off the balcony of the hospital, plummeting endlessly to his presumed death.
OMORI ROUTE
After sleeping in the NEIGHBOR'S BEDROOM, OMORI, now taking control of SUNNY's body, awakens in his room to finish the last of his chores before returning to sleep. OMORI once again awakens in WHITE SPACE, and goes through the white door to be greeted by his friends. They repeat dialogue from the very beginning of the game before setting off to meet with MARI and BASIL again in the FOREST PLAYGROUND.
Following that, the entirety of HEADSPACE is free for OMORI to explore, and he can enter and leave the room as he pleases. Should he choose to spare ABBI, her tentacle which sits in the corner of the room offers a BASEBALL BAT, one of AUBREY's strongest weapons.
CONNECTED LOCATIONS
GALLERY
TRIVIA
The NEIGHBOR'S ROOM appears in OMORI'S STORY, OMORI promo cards, and many other original concepts. Not much has changed from its original layout.
The TV is likely a reference to both the film Stand by Me as well as the first generation of Pokémon games. In the English translation of Pokémon Red, Blue, and Yellow, interacting with the television in the player character's living room shows the identical text: There's a movie on TV. Four boys are walking on railroad tracks. Unlike in OMORI, however, the text then continues I better go too.
The BIG YELLOW CAT staring at you can be seen in the REAL WORLD in FARAWAY PARK as a play structure SUNNY used to play on and as a calendar in the TREEHOUSE.
SITE NAVIGATION