Jurassic World: Dominion Dominates Fandom Wikis - The Loop
Play Sound
SPOILER WARNING

This article contains spoilers of important plot details regarding the plotline of OMORI.

---

NORTH LAKE is a location in OMORI. It is a mysterious lake that once contained hints of the truth regarding the game's backstory. It is accessed during the start of TWO DAYS LEFT in HEADSPACE.
GEOGRAPHY
NORTH LAKE is a mysterious lake covered in fog, located north of the STUMP AREA of VAST FOREST. The foggy presence of this area is presumably due to SUNNY's mind trying to distract itself from uncovering the truth regarding MARI's death.[1] The area itself mainly consists of multiple translucent walkways surrounded by islands containing shadows that represent SUNNY's long lost memories. There are also a few abandoned houses containing decayed furniture.
Various shadowy figures resembling people from SUNNY's past can be either seen roaming around or hovering over the water. They cannot be interacted with as going near them will cause them to immediately vanish. A notable aspect of the place is a lighthouse that once held fragments of the truth, as mentioned by a disembodied voice from the DEEPER WELL.[2]
NORTH LAKE is also known to connect to the UNDERWATER HIGHWAY through a well that can be accessed after completing the area for the first time. Upon completing the area on either route of the game, NORTH LAKE will revert back to an ordinary lake devoid of any remnants of the truth. This area serves as a hint for why MARI is important to the story's plot.
STORY
Upon returning to HEADSPACE once more, OMORI finds out that the playground he and his friends often visited is completely abandoned. It is also revealed that VAST FOREST and its surrounding areas are covered in thick fog. The only option is to head up north, where OMORI will find someone waiting for him depending on the route the player is currently on.
SUNNY ROUTE
OMORI ends up finding MARI standing on a wooden pier, facing away from him. MARI greets OMORI and informs him that their friends have recently gone missing, and asks him to accompany her across the water. However, OMORI briefly hesitates entering the water due to his fear of drowning. MARI then encourages OMORI to not be afraid and these words of comfort allow him to conquer this fear.
Upon entering the lake, OMORI and MARI head off to find their missing friends. The two occasionally encounter shadowy figures roaming around while swimming their way through the lake. They eventually reach a translucent pier surrounded by islands representing long forgotten memories of SUNNY's past. MARI remarks that she feels proud of OMORI for conquering his fears, while noting he still has something that he has to overcome.
The two siblings end up reaching a large white window, and MARI tells OMORI that she has to leave and addresses him as SUNNY. Despite knowing that she shouldn't have come here, MARI sadly notes that she felt lonely all by herself. Regardless, MARI walks over the water, and faces OMORI as she changes her form to a more ghostly-like appearance. MARI then bids OMORI farewell as she departs through the window.
From there, a large whirlpool is formed after MARI's departure. OMORI can either wait for the screen to darken with SOMETHING's multiple eyes or simply enter the whirlpool. Either choice will teleport OMORI to a dock containing a mysterious well that leads him to where his missing friends are located: the UNDERWATER HIGHWAY.
OMORI ROUTE
Instead of finding MARI, OMORI finds KEL waiting for him at the docks. KEL greets OMORI and informs him that that all their friends from the FOREST PLAYGROUND have taken jobs at the casino due to getting tricked into working for MR. JAWSUM by signing contracts. Attempting to enter the waters at first will play out a scene where OMORI overcomes his fears of drowning. The only difference is that KEL is there to encourage OMORI instead of MARI.
Upon doing so, OMORI and KEL can swim through NORTH LAKE. The only areas they can visit are the first area and the ENTRANCE TO DEEP WELL, as the other areas containing fragments of the truth are inaccesible. The two end up finding a mysterious well which takes them to the area where their missing friends are located: the UNDERWATER HIGHWAY.
NOTABLE AREAS
NORTH COAST
The NORTH COAST serves as an area that links both VAST FOREST and NORTH LAKE together. It is a sandy shore surrounded by trees and a wooden boardwalk. This is also where OMORI meets up with MARI (SUNNY ROUTE) or KEL (OMORI ROUTE) on TWO DAYS LEFT when their friends go missing. Entering this area before TWO DAYS LEFT leads to a brief encounter with SOMETHING, who simply disappears upon approaching it.
The player cannot swim from this area before TWO DAYS LEFT, as attempting to go into the waters will cause OMORI and friends to back off with the message "you are afraid of drowning". However, this fear can be conquered once either MARI or KEL encourages OMORI to face his fears.
The group can also interact with a bucket and shovel filled with sparkles. Doing so will lead to a small breaktime sequence where OMORI and his friends build sand castles or swim through the waters.
SANDCASTLES
FIRST AREA
The first area of NORTH LAKE simply consists of a large ocean covered in thick mist and multiple trees populating the area.
Attempting to go east or west leads to a black screen that mentions "there is nothing here", before transporting the group back to this area. The only option is to either continue up north or head down south.
After completing NORTH LAKE, simply transitioning from this area will automatically bring the party to the ENTRANCE TO DEEP WELL. This is due to the remnants of the truth being erased from the area after MARI departs through the large white window. However, if the player is on the OMORI ROUTE, this action can already be done upon swimming through the area with KEL.
MAIN CURRENTS
Continuing up north brings OMORI and MARI to the first proper area, known as the MAIN CURRENTS. This area also features multiple shadows hovering over the waters, some of them even staring at the two siblings in a manner similar to that of BASIL. These figures are referred to as GHOSTIES in the game's files.
Swimming north-west brings the player to the first abandoned house, where the player can inspect some decayed furniture inside of it. These objects include an unmade bed that hasn't been used in years, a dirty wardrobe, a stool on its side, an ordinary houseplant, and a drawer on the left.
Interestingly, inspecting the broken tv reveals "something staring at you from the other side." They can also obtain DEAD BATTERIES from the left drawer, though this can be done in any of the abandoned houses if the player hasn't acquired them already in the NORTH LAKE.
To proceed, the player must continue swimming north until reaching a dock going across a waterfall. Climb on the dock and continue on to the next subarea.
LIGHTHOUSE
Swimming north-east brings the player to a large lighthouse located on a big island. Disheveled and abandoned, the lighthouse is noted to have held fragments of the truth, evident by a decayed version of SUNNY and MARI's family photo on the base floor.
Interacting with the family photo will lead to MARI solemnly commenting on how it's barely holding itself. A few vines appear to have grown inside the lighthouse.
The objects scattered on the base floor are also shown to be quite disoriented, presumably representing SUNNY's broken state of mind. Some of them include a broken lamp, empty cans, and shattered pottery.
The most notable object is a single white egret orchid residing near the family photo. Inspecting it will bring the same phrase of "my thoughts will follow you in your dream", alluding to the ghostly-like MARI that occasionally appears throughout the game.
FOGGY SEA
Other than that, heading upstairs brings the player to the top floor. Strangely, the beacon of the lighthouse appears to be missing. The top left corner has a pair of binoculars that OMORI can use to check out the view, the FOGGY SEA.
This will change the player's perspective to OMORI's through the binoculars. From there, the player can slowly view the vast view of NORTH LAKE's foggy surroundings.
If the player's WTF VALUE is set greater than or equal to 6, moving the binoculars down at the bottom left corner will reveal SOMETHING hovering over the waters.
When viewing the entity, SOMETHING will not disappear as it usually does. It will instead continue to stare at the player, even if you decide to take your eyes off of it. However, if the player decides to use the binoculars again, SOMETHING cannot be found again in the spot it was briefly found at.
NORTHLAKE CURRENT
The next mandatory subarea is known as the NORTHLAKE CURRENT. Continuing from the previous area, OMORI and MARI can navigate their way through the translucent boardwalk. They can also swim down the stairs to the left and right, allowing them swim to a new area called the CURRENT MAP
The CURRENT MAP only has three abandoned houses residing near a large waterfall. Entering any of them leads to the same room that can be found in the previous abandoned house. They can also acquire DEAD BATTERIES from only one of the three houses if they haven't already in the aforementioned abandoned house.
If the player's WTF VALUE is set greater than or equal to six, leaving an ABANDONED HOUSE for the first time causes the STRANGER BASIL to appear for a split nineteen frames. This can only be done once. In addition, if the WTF value is set greater than or equal to six, a shadowy vision of BASIL'S GRANDMA can be found on the second island, asking where her grandson is.
When reaching the end, MARI will praise OMORI for conquering fears while noting he has something he must overcome in the future. Regardless, to continue from the NORTHLAKE CURRENT, head upwards for the final area of NORTH LAKE.
MAIN PIER
The MAIN PIER, also known as the FORGOTTEN PIER in the game's files, is the final area of NORTH LAKE, notably surrounded by a total of seven islands containing shadows that reflect SUNNY's long forgotten past.
Various translucent lamp posts light the way through this subarea. Going near any of these shadowy visions will cause them to vanish, not before the sounds of children laughing can be heard afterwards.
Eventually, reaching the endpoint will lead to cutscene where MARI reveals that she has to leave while addressing OMORI as "SUNNY". After MARI leaves, a giant whirlpool is formed, and the player can choose to enter it or wait for the screen to darken with the SOMETHING fear border. This sequence will ultimately bring the NORTH LAKE segment to its conclusion.
SHADOW VISIONS
ENTRANCE TO DEEP WELL
If the player decides to enter the whirlpool, OMORI will be transported to a translucent dock leading towards a well, known as ENTRANCE TO DEEP WELL.
You cannot head back south as it will simply lead to a dark screen with the text "there is nothing here." The only option is to enter the well to progress the story. However, if the player decides to wait for SOMETHING to cover the screen, OMORI will "glitch" right into the inside of the DEEP WELL.
Note that this area is different from the one that can be found after entering the well for the first time, as it lacks a seashell that can initiate the secret BLACK SPACE shortcut to the BEACH AREA by interacting with the said shell four times.
If you exit out of the DEEP WELL again after entering, DEEP WELL will transport you to the alternate version. You can swim back to VAST FOREST, but there's still nothing to do there.
CONNECTED LOCATIONS
QUOTES
Mari (North Lake)
North Coast (Mari Before Islands)
Greeting Mari
OMORI... You're here. I'm so glad you found me.

KEL, AUBREY, HERO, and all the children are gone.

There's a thick fog enveloping the entire forest...
Everywhere, except here. Maybe our friends are somewhere across the water.

Let's find them together. Do you want to join me?

Greeting Mari (Selecting Yes)
Thanks, little brother. I knew I could count on you.
I'll keep you company, so you're not alone.
I know you really hate that.

Greeting Mari (Selecting No)
I know you're scared... but I also know you can do this. Take all the time you need to prepare. I'll be here when you're ready.

Attempting to leave North Coast
Don't be scared, OMORI. Nothing can hurt you, as long as you're with me.

Running with Mari
Sorry, OMORI. Can you slow down? You know my knees can't handle it.

OMORI! What did I just tell you!?
Don't make me raise my voice now!

Conquering Fear of Drowning (Mari)
Steady your heartbeat...
Don't be afraid. It's not as scary as you think.

Main Currents (Mari During Islands)
Entering Main Currents
Stay close, little brother.
Don't worry. They can't hurt you as long as you're with me.

Family Photo (Lighthouse)
This poor photo... It's barely holding itself together.

Northlake Current (Mari Before Forgotten Pier)
Something harder to Overcome
OMORI, I'm so proud of you.
You swam all the way here, even though you've always been terrified of water.

But there's still one big thing you're afraid of, isn't there?
Something... a little bit harder to overcome.

Northlake Current (Mari Before Whirlpool)
Mari's Departure
... OMORI...

It seems that you have forgotten something important.
Are you okay with that?

I'm not too sure...

You've seen this curtain once before.
The last time we went to the lake.

This is my stop though.

I know I shouldn't have come...
It just gets a little lonely without everyone.

It's not my place to say anymore, but..
I hope you're still there… SUNNY...
I really miss you.

Goodbye… little brother.

Kel (North Lake)
Kel the Lost Child
Hey, OMORI! There you are! Where've you been, buddy?

While you were gone... everyone...

Got tricked into signing contracts!
So... we all have jobs now!

Sniff... We're growing up so fast...

My job is to point people to the LAST RESORT.
That's where I work!

It's kinda sort of close by.

Okay... Or maybe it isn't...

Come on, I'll show you! It's just across the water.

Conquering Fear of Drowning (Kel)
Don't be scared, OMORI. I'm here for ya!

Heading towards Last Resort
Sooooooooooo... I guess it's a little further than I thought. Sorry about that, buddy.

We're almost there, I swear. It's just one taxi away!

Also, just a heads up... try to avoid GATOR GUYS as much as possible. I don't think they like me very much.

GALLERY
MAPS
EXTRAS
TRIVIA
The BGM that plays throughout the area is a slowed down version of LAST RESORT's background music. In addition, this song can also be heard when entering VAST FOREST's FOGGY BRIDGE.
In the 2018 demo, entering the NORTH COAST will reveal the same SOMETHING encounter that can be seen before TWO DAYS LEFT in the final game. The only difference is that SOMETHING is shown hovering over a lone white egret orchid instead of near the wooden boardwalk.
In the NORTH LAKE shore, if the player runs for too long, MARI will tell OMORI to slow down; continuing will cause her to shout at OMORI, disabling running until she leaves him.[3]
If SUNNY has not defeated SOMETHING IN THE WATER, OMORI will not swim through the waters during the breaktime sequence.
MARI's words when helping OMORI conquer his fear of drowning uses the same dialogue from when she encouraged SUNNY to PERSIST during the battle against SOMETHING IN THE WATER.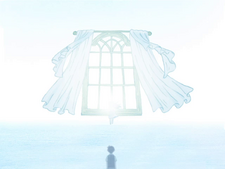 The window MARI's spirit often leaves through bears a striking resemblance to the one present in the piano room of SUNNY'S HOUSE. If MARI's spirit is indeed real and not a hallucination, the window likely represents a door to the afterlife; if she is a hallucination, it may represent SUNNY's interpretation of one.

This may explain why MARI's spirit often appears in the piano room where the window is located.
MARI tells OMORI the last time he saw the window was at "the lake". When SUNNY fell into said lake, it was a near-death experience, as he would have drowned if not for MARI saving him. This likely references many real-world claims of seeing the afterlife during a near-death experience.

It is left ambigious if the MARI that accompanies OMORI throughout NORTH LAKE is the actual MARI's spirit who disguised herself as her HEADSPACE counterpart, or is merely another figment of SUNNY's imagination to help seek closure.
BASIL'S GRANDMA's presence as a STRANGER is presumably a reference to the former's role in the 2018 demo, where she appeared as a HEADSPACE denizen and asked OMORI and friends to help look for her grandson.
In the game's data, the STRANGER BASIL and GRANDMA were both originally intended to use different overworld sprites when encountering them in the respective areas they appear in. These variants can be found in the game file DW_NPC_21 and are unused in the full game.
If SUNNY had ignored KEL in the REAL WORLD, after asking OMORI whether it's okay to forget something important, MARI will say "I guess so..." instead of "I'm not too sure...". However, this dialogue becomes unused as this scene only happens on the SUNNY ROUTE.
There are three WTF events that can play out depending on the player's WTF VALUE:

If the WTF VALUE is set greater than or equal to six, in the ABANDONED HOUSE interior from NORTH LAKE (houses off the CURRENT MAP to the left of the dock with MARI), the STRANGER BASIL appears for 19 frames when leaving the room.
If the WTF VALUE is set greater than or equal to six again, SOMETHING will appear in the bottom left corner of the telescope view of the NORTH LAKE within the LIGHTHOUSE located northeast of the MAIN CURRENTS map.
If the WTF VALUE is set greater than or equal to eight, a STRANGER NPC taking on the appearance of BASIL'S GRANDMA will appear in the CURRENT MAP (go to the left immediately on the dock with MARI and swim to the left) on the 2nd island to the right. She will constantly turn around to face OMORI and MARI, just like her grandson on THREE DAYS LEFT of the SUNNY ROUTE.
REFERENCES
SITE NAVIGATION