SPOILER WARNING

This article contains spoilers of important plot details regarding the plotline of OMORI.

---

This article is about the titular character OMORI. For his real world counterpart, see SUNNY. For the game itself, see OMORI (GAME).
OMORI is the titular deuteragonist in OMORI. OMORI can be controlled by the player during the night, where WHITE SPACE can be explored. When OMORI is in the lead, he can cut down obstacles with his knife.
PROFILE
APPEARANCE
OMORI is young boy who wears a black tank top, long black socks, and black-striped shorts. He is the only character to be colored black and white in contrast with the colorful residents of HEADSPACE, and he is also the only character to have blank eyes with no pupils. His overall design stems from SUNNY's twelve-year-old appearance.
PERSONALITY
Not much can be said about OMORI's personality, as he is a silent protagonist. However, it is implied that he is quite melancholic, as his narration sometimes has gloomy inputs and his final battle dialogue is directly talking down to SUNNY. His abilities are also reflective of this gloominess, being either violent in nature or simply gaining SAD or having an advantage while SAD. However, it can be speculated that this is moreso reflective of SUNNY's emotional state, as OMORI is a character built from SUNNY'S conscience in WHITE SPACE and HEADSPACE.
STORY
BACKGROUND
At some point following MARI's death, SUNNY began visiting WHITE SPACE through a black-and-white doppelgänger called OMORI. WHITE SPACE is born out of SUNNY's cognition whenever he sleeps, so its contents are subjective from his memories and perceptions. OMORI's existence started as a sort of "shell" for SUNNY to protect himself from the horrors of the truth, which took the form of SOMETHING and BLACK SPACE.
Inside WHITE SPACE, OMORI can freely visit an imaginary world where his friends reside along with comical representations of acquaintances and familiar fictional mascots. WHITE SPACE serves as an escape from the truth behind MARI's untimely demise. To this end, SUNNY's OMORI is routinely inside WHITE SPACE, as SUNNY has been a shut-in since MARI's death and all of the interactions we seen within HEADSPACE come with a sense of great familiarity from the characters that reside within.
Eventually, BLACK SPACE encroaches on HEADSPACE, and repressing the resurfacing memories requires HEADSPACE to be reset -- which has been done several times over, only serving as a stopgap measure. As SUNNY's repression grew stronger and HEADSPACE continued to change, OMORI continued to change too, and eventually became something more than what his creator originally intended.
Years of repressing the truth resulted in OMORI becoming the very image of suicidal guilt and depression that SUNNY denies, essentially making him less of an alter ego. He becomes more of a culmination of the repression of trauma and escapism that SUNNY has done over his past four years as a hikikomori. By the time of the game's events, OMORI behaves autonomously and begins to influence SUNNY instead of the other way around; however, their goal is still the same: to protect SUNNY from the truth.
SUNNY ROUTE
While OMORI and WHITE SPACE initially serve only to repress SOMETHING, OMORI begins acting more openly hostile towards SUNNY and BASIL as SUNNY gets closer to the truth of SOMETHING, culminating into OMORI stabbing DREAM BASIL and attempting to make SUNNY commit suicide. After SUNNY lands in the hospital from fighting with BASIL on the final night, OMORI and SUNNY fight inside WHITE SPACE, presumably for control of SUNNY's mind. There are two possible endings depending on if one of two options is chosen upon losing to OMORI the first time around:
GOOD ENDING: If SUNNY chooses to continue, He performs the duet recital with MARI, remembering the good times he's spent with MARI and his friends during his youth. OMORI accepts defeat and embraces SUNNY with a hug, vanishing from WHITE SPACE. This allows SUNNY to finally overcome his guilt over his past actions and confess the truth behind MARI's death to his friends.
BAD ENDING: If SUNNY chooses not to continue, he will instead disappear as OMORI presumably takes control of SUNNY's mind. From there, OMORI wakes up in WHITE SPACE once again. When he enters NEIGHBOR'S ROOM, all of his friends appear strangely silent. They head out for more adventuring but the scene cuts over to SUNNY standing on the hospital's balcony alone. Unable to accept the truth, SUNNY jumps off the building and plummets to his presumed death.
OMORI ROUTE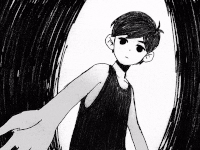 In this route, things change as SUNNY represses more memories of MARI's death as he chooses to shut himself away even more than before. By the time OMORI arrives in BLACK SPACE, he slowly begins to take over SUNNY's mind and body. However, STRANGER attempts to stop SUNNY from submerging himself further into his dream world of escapism. SUNNY tries to fight off STRANGER but fails as the shadowy figure overwhelms him, leading him to be transported into RED SPACE, where OMORI awaits him on his throne of hands.
From there, OMORI descends from his throne and helps SUNNY withstand STRANGER's wrath. However, upon confronting the STRANGER, it appears that it has given up on trying to convince SUNNY to stop his unhealthy coping mechanism. OMORI is then warped back to BLACK SPACE by a RED HAND, allowing him to rescue BASIL in the CHURCH OF SOMETHING. The two friends leave BLACK SPACE and return to NEIGHBOR'S BEDROOM, where all of their friends are sleeping in their beds.
Once OMORI and BASIL fall asleep, as instructed by the BIG YELLOW CAT, this results in a soft reset for all of HEADSPACE. This leads to a repeat of first few minutes of the game with a few changes: BASIL appears to have never discovered the truth, more areas are expanded, and more optional sidequests are available for OMORI and friends to complete.
SUNNY eventually wakes up, only to find SOMETHING following him at every step of his house. Being unable to suppress SOMETHING's presence, SUNNY succumbs further into his self-hate. If SUNNY chooses to go back to sleep, he ends up overwhelmed by the traumatic memories of his past.
OMORI then decides to "save" SUNNY from being fully consumed by his trauma. From there, he assumes complete control over the SUNNY's body, causing the latter to cease to exist as he resigns himself to a never-ending cycle of dreaming forever and being unable to face the truth. After waking up once more, only two of the NEUTRAL ENDINGS can be obtained.
NEUTRAL ENDINGS
If SUNNY chooses to GO TO SLEEP in BASIL'S HOUSE after regaining his memories of the truth, the following events will occur. Upon awakening once more, SUNNY finds himself all alone. He heads to the hallway, only to find his friends and POLLY in the hallway, distraught over BASIL's suicide. Opening BASIL's door reveals his corpse slumped against the wall with a large hole in his abdomen represented by SOMETHING. The only option will then be to return home as the rest of the game will play out depending on if SUNNY picks up the knife or not before going to sleep.
ABANDON ENDING: If SUNNY chooses to resume sleeping in his own bed, this will lead to a repeat of the WHITE SPACE intro scene from the start of the game. OMORI appears in WHITE SPACE as normal, but there is no door to HEADSPACE and the light bulb is still missing. All OMORI can do is STAB himself to wake SUNNY up. SUNNY silently meets his MOM in her car while SOMETHING follows him, leaving his distraught friends behind with no answers. Police sirens play over the credits.
KNIFE ENDING: If SUNNY picks up the knife on the kitchen counter before heading to bed, using the STAB option in WHITE SPACE as OMORI will cause the resulting effects to impact SUNNY's physical body. SUNNY's answering machine continuously rings as he lays on his bed, clutching a knife into his bleeding chest. The ringing of a phone that will never again be answered plays over the credits. An alternate knife ending takes place if you choose to stab after waking up on moving day.
BATTLE
OMORI is a balanced combatant, with an even spread of stats. Although he is not as involved in the party's conversations, he has the most emotive potential, being able to reach three levels of EMOTIONS compared to two for the others. His combat abilities are a bit more emotionally manipulative, as he has skills that can counter the bonuses each variant of emotion bestows, culminating in the ability to straight-up deal extra damage to an enemy with any emotion using EXPLOIT. He's your main source of inflicting SADNESS and has a few skills that take advantage of him or his target being SAD too.
His own FOLLOW-UPS are more selfish than his companions', as his standard follow-ups are the ability to strike again and lower an enemy's Speed. However, he does come with the ability to Release Energy, cooperating with all his companions to perform a devastating all-out attack.
OMORI'S power reaches his absolute peak when you choose the OMORI route, as he earns four more skills exclusive to that route when there's ONE DAY LEFT. RED HANDS is gained when he returns to HEADSPACE after resetting it, while VERTIGO, CRIPPLE, and SUFFOCATE are all obtained by revisiting the LOST LIBRARY and fully conquering the embodiments of his past phobias.
SKILLS
SKILL
DESCRIPTION
DAMAGE
ACTION
SOURCE
ATTACK
OMORI's Basic Attack
(Attack x 2 - Foe's defense)

BASIC
SAD POEM
Inflicts SAD on a friend or foe.
Costs 5 JUICE.
NONE

BASIC
GUARD
Acts first, reducing damage taken for 1 turn.
Costs 0 JUICE.
NONE
(No Animation.)
BASIC
STAB
Always deals a critical hit. Ignores DEFENSE when OMORI is SAD.
Costs 13 JUICE.
(Attack x 2) (SAD)
(Attack x 1.5 - Foe's defense) (Else)

LEVEL 3
BREAD SLICE
If this skill defeats a foe, gain BREAD.
Costs 10 JUICE.
(Attack x 2.5 - Foe's defense)

LEVEL 5
MOCK
Deals damage. If the foe is ANGRY, greatly reduce its ATTACK.
Costs 20 JUICE.
(Attack x 3 - Foe's defense)

LEVEL 7
HACK AWAY
Attacks 3 times, hitting random foes.
Costs 30 JUICE.
(Attack x 2 - Foe's defense)
(Attack x 2.25 - Foe's defense) (ANGRY)

LEVEL 10
OBSERVE
Predicts who a foe will target next turn.
Costs 0 JUICE.
NONE

SHAWN
LUCKY SLICE
Acts first. An attack that's stronger when OMORI is HAPPY.
Costs 15 JUICE.
(Attack + Luck) x 2 - Foe's defense (HAPPY)
(Attack + Luck) x 1.5 - Foe's defense (Else)

LEVEL 12
TRICK
Deals damage. If the foe is HAPPY, greatly reduce its SPEED.
Costs 20 JUICE.
(Attack x 3 - Foe's defense)

LEVEL 15
PAINFUL TRUTH
Deals damage to a foe. OMORI and the foe become SAD.
Costs 10 JUICE.
(Attack x 2 - Foe's defense)

LEVEL 19
SHUN
Deals damage. If the foe is SAD, greatly reduce its DEFENSE.
Costs 20 JUICE.
(Attack x 3 - Foe's defense)

LEVEL 20
STARE
Reduces all of a foe's STATS.
Costs 45 JUICE.
NONE

LEVEL 25
EXPLOIT
Deals extra damage to a HAPPY, SAD, or ANGRY foe.
Costs 30 JUICE.
(Attack x 3.5 - Foe's defense) (Any EMOTION)
(Attack x 2.5 - Foe's defense) (Else)

LEVEL 30
FINAL STRIKE
Strikes all foes. Deals more damage if OMORI has a higher stage of EMOTION.
Costs 50 JUICE.
(Attack x 4 - Foe's defense) (1st Tier)
(Attack x 5 - Foe's defense) (2nd Tier)
(Attack x 6 - Foe's defense) (3rd Tier)
(Attack x 3 - Foe's defense) (NEUTRAL)

LEVEL 35
RED HANDS
Deals big damage 4 times.
Costs 75 JUICE.
(Attack x 3 - Foe's defense) (4 times)

OMORI ROUTE
VERTIGO
Deals damage to all foes based on user's SPEED and greatly reduces their ATTACK.
Costs 45 JUICE.
(Speed x 3 - Foe's defense)

Defeat SOMETHING IN THE DARK
CRIPPLE
Deals big damage to all foes and greatly reduces their SPEED.
Costs 45 JUICE.
(Attack x 3.5 - Foe's defense)

Defeat SOMETHING IN THE WALLS
SUFFOCATE
Deals 400 damage to all foes and greatly reduces their DEFENSE.
Costs 45 JUICE.
(400)

Defeat SOMETHING IN THE WATER
FRIENDLY FOLLOW-UP
FOLLOW-UP
ENERGY
LEVEL
ACTION
DESCRIPTION
DAMAGE

ATTACK AGAIN
3
1
OMORI readies his blade.
OMORI attacks again, dealing damage to a random foe!
(Attack x 2 - Foe's defense)
2
OMORI readies his blade.
OMORI attacks again, dealing extra damage to a random foe!
(Attack x 2 + Luck) - Foe's defense
3
OMORI readies his blade.
OMORI attacks again, dealing damage to a random foe twice!
(Attack x 2 + Luck) - Foe's defense

TRIP
3
1
OMORI walks forward.
OMORI trips a random foe, dealing damage and lowering its SPEED!
(Attack + Luck) - Foe's defense
2
OMORI walks forward.
OMORI trips a random foe, dealing damage, lowering its SPEED, and making it SAD!
(Attack + Luck) - Foe's defense
3
OMORI walks forward.
OMORI trips a random foe, dealing extra damage, lowering its SPEED, and making it SAD!
(Attack + Luck) - Foe's defense

RELEASE ENERGY
10
-
OMORI and friends come together and use their ultimate attack, dealing huge damage to all foes!
300 (LV 1)
600 (LV 2)
1000 (LV 3)
OMORI has only one weapon throughout most of the plot, and the SHINY KNIFE he carries automatically upgrades to the KNIFE and DULL KNIFE as he re-enters HEADSPACE with each passing day. On the OMORI ROUTE, OMORI's knife will eventually turn into the RUSTY KNIFE upon resetting HEADSPACE after completing BLACK SPACE. The RED KNIFE is the sole exception to the pattern, as it is obtained and automatically replaces the RUSTY KNIFE after fighting and sparing ABBI.
LEVEL STATS
The data table shows OMORI's raw stats (without any item bonuses, nor HEARTS bonuses gained by watering plants, nor any special bonuses).
The player can boost OMORI's HEART stat by constantly watering the flowers near the path to BASIL'S HOUSE. Though, just note that OMORI can only gain HEARTS from the tulip, sunflower and the lily of the valley flowers. In addition, every party member's JUICE can be increased by 5 points for every new CLUB SANDWICH that the party lodges at.
OMORI can also gain an extra boost of 50 HEART, 50 JUICE, 10 ATTACK, 10 DEFENSE and 10 SPEED by accepting the sacrifice offered by the BRANCH CORAL within the DEEPER WELL area. The sacrifice involves eating an red apple that morphs itself into SUNNY's head. Doing this action has no impact on the story.
OMORI'S STATS (No Weapons/Charms/Boosts)
LEVEL
HEART
JUICE
ATTACK
DEFENSE
SPEED
LUCK
HIT RATE
1
33
20
5
6
6
5
100
2
36
25
6
7
8
5
100
3
41
29
8
8
9
5
100
4
49
31
9
8
10
5
100
5
55
35
10
9
11
5
100
6
59
39
12
10
13
5
100
7
66
41
13
11
15
5
100
8
71
46
15
13
17
5
100
9
74
50
16
15
19
5
100
10
81
53
17
15
20
5
100
11
88
57
19
17
21
5
100
12
94
61
21
18
23
5
100
13
97
64
22
19
26
5
100
14
106
73
25
22
28
5
100
15
112
75
26
23
29
5
100
16
120
82
29
25
31
5
100
17
126
83
30
26
32
5
100
18
131
86
31
27
35
5
100
19
138
90
33
28
37
5
100
20
141
95
35
30
40
5
100
21
148
96
36
30
41
5
100
22
153
100
37
31
44
5
100
23
160
103
39
32
46
5
100
24
166
106
41
33
48
5
100
25
172
110
42
35
50
5
100
26
177
112
43
35
51
5
100
27
184
116
44
36
53
5
100
28
189
121
45
37
54
5
100
29
195
127
48
37
57
5
100
30
205
129
49
39
58
5
100
31
213
137
51
42
60
5
100
32
219
142
52
43
62
5
100
33
224
146
54
44
64
5
100
34
231
150
56
46
65
5
100
35
239
151
57
47
66
5
100
36
246
154
59
49
68
5
100
37
255
158
61
50
70
5
100
38
260
161
62
51
71
5
100
39
268
166
63
52
74
5
100
40
276
173
65
54
77
5
100
41
283
179
67
56
79
5
100
42
294
186
70
59
82
5
100
43
300
194
72
61
85
5
100
44
310
203
74
63
88
5
100
45
318
210
77
65
90
5
100
46
324
218
80
68
92
5
100
47
332
226
82
70
94
5
100
48
342
232
84
72
96
5
100
49
350
239
87
74
98
5
100
50
360
250
90
77
100
5
100
QUOTES
SUNNY ROUTE
...

BOSS BATTLE
For an in-battle description and his boss quotes, see: OMORI/ENEMY
GALLERY
IN-GAME
SPRITES
PORTRAITS
BATTLE SPRITES
TAGS
PHOTOS
IN-ACTION
PHOTO ALBUM
BOSS
ARTWORK
STICKERS
TRIVIA
OMORI originally had the name OMORIBOY and first appeared in his own blog, which was named after him and lasted from December 11th, 2011 to March 14th, 2012.

This version of OMORI is depicted as a depressed hikikomori, and appears much older in appearance. This characterization would later be used for his original self SUNNY.
Along with that, many of his posts there show his inner thoughts about himself and the world around him. Some of his traits in the blog are used for his current portrayal in the 2020 game but toned down.

OMORI is the only playable character with 3-stage emotions (MANIC, MISERABLE, and FURIOUS), as the other party members only have 2-stage emotions. This mechanic is only exclusive to some of the HEADSPACE bosses, such as SPACE EX-BOYFRIEND and SWEETHEART.

This feature also foreshadows his reveal as the final boss of the SUNNY ROUTE, despite not using any emotions during his fight.

OMORI's overall color scheme is implied to originate from the piano his namesake came from.[4]
When interacting with the keyboard in SPACE BOYFRIEND'S HOUSE, OMORI appears to play his song slowly before slamming the keys in frustration. This foreshadows how SUNNY became deeply frustrated with being unable to play his violin perfectly and his eventual outburst later on.
OMORI originally was planned to have an AFRAID emotion but this was scrapped most likely due to OMORI being incapable of fully expressing fear and this was given to SUNNY instead. However, the demo's coding still contains data of OMORI's AFRAID emotion.
REFERENCES
SITE NAVIGATION