Jurassic World: Dominion Dominates Fandom Wikis - The Loop
Play Sound

ORANGE JOE'S HOUSE is a location in OMORI. This is the home of ORANGE JOE and his twin brother ORAGNE JOE in ORANGE OASIS.
GEOGRAPHY
ORANGE JOE'S CLIFF
Going further north of ORANGE OASIS leads to ORANGE JOE'S CLIFF, where ORANGE JOE and ORAGNE JOE reside within their house. When arriving here, ORANGE JOE is shown standing next to his home. A few interactable objects can be found there. Several oranges are scattered throughout the area. Each one has a note written on them: "To my dear brother ORAGNE JOE. I hope this message finds its way to you. Please come home." Interacting with an orange pool yields some ORANGE JUICE, which can only be obtained one time.
Interacting with ORANGE JOE leads to short cutscene where he reveals that he's trying to find his missing brother ORAGNE JOE. Afterwards, this will initiate his sidequest of finding ORAGNE JOE. Along with that, he will give the group an ORANGE CREST and askes them to give it to ORAGNE JOE once they find him.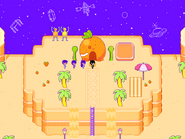 The sidequest can be done by entering the DINO'S DIG attraction and reaching the second floor. Once there, the player can interact with ORAGNE JOE, whose body is buried right beside a few oranges. This will lead to a long cutscene involving the two brothers reuniting, as well as obtaining a LIFE JAM from both of them. Completing the sidequest yields the "Hope and Vigor!" achievement.
Returning to this area after completing the sidequest has a few minor changes. Both ORANGE JOE and ORAGNE JOE can be seen chanting the phrase Hope and vigor! Hope and vigor! In addition, the interior of ORANGE JOE'S HOUSE has changed (details are mentioned below).
INTERIOR
The interior of the house is decorated with various orange-colored objects when first visiting it. The objects there consist of an orange bed, a glass of juice that is orange, an orange lantern, and a photo of an orange-like creature.
This is also where the group can obtain the BLOOD ORANGE weapon for KEL. The group can even interact with a TV set, which displays a few shows at random.
If the player completes ORANGE JOE's sidequest, the entire layout of the house will drastically change. Several orange-like objects are added to the room's layout. The table on the right now features two drinks that are orange and orange-like. ORAGNE JOE'S bed is also added to the left of the house. In addition, the photo of an orange-like creature is removed from the house.
GALLERY
TRIVIA
SITE NAVIGATION