OTHERWORLD is the second proper location explored within HEADSPACE in OMORI. It is an unofficial pitstop for weary space travelers and a popular family-friendly camping ground for those who want to explore the galaxies.
GEOGRAPHY
OTHERWORLD is a space world filled with the fascinating wonders of outer space and the galaxies beyond reach. Many of its areas are wide open and the group can explore its space-like areas while running into enemies and doing a few sidequests along the way. It can be accessed by going east of the STUMP ENTRANCE from VAST FOREST and climbing up a long ladder leading up to that area.
STORY
PROLOGUE
After conquering his fear of heights, OMORI reawakens in WHITE SPACE. OMORI regroups with his friends, who all inform him that BASIL is currently missing and MARI is worried about him. After conversing with MARI about where to go next, the group decides to head east of the tree stump area. From there, they decide to climb a long ladder to their next location on BASIL's whereabouts: OTHERWORLD. At first, OMORI appears hesitant to climb but the group's reassuring words convinces him to climb up. They reach OTHERWORLD and soon learn that the famous CAPT. SPACEBOY is stuck in his bed after being heartbroken by SWEETHEART.
In order to try to cheer him up, OMORI and friends decide to search through the JUNKYARD to look for SWEETHEART's SPECIAL MIXTAPE. The group also comes across ROSA, a SPROUT MOLE who is obsessed with SWEETHEART. It turns out that she found the SPECIAL MIXTAPE first and attempts to escape with it. OMORI and friends give chase but end up getting attacked by DOWNLOAD WINDOW along the way. After finishing the fight, the group finally manages to retrieve the SPECIAL MIXTAPE from ROSA. They learn from ROSA that SWEETHEART broke up with CAPT. SPACEBOY, but accuse her of lying.
Once they make their way back to the SPACE BOYFRIEND'S HOUSE, the rogue planet PLUTO is seen running from TWO SPACE PIRATES that are attempting to recapture him. He asks OMORI and friends for their help to hide from them, and they suggest to hide him within a large hole to disguise himself as a fallen meteor. The plan works and the SPACE PIRATES leave without spotting PLUTO. PLUTO thanks the team and confesses to them of his dreams of freely travelling, thus leading him to offer his services as PLUTO'S SPACELINE by helping them get back to the CAMPSITE. He also teaches KEL how to FLEX.
Inside of SPACE BOYFRIEND'S HOUSE, the friend group realize what ROSA said was actually true but KEL is too excited to get things done and puts the MIX TAPE into the player. This causes CAPT. SPACEBOY to react in anger, transforming him into the vengeful SPACE EX-BOYFRIEND. The group ends up beating some sense into him to calm him down. Afterwards, CAPT. SPACEBOY thanks them and admits that he hasn't seen BASIL anywhere in OTHERWORLD. He also gives them a TRAIN PASS and SNO-CONE TICKET before leaving to explore more of the cosmos.
Upon leaving CAPT. SPACEBOY's home, OMORI discovers a trail of red footprints leading him to the west of the OTHERWORLD ladder. The groups follows the trail, only to find a shadowy figure known as STRANGER waiting for them. OMORI follows the figure into the CATTAIL FIELD but ends up getting separated from his friends. The area has changed significantly, as it's populated with objects hinting at vague memories with his friends. OMORI is guided to the previously-locked BARN by STRANGER, which now has a red glow coming from within. In the BARN, OMORI sees the shadow walk into a large frame, and follows it inside to a long black hallway. It leads up to a family portrait, a music stand and the "F" KEY.
Getting closer to the portrait will show a noose hanging above it. Collecting the KEY will make a sheet of music appear on the music stand, but all the notes have been scribbled out. The family portrait will also be defaced. With nowhere else to go, OMORI is forced to turn back and leave from where he entered, only for SOMETHING to manifest itself and chase him. OMORI tries to escape but SOMETHING ends up catching up to him, causing a series of disturbing images to flash on screen before OMORI is sent back to WHITE SPACE. With no option left for now, OMORI stabs himself to awaken SUNNY for his next day in FARAWAY TOWN.
OMORI ROUTE
After HEADSPACE gets reset, there is new content added to OTHERWORLD and its many sub-areas. This includes a new sidequest and bosses to fight.
On ONE DAY LEFT, CAPT. SPACEBOY's father, PINKBEARD, can be found in his son's house. After talking to him, he reveals that he's looking for his son. He gives the party some batteries that can be used to access SNOWGLOBE MOUNTAIN. From there, the group can find the heartbroken SPACEBOY as SPACE EX-HUSBAND, who serves as a bonus boss that can be fought from there.
OMORI and friends can also fight the combined forces of PLUTO and THE EARTH on the Solar System bridge behind SPACEBOY's house. PLUTO will reveal that he and THE EARTH were always great friends, even before being bound to a solar system.
The barn from the CATTAIL FIELD can be revisited during the epilogue. After the reset, the portrait will show the reflection of SOMETHING that disappears when being interacted with. Two SALLIS can be found roaming around in here as well.
NOTABLE AREAS
OTHERWORLD CAMPSITE
The first area there consists of its local CAMPSITE, filled with many tourists and residents roaming around the area. It is located north of the ladder. The CAMPSITE includes a few houses and a RECYCLE MACHINE meant to spill out CLAMS whenever a person recycles trash. Along with that, the rogue planet PLUTO is first seen hiding behind a tree northwest of MARI and her picnic. Interacting with him will initiate a boss fight.
For the RECYCLE MACHINE, it can be interacted with and depending on which item it receives, the number of clams exchanged has its own value:
If the player manages to recycle multiple items, they will receive a few rewards depending on the number deposited (5 grants the SEER GOGGLES, 10 grants the FLASHLIGHT, 25 grants a CELLPHONE, and 50 grants the UNIVERSAL REMOTE).
This also yields the Recycling is a concept ACHIEVEMENT. The local MAILBOX shop will sell SMORES, CHERRY SODA, BANANA SMOOTHIE, RUBBER BAND, SPARKLER, and LIFE JAMS.
SPACE BOYFRIEND'S HOUSE
Walking north leads visitors to SPACE BOYFRIEND'S HOUSE, home of the emotional CAPT. SPACEBOY and his loyal crew of SPACE PIRATES. Inside of SPACEBOY's house contains a piano that be played by any party member and an pathway that subsequently connects to the JUNKYARD.
The pathway titled the SOLAR SYSTEM, contains various planets that SPACEBOY has captured during his adventures, THE EARTH, which can be fought if disturbed, and an outline of PLUTO's silhouette.
DUCKIE'S HOUSE
DUCKIE'S HOUSE takes on the appearance of a large present box. The interior contains a table for two, a TV, a bookcase filled with DVDs and a bed with enough space for three.
When speaking to MR. DUCKIE for the first time, he will wonder about where his son might be. This will initiate the WHEREABOUTS OF DUCKIE JR sidequest, which can be completed through OTHERWORLD OUTSKIRTS. Completing the quest will result in DUCKIE JR giving the player a DANDELION as a gift from his family.
SMOL'S HOUSE
SMOL'S HOUSE resembles a blue sleeping dragon with thrusters on it's back. The inside is filled with awards, won for being the smallest centaur.
There's also a bookcase, that can be interacted with. Doing so will initiate combat with a DUST BUNNY. There is also a bed that smells like a farm and a nightstand with a lamp on it. Talking to SMOL using HERO will reward the player with a FRIENDSHIP BRACELET.
PESSI'S HOUSE
Upon climbing the second staircase at the OTHERWORLD CAMPSITE, PESSI'S HOUSE is visible on the leftmost corner of the street, recognizable for the brightly colored exterior which seems to resemble a girl named SWEETHEART.
PESSI, the man who resides in the house, fills it to the brim with SWEETHEART merchandise. When interacted with, the merchandise is shown to be made "in the likelihood of an obnoxious-looking person". This is the first nod made to SWEETHEART in the game.
The interior of PESSI'S HOUSE is pink in both the flooring and wallpaper, which bears stripes. A rug is spread across the floor and a small dining set sits atop it. Bookshelves filled with SWEETHEART lore and a table chocked full of merchandise for SWEETHEART are on display for all to see. Two regular house plants are placed beside the door, and when entering the abode the music changes to SWEETHEART's main theme, a rose by any other name.
TV GIRL'S HOUSE
TV GIRL'S HOUSE resembles a giant TV and in it are dozens of screens that display images. Sitting in front of the screens is none other than TV GIRL.
TV GIRL herself will also offer a quest asking the party to gather some items in the JUNKYARD, giving the party a STRANGE LIST to aid them. Upon completing the quest, the group is rewarded with one DYNAMITE and access to COFFEE via the COFFEE MACHINE.
To obtain another COFFEE, the party must transition between the areas twenty times before interacting with the COFFEE MACHINE once more.
OTHERWORLD OUTSKIRTS
To the east of the CAMPSITE consists of its OUTSKIRTS. From these areas, OMORI and friends can engage in fights against minor ENEMIES and smash WATERMELONS to obtain items for their own needs. The first area is an intersection that connects to the JUNKYARD up north and TV GIRL'S HOUSE down south. Just around that corner also contains a pond and fireplace, where DUCKIE JR can be found for his sidequest and a tent featuring JOCK JAMS, who dances if the player turns on his boombox.
Opposite of that is a pathway that is blocked by cones that can be destroyed, and eventually lead to LONE MOLE, that, if spoken to, will yell at the party and force them to fix the cones, which also awards the party with the WHAT'S THE BIG IDEA!?!? achievement. However, talking to it while HERO's tagged will instead reward the party a DONUT.
OTHERWORLD LAKE
The last area further east consists of a large pink lake titled OTHERWORLD LAKE. A telescope is found up north, and interacting with it allows the party to see a large view from a long distance. There is also an container leading to one of the CLUB SANDWICH areas. The entrance MOONWALK MAP contains a dance floor, in which interacting with the sign from the front allows OMORI and party to moonwalk for fun. Entering the container leads to a V.I.P. room where the party can refresh themselves.
The end of the last area contains a few vending machines and an entrance leading to CATTAIL FIELD. The lake down below can only be accessed on TWO DAYS LEFT when OMORI overcomes his fears of drowning. SOMETHING can found hovering on the island and will disappear upon getting close to it. There is a bottle that askes for the player to complete a line that is not related to any gameplay matters. The watermelons here contain LIFE JAM, FRIES, and the RED RIBBON.
Moving southwards leads to FROZEN LAKE, which can be accessed after defeating the VENUS FLYTRAP that is blocking the entrance. It also connects to SNOWGLOBE MOUNTAIN.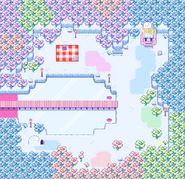 The FROZEN LAKE is located south of the OUTSKIRTS. The atmosphere is described to be cold and chilly, and there is one of MARI's picnic blankets in the northwest. SNO-CONE JASH runs a SHAVED ICE stand in the northeast. There also dozens of multi-colored trees surrounding the depths of this area. Only a few SNOW BUNNIES roam around with no signs of hostile nature.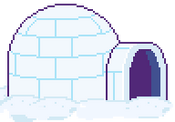 In the southwest is an IGLOO. During the first attempt to enter the IGLOO, a strange apparition appears and flies out of the IGLOO. In addition, the FROZEN LAKE's IGLOO serves as a direct teleporter connecting to SNOWGLOBE MOUNTAIN, which can only be found on the OMORI ROUTE. If one plugs in the BATTERIES for the plastic fish, it will then sings a little tune. Its voice resembles K.K. Slider's.
The player can also interact with an fishing rod near one of the holes. By interacting, a random member of your team fishes, while the others wait on the bridge. This interaction grants the party an approximate 80% chance of fishing nothing at all or creatures and objects that are thrown back to the lake. Not all attempts give you an item you may keep, and what you catch gets thrown back in the lake. These items consist of:
Lastly, walking west from the ladder reveals CATTAIL FIELD, a starry field where many floating U.F.O.S and SHARK PLANES populate the area. The area serves as a maze where the party must navigate to access different subareas, notably SPROUT MOLE COLONY and the mysterious BARN holding something sinister inside of it.
There also several NPCS such as MR. SCARECROW, who askes the party to help him find his three missing CROW companions, and one of the joke boards required for the JOKE BOOK. The watermelons featured there contain DONUT, MANGO SMOOTHIE, CAN, STAR FRUIT SODA, and SMORES.
Inside of the barn contains a large frame which can interacted with. During the prologue, OMORI can enter an unknown monochrome hallway that contains the F key for the HANGMAN and a family photo hinting of the game's backstory. However, in the OMORI ROUTE, the barn is instead populated with two SALLIS and a mirage of SOMETHING on ONE DAY LEFT.
Located north of the CATTAIL FIELD, the SPROUT MOLE COLONY serves as one few areas where the player can interact with multiple SPROUT MOLE creatures. Unlike the SPROUT MOLE VILLAGE featured in PYREFLY FOREST, this one is less spacious and more hollow.
Despite this, there are a few SPROUT MOLE NPCs populating the area. One of them includes BIG MOLIO, who will reward the player two HOT DOGS if the player decides to save him in HUMPHREY. As the story progresses, more SPROUT MOLES will show up at the location. There is not that much to do other than explore the location for watermelons to smash.
One note is that if OMORI has the UNIVERSAL REMOTE equipped, he can use it on the broken TV, which warps him to one of the BLACK SPACE 2 areas known as STATIC VOID. The items that can be found from the watermelons consists of four CARDBOARDS, a COMPUTER PART, a RUBBER BAND, a LIFE JAM, a CAN, and a set of DEAD BATTERIES.
JUNKYARD ENTRANCE
The entrance of the JUNKYARD can be found north of OTHERWORLD OUTSKIRTS. It is also connected to the SOLAR SYSTEM pathway from SPACE BOYFRIEND'S HOUSE.
The entrance can be accessed through a white glowing door within SPACE BOYFRIEND'S HOUSE or the star-shaped house.
MAESTRO can be found trying to search for some art and the BACKPACK charm can be found here too. He later disappears from this area starting from THREE DAYS LEFT as he moves to SWEETHEART'S CASTLE to display his art at THE ROYAL GALLERY.
The JUNKYARD is an area based around the remnants of old technology and data but its most notable aspect its space-like motif. Many parts of the JUNKYARD is littered with heaps of garbage stuffed into large containers. Many of these objects include unused items such as a CAN, COMPUTER PART, or DEAD BATTERIES. In addition, some segments have old pieces of furniture lying around and conveyor belts that need activating via a CONVEYOR-BOT.
It can be accessed right after the group receives a JUNKYARD KEY in SPACE BOYFRIEND'S HOUSE. This is also where the GLASSES GHOST is located and one of the jokes they can include in their JOKE BOOK for WEEPING WILLOW. Some events that take place here can alter if the WTF VALUE is set to a specific number. Many of its enemies correlate with the technology-like motif, notably MIXTAPE and DOOMBOX.
For more information on this area's content, visit the original page.
CONNECTED LOCATIONS
QUOTES
Mari (Otherworld)
Welcome to OTHERWORLD... an unofficial pitstop for weary space travelers and a popular family-friendly camping ground!

Ahhhhhhhh...
Don't you just love the smell of firewood? And the sound of running water? And the crisp space breeze?

It all makes the vast emptiness of space a little more bearable, don't you think?

Mari (Junkyard)
Hey, everyone! Hope you're all enjoying yourselves!
I cleared out the junk here and found a perfectly good roasted chicken.

See, OMORI? Cleaning has its benefits!
Yup! I need to set an example for my sometimes-messy
little brother!

Mari (Frozen Lake)
Hey, OMORI... Isn't this place pretty?
The snow comes down so slowly, but all the pieces seem to fall right into place in the end.

It reminds me to be patient.

Hey, I know! We should go ice skating one day!
Doesn't that sound fun, OMORI?

Otherworld Campsite Picnic
When I grow up, I'm going to be a SPACE PIRATE... and I'm
going to travel all around the universe!

Our search for BASIL has taken all of us pretty far from
home. If traveling the universe is what you want, you
definitely have a head start!

I wonder what kind of friends we will meet! What foes we'll
face... It'll be an epic journey to end all journeys!

You're way too carefree about this, KEL... Did you forget that
we're looking for BASIL?

Remember? Our dear friend BASIL who needs us?

Yeah, I know, I know... I'm just trying to be positive!

I have complete faith that we will save him! Besides, the
heroes always win... Isn't that right, HERO?

Haha... Very funny, KEL...

Junkyard Picnic
Ugh... This place is so gross and stinky! My nose can't take it
anymore...

What's the rush, AUBREY? There's so much treasure around!

I'm gonna swipe as many CANS as I can find!

Oh! And then afterwards, we should recycle them at a
RECYCLING MACHINE! I'm sure we passed by one on the way
to CAPT. SPACE- I mean, SPACE BOYFRIEND's place!

Urf... Forget CANS... We gotta find that SPECIAL MIXTAPE
and get out of here.

Awww... Hang in there, AUBREY. You'll get past this.

If anything... just think about all the good recycling will do for
the environment!

Yeah c'mon, AUBREY! Do it for the environment!

FROZEN LAKE PICNIC
Really, MARI? Shaved ice in this weather?

And what's wrong with that, HERO? It's so convenient!
Shaved ice is way easier to come by than SNO-CONES!

What's the difference between shaved ice and SNO-CONES
anyway?

Well realistically, there's not much of a difference...
SNO-CONES just have larger pieces of ice than shaved ice.

Large pieces of ice, huh? Is that why SNO-CONES are so
much more expensive?

I... I don't know, KEL! I can't really answer that one...

Breaktime (Junkyard Couch)
The Moon looks gigantic from here! This is the most beautiful place I've ever seen!

But there's so much litter around... How can you say it's beautiful?

AUBREY, AUBREY... Don't be such a wet blanket. Look at things on the bright side!

You know what I always say... You just gotta wake up and smell the roses!

You don't always say that!

Junkyard Tagging Tutorials
AUBREY TUTORIAL (JUNKYARD)
Awww, man!
It looks like there's a big block of junk in the way!

You might even call it... a roadblock... get it?

Not to worry, everyone!
This big ol' block is nothing compared to my swing!

Hey OMORI, you know how you can cut roots and traffic cones? Well, you're not the only one with a special ability around here!

I, for one, can smash large blocks out of the way!

KEL and HERO have their own special abilities, too...
Although I'm not so sure about KEL... hehe...

Just make me the LEADER by selecting TAG in the PLAYER MENU or by holding tag!
I'll get rid of this hunkajunk, easy-peasy!

KEL TUTORIAL (JUNKYARD)
Ow! What the-! What gives!?

Heh. Well, whaddya know? There's a weak point on its head!
I can recognize one of those anywhere.

Let's try throwing something at it!
I'm sure that'll work.

That platform there looks like a good place to throw from.
TAG me! I got this!

HERO TUTORIAL (JUNKYARD)
Hey, MR. CONVEYOR-BOT!
Switch up those conveyor belts for us already!

Bzzt... Hmph... Rude person...

You can't just yell orders at people, KEL!
Geez! Have some tact, will you?

If HERO is already tagged:
Now, now... There's no need to fuss. I'll handle this one!

Now, now... There's no need to fuss. I'll handle this one!
TAG me, OMORI!

Using HERO's tag ability:
Ahem... Greetings, Sir CONVEYOR-BOT. My companions and I require your assistance in changing the directions of your conveyors. Will you and your friends please help us?

Bzzzzzt! Ahh... Hmm... Nice person... Okay...

Hero Tag Interactions (Otherworld)
Smol (Smol's House)
Oh my goodness, HERO! I'm so happy to finally meet you again!

You have done an immense service for my species by saving it from the brink of extinction! Please accept this gift as thanks.

SMOL gave you a handmade FRIENDSHIP BRACELET.

Go forth, HERO!
Be the defender you were always meant to be!

Lone Mole (Otherworld Outskirts)
Hey, what's the big id-

Wait, HERO!? Is that really you!? I haven't seen you since you carried me to safety after the great siege!

It feels like so long ago... but seeing how strong you are inspired me to be strong, too!

Take this gift. You've earned it.

LONE MOLE spit a DONUT into your hands.

Go forth, HERO!
Be the defender you were always meant to be!

Batzy (Sprout Mole Colony)
Oh hi, HERO! I almost didn't recognize you.
It's just so dark in this cave.

I've always wanted to thank you for the time that you fulfilled my request of escorting me through dangerous terrain. Here! Take this!

BATZY gave you a BUTT PEACH SODA.

Go forth, HERO!
Be the deliverer you were always meant to be!

GALLERY
MAPS
EXTRAS
TRIVIA
OTHERWORLD is one of the few explorable locations in the 2018 demo, serving as the last primary location that the group visits before the game comes to an abrupt end after completing the entire segment.

The entire layout of the area was entirely different from the one shown in the 2020 release. The campsite was also originally named OTHERWORLD TOWN before being revamped later on during development.

OTHERWORLD is one of the four locations that houses a CLUB SANDWICH location. The other three consist of PYREFLY FOREST, ORANGE OASIS, and LAST RESORT.
OTHERWORLD is featured prominently for many of the game's early development concept arts.
UNI was originally meant to appear in OTHERWORLD as shown in a few pre-release screenshots.
An NPC representation of ARCHEIA (one of the co-developers for OMORI) originally appeared within the SPROUT MOLE COLONY in a secret room known as the NOOSE ROOM in the demo as an easter egg. This NPC was also used for various testing purposes during the game's development.
In the 2018 demo, there were originally two other mirrors that the party can interact with, located within SPACE BOYFRIEND'S HOUSE and the SPROUT MOLE COLONY. These cinematics were scrapped for unknown reasons.

In addition, a few U.F.O. enemies can be fought when climbing the ladder to OTHERWORLD.
Examining the back of the sign from the MOONWALK MAP reveals a message from a person named M, warning the group to not make the same mistake they previously made before. It is currently unknown who the identity of this person is.[1]
It is implied that OTHERWORLD is based on a REAL WORLD book titled "A GUIDE TO OUR SOLAR SYSTEM", which can be found through the sorting chore on ONE DAY LEFT of the OMORI ROUTE.
The line when reading the bottle's message serves as a reference to the song That's Amore, particularly if the player completes the line with "When your moon hits your eye like a big pizza pie, that's OMORI."
A notable aspect of the place is the old barn that once held fragments of the truth, as mentioned by a disembodied voice from the DEEPER WELL. The barn, known as the CATTAIL BARN, can be found within the CATTAIL FIELD.[2]
The keyboard in SPACE BOYFRIEND'S HOUSE can be played by all party members:

OMORI will play a slightly altered version of the WHITE SPACE theme.
AUBREY will play a softer version of the NEIGHBOR'S ROOM theme.
KEL will play a variant of PLUTO's theme.
HERO will play the same song played at the sleepover in the SUNNY ROUTE.
In the 2018 demo, the segment where OMORI goes through CATTAIL FIELD while following STRANGER is instead replaced with a short scene of SOMETHING's disembodied voice taunting him before he enters the photo frame it originally appeared in.
When entering the PHOTO FRAME inside of the barn, the dead-end originally depicted OMORI witnessing a vision of BASIL staring at a wall before obtaining a BLACK BOX instead.

Using the BLACK KEY to open the box would result in SOMETHING manifesting. Unlike the full game, OMORI and party can escape the BARN but will still continue to be chased by SOMETHING. Allowing SOMETHING to catch OMORI will end the demo.

If one were to open up the PHOTO FRAME map (more specifically the area where the F KEY can be found), half of HELLMARI's face can be seen on the very top of the map. Because of the collision applied on the wall in the end of the hallway, the face can't be seen in-game.
In one of the pre-development builds, there was originally an unknown seel creature swimming in the waters. This creature can also be seen in the 2017 trailer but it was scrapped in the full release.
In the game's files, there exists an unused NPC known as CREEPY CAT. It resembles a small, miniature version of the BIG YELLOW CAT with light accents on their body and pink eyes. It was originally planned to appear inside the OLD BARN before being removed entirely from the game.

According to an early screenshot from 2014, the NPC would've appeared within the OTHERWORLD CAMPSITE but was scrapped for unknown reasons.[3]
REFERENCES
SITE NAVIGATION