Jurassic World: Dominion Dominates Fandom Wikis - The Loop
Play Sound
RAIN TOWN is a quest in OMORI. It is one of the many optional side quests available when speaking to a VEGGIE KID in RAIN TOWN and accepting their request for help.
STORY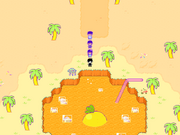 RAIN TOWN is suffering from heavy rain which brings mild discomfort to the residents. A VEGGIE KID standing in the middle of the gardens tells the party that there is a valve that could save the town from the mildly troublesome rain. However, legends say that only the CHOSEN ONE can turn the valve to save the day, so the VEGGIE KIDS must wait until the CHOSEN ONE's arrival.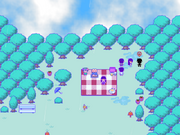 Interacting with the valve while OMORI is the party leader will allow one to turn it to the left or right. Turning it to the left will flood RAIN TOWN and make it permanently inaccessible, while turning it to the right will slow the rainfall to a pleasant trickle. The valve will not budge if you attempt to turn it with anyone else as team leader.
REWARD
After saving RAIN TOWN, the party returns to the VEGGIE KID standing in the middle of the gardens. The residents of RAIN TOWN are grateful for OMORI's help and proclaim him to be the CHOSEN ONE from their legends.
One VEGGIE KID in particular makes a stand and pleads to join OMORI's party to assist the Chosen One, becoming a CHARM.
You also unlock an achievement named The Chosen One for this simple sidequest.
INVOLVING
MARI'S ADVICE
MARI (Rain Town) Incomplete
It seems to be raining just a bit too much. There's got to be something here that can help these VEGGIE KIDS.

MARI (Rain Town) Complete
The VEGGIE KIDS are comfortable again. I hope they grow up and become wonderful VEGGIE ADULTS!

MARI (Rain Town) Failed
You can't blame yourself for what happened to RAIN TOWN. You were only trying to help... right?

TRIVIA
This is the only quest that player can fail on if they make the wrong decision.
If the player decides to return to RAIN TOWN after turning the valve the wrong way on ONE DAY LEFT of the OMORI ROUTE, the place will be flooded with one of the SOMETHING variants named LILLI.
SITE NAVIGATION