SPOILER WARNING

This article contains spoilers of important plot details regarding the plotline of OMORI.

---
RED MAZE

BGM
RED MAZE, also known as HAUNTED TREES HANGING MAZE, is a secret location in OMORI. It is an expansive red maze located within the depths of BLACK SPACE 2, holding a horrifying reminder of the truth.
GEOGRAPHY
The RED MAZE can be accessed from the northeastern DOCKS. A hidden pathway via going up from the middle of a bridge and then following blindly upwards is the way to access it. From there, OMORI can wander through an endless maze where some floating pieces of TOAST move around.
Touching the floating pieces of TOAST within the RED MAZE will transport OMORI into a different section of the maze populated by hanged MARIs. Touching any of these MARIs will drain OMORI's HP. After a short period of time, they will turn into disturbing, realistic, distorted versions of MARI that will loudly screech when coming into contact with OMORI. It is unknown how or when, but there is a 50% chance that you may get dialogue stating "Look at what you've done." randomly in the main area. By going down the ladder in the maze and progressing forward, you will encounter DADDY LONGLEGS sitting in a chair, who warns OMORI to "go back before it's too late".
Continuing forward will gradually cause the music to shift in tone and eventually present you with a red, pulsating room. Walking further into the darkness causes a ghastly MARI apparition (dubbed "HELLMARI" in the game files) to follow OMORI around. To leave this entire area, OMORI can simply climb back up using the ladders or stab himself to warp back to THE DOCKS.
NOTABLE AREAS
FACES OF OMORI
The FACES OF OMORI is a dark, looping area featuring many of OMORI's faces. There are also two giant OMORI heads glaring down at the player with a large orb of darkness that appears three times. It is accessed by entering the ladder on left of the RED MAZE. Doing so will transport OMORI into this distorted area.
All OMORI can do is either move left or right to exit the room, which will bring him back to the RED MAZE. This area can also be accessed through LAST RESORT (see ALTERNATE ENTRANCE). Regardless, the area where OMORI will be sent back to upon exiting depends on which method the player used to get there.
SMALL ROOM WITH A LADDER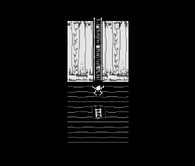 The SMALL ROOM WITH A LADDER is a series of endless rooms that can be progressed by going the ladder forty one times total. It can be accessed by entering the ladder on right side of the RED MAZE. Doing so transports OMORI to a single room with a ladder leading downwards.
Since going down will simply repeat the room, one must take caution of what they're doing here. Heading down nineteen times will reveal DADDY LONGLEGS, who will tell OMORI to turn back before it's too late. Regardless, if OMORI continues heading down another nineteen times, he will encounter a strange creature that cannot be interacted with.
If the player chooses to ignore DADDY LONGLEGS' warning by heading down three more times, this will bring OMORI to a darkened room. From there, HELLMARI's giant floating head emerges from the darkness. To exit this area, OMORI can climb back up to the maze.
ROOM WITH HELLMARI
The ROOM WITH HELLMARI consists of a darkened room. This is accessed by entering the SMALL ROOM WITH A LADDER segment forty-one times as mentioned before.
At first, nothing will happen for a few seconds, only for HELLMARI's head to jumpscare the player with no noise. HELLMARI's head will always follow OMORI but the latter can simply leave the area to prevent more of HELLMARI's creepy antics.
Originally, there was a bug that, when stabbing yourself in the room with HELLMARI, would cause her to follow OMORI outside of BLACK SPACE. Luckily, this bug has been patched out in future updates of the game.
CHARACTERS
ALTERNATE ENTRANCE
The FACES OF OMORI area can also be accessed through the FAMILIAR DOLL in the LAST RESORT's second floor. This can only occur after defeating HUMPHREY on either route of the game. Interact and throw away the doll three times, head back to find that the doll now takes on the appearance of SUNNY. Interact with it and you'll be given the option to enter the heart of darkness.
GALLERY
TRIVIA
The RED MAZE is sometimes named HELL in the game's data.
The entire layout of the RED MAZE resembles the tree from which MARI was hung, notable with the noose-shaped area on the bottom left corner.
This area bears a similar resemblance to Hell from Yume Nikki.
The background used for the FACES OF OMORI area contains the OMORI's battle portrait sheet from the 2018 demo. This is evidently shown in the form of OMORI's unused AFRAID portrait being used there.
The SMALL ROOM WITH A LADDER area features the same wallpaper that SUNNY'S HOUSE uses.
There are several spellings in this maze that mention KILL ME, similar to that of the FACELESS AREA.
SITE NAVIGATION