Jurassic World: Dominion Dominates Fandom Wikis - The Loop
Play Sound
SPOILER WARNING

This article contains spoilers of important plot details regarding the plotline of OMORI.

---
Not what you were looking for? See the category page for more info on SOMETHING variants.
SOMETHING is a major character in OMORI. It serves as the main antagonistic force that haunts OMORI and SUNNY throughout both routes of the game.
PROFILE
APPEARANCE
SOMETHING is a tall, dark, shadowy figure. It has one vertical eye. SOMETHING's appearance resembles MARI's hair and eye, as seen by SUNNY and BASIL after hanging her from a tree.
STORY
BACKGROUND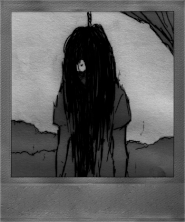 After SUNNY accidentally pushes MARI down the stairs, BASIL speaks words of comfort to him and makes the decision to frame the accidental murder as a suicide. Although both carry the body, SUNNY appears to be in a state of dissociation, and it's implied he doesn't fully process that BASIL is with him. SUNNY doesn't seem to take part in actually tying MARI to the tree.
After looking back into the garden through the glass sliding door, the sight of the corpse's eye staring back at them through MARI's disheveled hair traumatizes the children. This results in the creation of "SOMETHING" that haunts SUNNY and BASIL for the next four years of their lives.
SUNNY begins using OMORI's WHITE SPACE to repress the traumatic events of the day of the recital. OMORI continues to interact with SUNNY's old friends in this dream world. However, since SUNNY knows BASIL was involved, SOMETHING follows BASIL and causes him to disappear, prompting OMORI and his dream friends to search for him while SOMETHING haunts them. It is implied that these events have perpetuated in a cycle ever since MARI died four years ago.
BOTH ROUTES
Throughout majority of the HEADSPACE segments, SOMETHING occasionally appears in various areas as OMORI and friends search the whereabouts of their missing friend BASIL. In fact, whenever OMORI approaches the creature, SOMETHING disappears ominously most of the time. It also appears on the Two Days Left segment where it locks out OMORI from WHITE SPACE once the latter enters HEADSPACE once more.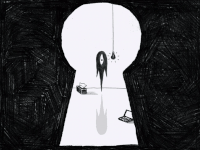 In the real world segments, SOMETHING can sometimes be seen standing behind SUNNY if he looks into a bathroom mirror. It also shows up at the bathroom of BASIL's HOUSE when SUNNY briefly confronts BASIL at evening during the Three Days Left segment.
SOMETHING has influenced and amplified SUNNY's fears of heights, spiders and deep bodies of water to the point of being phobias. These specific fears were affected because of a near-death experience SUNNY had falling off a statue into a deep body of water due to a spider; he was saved by MARI before drowning. Throughout his final days in FARAWAY, SUNNY overcomes each of these phobias, allowing OMORI to explore more of HEADSPACE's colorful areas.
SUNNY ROUTE
On the final night, SUNNY confronts SOMETHING head on. During their battle, flashbacks of the three old phobias appear as SUNNY overcomes them again. After CALMING DOWN, FOCUSING and PERSISTING, SUNNY learns to OVERCOME SOMETHING, as SOMETHING's simplistic appearance fades into MARI's hanging body, swinging in the wind. SUNNY then moves on to fill out BASIL's BLACK SPACE PHOTO ALBUM, revealing the truth about what happened to MARI.
SUNNY wakes up in the middle of the night. At this point, the story diverges based on what SUNNY chooses to do. There are only two options that allow the story to progress to the climax.
Saving BASIL
SUNNY enters BASIL's room to find him trapped by SOMETHING. BASIL then reveals it was SUNNY who blacked out the photos in his album.
After claiming that SUNNY is being controlled because he would never leave him, BASIL promises to "save" his friend from SOMETHING. SUNNY has his eye poked in but survives BASIL's attack and both are rushed to the hospital.
While unconscious, SUNNY battles OMORI in his mind to finally deal with the truth. After waking up, SUNNY walks to BASIL's hospital room, where KEL, HERO and AUBREY are visiting. After confessing to them about being responsible for MARI's death, BASIL wakes up to find his and SUNNY's SOMETHINGs yet again, shortly before they disappear as both friends smile.
Leaving BASIL
SUNNY goes back to sleep without entering BASIL's room. During the night, BASIL gets overwhelmed by SOMETHING, and he stabs himself to death. After HERO, KEL and AUBREY wake up again to find BASIL dead, they instruct SUNNY to leave the rest to them and go home.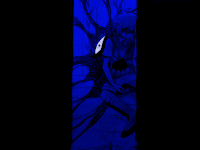 If SUNNY decides to look inside BASIL's room, he discovers BASIL's corpse slumped against the wall, with his SOMETHING staring back at the former through a hole in his stomach. As SUNNY sleeps in his own bed for the final time, he wakes up to his mom's taxi waiting for him outside. As he leaves his house in FARAWAY for the final time, SOMETHING follows him into the car.
Alternatively, if SUNNY picks up the knife in the kitchen in his house before going back to sleep on the night after BASIL's death, SUNNY will also commit suicide in his sleep by stabbing his stomach with the knife.
OMORI ROUTE
Because SUNNY makes no effort to bond with his friends and face the truth, SOMETHING continues to persist. After OMORI "saves" SUNNY from his despair and takes over his body, OMORI continues to be silently tormented by SOMETHING as it follows him around the house. The neutral endings, which are the only endings available here, play out in the same way as the SUNNY route.
VARIANTS
BOSS BATTLE
For an in-battle description, see: SOMETHING (Enemy)
QUOTES
Something (Backyard Area)
SUNNY... I love you...

Something (Unused Dialogue)
Oh... Little brother... You... You are scared.
Please... Let me take care of you...

I can tell... The look in your eyes shows me...
You are tired. Please... Let me take care of you...

Little brother... Please, look at me... I am worried about you... Your eyes are swollen and your fingers are bruised...
Let me take care of you...

Oh, little brother... Please do not resist... After all I've done for you... Will you not trust me? Please... Let me take care of you...

Sweet, little brother... You... You are confused... Why do you deny my help? I will always want the best for you... You know that, don't you? Please... Let me take care of you...

I'm sorry... Sweet little brother... I must insist... Your eyes... They are welled with tears and your fingers...\ They shake in pain. Do not worry, little brother. I will take care of you...

Sweet little brother. It is time to rest...
Shut your eyes... and stay very, very still...

GALLERY
IN-GAME
SPRITES
BOSS
ARTWORK
STICKERS
TRIVIA
SOMETHING has been a long-time unnamed being, featured constantly on the OMORI website and promo art.
SOMETHING is often associated with the recurring number 143 alongside MARI and HELLMARI. It is noteworthy that the number 143 can mean "I love you". This also most likely refers to MARI's warmhearted love towards SUNNY, even after the hardships both siblings went through in the past.

A notable instance of this is presented through the secret BLACK SPACE entrance within the BACKYARD AREA. If the player waits for 143 seconds (SOMETHING chanting ""SUNNY... I love you" 15 times) after collecting the key, this will allow OMORI to jump down to THE DOCKS.
If the player chooses to leave BASIL's home on ONE DAY LEFT, and sleep in SUNNY'S own bed, SUNNY will wake up and get into a taxi with his mother. However, SOMETHING follows SUNNY into the car, seemingly implying that SUNNY will live with his grief for the rest of his life, and never know the truth.

Additionally, a text file depicting ASCII art of SOMETHING will appear for Windows users in the folder OMORI was installed in, named "www___for_[name given to SUNNY]___", as if SOMETHING will be with you, the player, until you complete the TRUE ROUTE. However, the file will not disappear after getting the true ending.
Within the art, the text that makes up SOMETHING's eye spells out "THERE'S SOMETHING BEHIND YOU."

In the 2019 build of the game, SOMETHING originally had dialogue that took place before the SOMETHING IN THE WALLS fight in SUNNY'S HOUSE.

From there, when reaching the stairs, SOMETHING would speak to SUNNY in a "comforting" tone, mirroring MARI's warm-hearted nature. However, it cannot be seen physically at all.
This dialogue was later removed due it giving off obvious early hints regarding the truth behind its existence.

According to a comment in a decrypted game file named "dreamworld_extras_blackspace.yaml", "Common SOMETHINGs are Dream World NPCs that have stayed in BLACK SPACE for a long time."
On the official OMORI game website, SOMETHING can be found on the source page for the lightbulb on the right side of the screen.

Clicking on the lightbulb will make the screen turn black, and SOMETHING can be faintly seen in the center of the screen.

There is an unused sprite of MARI's spirit transforming into SOMETHING in the game's files. It is unknown what this sprite was originally intended to be used for.
All of SOMETHING's minor variants' names end with the letter I. MARI's name also ends with the letter I, hinting that SOMETHING was born out of MARI's death.
SOMETHING and all of its variants are clay compared to the drawn entities of HEADSPACE -- during the Real World segment of ONE DAY LEFT of the OMORI Route; one of the items that is to be packed is "Dry Modeling Clay".
Throughout the entire game, whenever SOMETHING is seen by the player in-game or during a cutscene, the BGM plays as it quickly disappears.
Early in production, there were plans to have extra SOMETHING battles based on the fear of public speaking and the fear of attractive people in the OMORI ROUTE, but these were never included in the final game.
SITE NAVIGATION