Jurassic World: Dominion Dominates Fandom Wikis - The Loop
Play Sound
SPOILER WARNING

This article contains spoilers of important plot details regarding the plotline of OMORI.

---
You are here again, DREAMER. To what do we owe the occasion? Are you running out of time?

— STRANGER
STRANGERS are a group of characters and NPCS in OMORI. They serve as mysterious, cryptic entities that occasionally appear before OMORI and his friends in HEADSPACE. Most of them seem to know about the truth regarding the game's plot.
PROFILE
APPEARANCE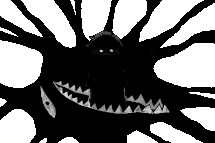 STRANGERS can differ in appearance, but the most prominent sprite-set associated with the name STRANGER is one that looks like a silhouette of BASIL. This STRANGER has eerie white pupils and nothing else. Other STRANGERS that appear throughout HEADSPACE occasionally take on the form of people that SUNNY knows from his childhood. These notably consist of AUBREY, KEL, HERO.
A STRANGER with a different sprite can also be found on the TRAIN, bearing similarities to the BASIL sprite with its white pupils and silhouette body but having different hair than BASIL. When in battle with STRANGER on the OMORI ROUTE, a manifestion of BASIL'S SOMETHING that it uses has the same teeth and tendrils from BASIL's battle.
PERSONALITY
Personality-wise, STRANGERS tend to be perceptive and cryptic - they point out to SUNNY about the consequences of his actions alongside passing abstract messages. However, the STRANGER with BASIL's silhouette shows a bitterness and aggression toward SUNNY during their battle, citing SUNNY's refusal to face reality as reasonable grounds for trapping SUNNY inside the dream. STRANGER also starts talking from BASIL's point of view during the battle, which implies similarities between STRANGER and BASIL's mindsets.
Comparing to the real world BASIL, the STRANGER BASIL displays less anxiety and talks in a manner that is often measured. The STRANGER BASIL is also less prone to be as expressive as BASIL, but still shows concern about how the future will play out from SUNNY's actions. There is an implied concern for those living in the dream worlds since STRANGER asks for mercy on the dream residents. Despite both being somewhat based on real life BASIL, the STRANGER BASIL considers both dream and real BASIL to be separate entities from itself, referring to BASIL as SUNNY's friend or flower boy instead.
STORY
BOTH ROUTES
Throughout the game, STRANGERS appear in SUNNY's memories presumably as placeholders for SUNNY's thought processes. They start to directly appear right after BASIL vanishes from HEADSPACE, serving as a marker for where to go next in the story.
Note that whenever OMORI and his friends encounter a STRANGER, the shadowy entity will usually turn around to silently face them before vanishing without a trace. They often can be seen using BASIL's appearance to help guide the group to certain areas necessary for plot progression and to uncover the truth behind HEADSPACE's existence.
PROLOGUE
The first STRANGER that can be encountered is within VAST FOREST's FOGGY BRIDGE, only if the group hasn't reached OTHERWORLD yet. From there, STRANGER is shown in an unreachable area near the R Key. This area can later be accessed through a ladder found in LAST RESORT's construction site.
After helping the lovesick CAPT. SPACEBOY in OTHERWORLD, the group still has no clues on BASIL's whereabouts. However, OMORI ends up discovering a trail of red footprints, which brings him and his friends to STRANGER, who is waiting for them. Without saying anything, STRANGER turns around and heads west. OMORI follows STRANGER into the CATTAIL FIELD but ends up getting separated from his friends.
The area has changed significantly, as it's populated with objects hinting at vague memories of SUNNY's past with his friends. He is also guided to the previously-locked CATTAIL BARN by STRANGER, which now has a red glowing light illuminated inside. Once OMORI enters the barn, he discovers a large pink photo frame, in which STRANGER vanishes right in front of it.
THREE DAYS LEFT
The following day, STRANGER once again manifests in various HEADSPACE locations to guide OMORI through the dreamy landscape. Near the entrance to the LOST FOREST, STRANGER can be encountered there if the player hasn't collected the W Key. Various STRANGERS also appear as passengers in VAST FOREST's TRAIN to ORANGE OASIS, and end up being turned into TOAST after the group vanquishes a lone DOROTHI.
After defeating SWEETHEART within her castle, a large hole is opened on the stage via detonation. Once SWEETHEART leaves with CAPT. SPACEBOY on their honeymoon, the group prepares to leave the place. However, OMORI senses an ominous presence behind him. Turning around, he sees STRANGER walking right into the hole. The group is then guided straight into the hole by the shadowy entity.
As the others disappear while falling down, OMORI enters LOST LIBRARY all by himself. If OMORI chooses to read all six library excerpts available in the library, a hidden piano room located southeast can be accessed. Inside that room, STRANGER is shown staring at the piano, not before turning around to face OMORI and silently vanishing as usual. Like with the LOST FOREST encounter, this can be shown if the W Key isn't collected yet.
STRANGER also appears behind the sliding glass door in SUNNY'S HOUSE, and vanishes when SUNNY approaches him.
TWO DAYS LEFT
As OMORI and his friends reach the end of their journey, STRANGER makes a few more appearances in HEADSPACE using the form of BASIL to guide the group. In DEEPER WELL, STRANGER can be found sitting on the swing that BRANCH CORAL is holding before vanishing. He later shows up at a walkway in MARINA's sector in HUMPHREY, staring at a disheveled FLOWER CROWN that once belonged to BASIL. Upon noticing OMORI and his friends approaching him, STRANGER disappears as they slowly forget about BASIL in the following cutscene.
Once the group collects all necessary HANGMAN Keys to progress, the surroundings of BASIL'S HOUSE become deathly and foreboding, and its floor caves in, revealing the entry to BLACK SPACE. When entering the disoriented house after going through the PATH TO BASIL, STRANGER is shown walking directly into the hole, with the intent of guiding OMORI to BLACK SPACE.
Many STRANGERS appear and walk around in BLACK SPACE; interacting with them will give OMORI one of many cryptic lines of text that relate to SUNNY's current situation. The STRANGER BASIL appears in several rooms, mostly to warn OMORI of something ominous in the background or presumably echoing thoughts from the real BASIL. STRANGER's last major appearance is within the CHURCH OF SOMETHING, in which his encounter there ultimately depends on the route the player is on.
SUNNY ROUTE
On TWO DAYS LEFT, various STRANGERS can be seen roaming around or hovering over the waters of NORTH LAKE as OMORI and MARI venture through that area. Most of them resemble people from SUNNY's past, and cannot be interacted with as going near them will cause them to immediately vanish.
By the time OMORI arrives in the CHURCH OF SOMETHING, STRANGER appears before him and says that it's about time that SUNNY finally faces the truth behind MARI's death before fading into the shadows. From this point on, STRANGER no longer appears to OMORI as his role in helping SUNNY break away from his unhealthy escapism habits as well as uncovering the truth has been completed.
During the aftermath of SUNNY's climactic fight against OMORI, STRANGER can be found one last time alongside the HEADSPACE versions of AUBREY, KEL, and HERO in the hospital. From there, STRANGER will lead SUNNY to where BASIL is recovering and disappears from there.
OMORI ROUTE
When OMORI reaches the CHURCH OF SOMETHING, he finds BASIL being held captive by the shadows. He slices them away to retrieve BASIL, only for the STRANGER to appear behind him and berate him for trying to evade the truth yet again. STRANGER disappears, leading to BASIL's SOMETHING fully materializing. The shadowy abomination then lunges at OMORI, causing the screen to distort violently.
Eventually, SUNNY is thrust into a fight against STRANGER in a pitch black void as it demands that SUNNY face it if he refuses to face the reality. The fight with STRANGER is unwinnable as SUNNY'S skills are all interrupted from the sheer stress of it all, and his regular attacks will do nothing. The STRANGER drowns SUNNY in despair, thrusting him into RED SPACE. With nowhere to go but forward, SUNNY collapses at the foot of the staircase to OMORI's throne of hands.
As OMORI steps forward to help SUNNY up, he sees the STRANGER in the black void one last time, who has given up hope in trying to convince SUNNY to change his ways. Without anything to do left, a single RED HAND appears and warps OMORI back to the CHURCH OF SOMETHING so that he and BASIL can finally escape back to HEADSPACE.
VARIANTS
STRANGER takes on the appearance of various characters that SUNNY knows from his childhood. The most prominent form it takes on is in the form of his best friend BASIL. Some of them appear to be of unknown identity or simply brief visions of past mirages.
BOSS BATTLE
For an in-battle description and boss quotes, see STRANGER (Enemy).
QUOTES
Stranger (Train)
Home is not here.

Here is not home.

Home is not where here is.

Here is not where the home is.

Here is not home, but where is home?

Home is not here, but where is here?

Home is not where here is.

Where is home?

Wandering Stranger Quotes
You are here again, DREAMER. To what do we owe the occasion? Are you running out of time?

The truth is difficult for you. In the past, it has caused you to stray to your destructive form.

Your current form subdues that... and although it is also evil... it may still be the better of the two.

This place has changed a great deal since you were last here. Will you be able to find your way back, or will you finally lose yourself?

Without KEYS of our own, we are forced to wander endlessly here. These doors will not open for us. We are not as fortunate as you.

Something was taken from here a long time ago... Where did you hide it? Only you know where it is now.

Why must you take that cursed form? It is indeed strong and can protect you... but if you rely on it too often... what you will sacrifice can never be reclaimed.

Has the flower boy lost his way? Here to save him again? How fortunate for him...

Redemption is hidden among one of these doors... but it will never open for you in that form. You will have to find another way in.

Behind these doors lie rooms made of scattered fragments, forever changing.

If you are lost, you need not worry. The red hands will guide you... and... the form you've taken... it cannot die here.

You have hidden yourself away again. Hopes, dreams, aspirations... do they mean nothing to you?

You may not be in control now... but do not lose hope, DREAMER. There are some who still believe in you.

With great power comes great burden... for yourself... and for the people closest to you. Who are you protecting? And... is it worth it?

I deeply wish that your friend's soul is born uncorrupted. We know too well what fate will befall him otherwise.

Please have mercy, DREAMER. The souls born here may never materialize, but their screams still echo through the ground.

The flower boy who is closest to the truth... whose eyes glow an eerie red. I have seen what you've done to him before... and pray that you don't find him again.

Stranger (Black Space Areas)
Stranger (Pain Room)
These rooms... are full of broken things... but at least in here, I can see who you really are.

The world that you created above this one... Did you make it to protect this place or to hide it away?

Either way... it's become more powerful than you.

Stranger (Disco Room)
Lost in this confusion lies the root of everything.

The truth that you've locked away... You must find it no matter what.

You have to... for the both of us.

Stranger (Town Area)
When you hid the truth, you sealed a part of me away with it.

He's been waiting for someone to save him all this time.

On that day... When you became nothing... I was split in half. Which one do you think was more painful?

Stranger (Beach Area)
Our friends who have suffered because of us. Can we still call them friends?

No matter how much I want it, things can't go back to the way they were before.

But why does part of me still cling on?

Is there still hope left for us, SUNNY?

Stranger (Rain Area)
I miss you, SUNNY. You were always someone I could depend on to listen.

My problems... my hopes... my dreams... You knew them all.

So if you're still there... please let my words reach you one more time.

Stranger (Fishbowl Area)
Back then... I wanted to save what was left.
But even after everything... you left me, SUNNY...

I waited so long for you to come back.

Even seeing you now... It's hard to think straight. I can feel my heart hurting and I want to cover my face and hide.

There are so many things I want to say to you... but the words won't come out.

I just... I waited so long for you to come back, SUNNY... but... you never did.

Stranger (Bed Area)
For so long, you kept the truth shut out.

But something made it slip.

And the hole that was made... It won't stop spreading until you find the root of it all.

The one that has seen the truth... Will you guide me to him, SUNNY?

Stranger (Church of Something)
SUNNY... the truth is here.

You've been running from this for so long.

But this time, we can face it together.

SUNNY... You've been running away from the truth for so long... How long will you keep running?

I won't let this cycle repeat itself...

I... I won't let you leave me, SUNNY...

Not again.

Stranger (Before and After Boss)
Stranger (Pre-Boss)
SUNNY...

If you won't face the truth... then face me.

Face the suffering you've caused for the people you love...

The pain of knowing what you've lost...

And the hatred of yourself for being too cowardly to change anything about it...

Let those feelings devour you here... until your insides rot.

Stranger (Post-Boss)
So you've chosen to live that way. I wonder... Can you really call that living?

Leave me here. There's no hope left for me.

GALLERY
IN-GAME
BOSS
ARTWORK
TRIVIA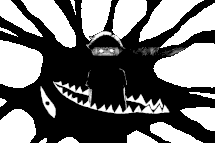 The STRANGER that resembles BASIL is sometimes referred to as SHADOW BASIL in the game's files.
In the ABANDON ENDING of the OMORI ROUTE, if the WTF value is set to 13, the STRANGER movers will instead be replaced with the actual shadowy variants seen in HEADSPACE.
During the PROLOGUE and THREE DAYS LEFT segments, if SUNNY wakes up at night and leaves his room, when re-entering it, there is a 10% chance that a large looming STRANGER can briefly appear on the wall.

The same STRANGER also appears within a fascimile of SUNNY's room in the hidden MARI IS HOME location. Unlike the one rarely encountered in SUNNY'S HOUSE, this STRANGER will continue to stare at the player from above without vanishing at all.

When brightening the portrait and boss sprites, STRANGER is shown crying. This is most likely since STRANGER shares the same appearance and boss sprites with RW BASIL but darkened.
When OMORI confronts STRANGER to "protect" SUNNY near the end of the shadowy entity's boss fight, STRANGER's torso is entirely bisected, leaving endless drips of blood pouring down on the floor.

This presumably alludes to the real BASIL committing suicide offscreen during the OMORI ROUTE's ending, evident by the ambulance noises heard during the ABANDON ENDING.
During the NORTH LAKE segment on the SUNNY ROUTE, a few events involving STRANGER can occur depending on the WTF Value:

If the WTF Value is set greater than or equal to six, in the ABANDONED HOUSE interior (houses off the CURRENT MAP to the left of the dock with MARI), the STRANGER BASIL appears for 19 frames when leaving the room.
If the WTF Value is set greater than or equal to eight, a STRANGER resembling BASIL'S GRANDMA's unused HEADSPACE counterpart will appear in the CURRENT MAP (go to the left immediately on the dock with MARI and swim to the left) on the 2nd island to the right. She will constantly turn around to face OMORI and MARI, just like her grandson on THREE DAYS LEFT of the SUNNY ROUTE.

Within THE DOCKS, STRANGER briefly appears staring at the poorly drawn house that leads to the CORRUPTED JUNKYARD and near the entrance to LOST AT SEA. These events are rather hard to see due to the area's poor lighting but can be seen more clearly via the RPG Maker MV project.
The wandering STRANGERS in the BLACK SPACE hub use KEL's form, as shown in the game's data.
SITE NAVIGATION