Jurassic World: Dominion Dominates Fandom Wikis - The Loop
Play Sound
TRAIN STATION is a location found within the west area of VAST FOREST in OMORI. It is VAST FOREST's local train station connected to ORANGE OASIS.
GEOGRAPHY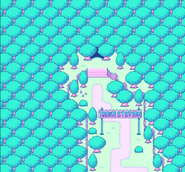 The train station can be accessed through VAST FOREST. During the prologue, the station is filled with characters waiting in line for the train. MR. OUTBACK prevents OMORI from walking close to the train and LEMON JASH doesn't allow the group to budge and get a lemonade.
There are also various characters that OMORI and friends can interact with. It is until after completing the PROLOGUE by defeating SPACE EX-BOYFRIEND shall this area become almost entirely empty. This also means that the party is able to board the TRAIN to ORANGE OASIS by using the TRAIN PASS from CAPT. SPACEBOY himself.
An unused line from the NPC known as MEGAPHONE reveals that there were originally more trains that used to run through the forest but currently there is only one train available for denizens to use.[1]
CONNECTED LOCATIONS
GALLERY
TRIVIA
If the player returns to the TRAIN STATION after defeating SPACE EX-BOYFRIEND during the PROLOGUE, they find a disguised SWEETHEART complaining to the LEMON JASH about waiting for a long time to visit her family in ORANGE OASIS.[2]

This encounter was originally a mandatory cutscene in the 2018 demo before entering OTHERWORLD, in which SWEETHEART unintentionally gave the party hints of where she left her TRAIN TICKET.

The 2018 demo originally had a hidden ending in this area. If the group chooses to wait in line and do nothing for a total of five hours, this will end the demo with OMORI and friends taking the train, and eventually finding BASIL offscreen.[3]
REFERENCES
↑

MEGAPHONE: A lot of trains used to run through this forest, but there's only one now.

↑ ???: What tomfoolery is this!? I demand you let me see my family at once!
LEMON JASH: Do I look like a "TOM" to you? Screaming in my ear ain't gonna make the train run any faster, lady.
SITE NAVIGATION