SPOILER WARNING

This article contains spoilers of important plot details regarding the plotline of OMORI.

---
WHITE SPACE

BGM
MAIN
PIANO


WHITE SPACE is a location in OMORI. It is the the room/area in which OMORI primarily lives/exists. WHITE SPACE is the opposite variation of BLACK SPACE.
GEOGRAPHY
OMORI starts off inside of WHITE SPACE. A LAPTOP, SKETCHBOOK, TISSUE BOX, LIGHTBULB, DOOR, and MEWO are immediately in view. Everything is bright white; there aren't any walls. A black lightbulb hangs from the ceiling. There's a floor but it's always cold.
Traveling outside of the room in WHITE SPACE spawns RED HANDS that will follow OMORI. Coming into contact with RED HANDS or with the outer extremities of WHITE SPACE will cause the game to fade out and send the player back to the center of the room.
STORY
BACKGROUND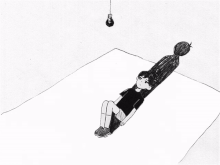 After the death of MARI four years ago, SUNNY's repression of the truth began with the creation of WHITE SPACE, as well as his alter ego OMORI. The BRANCH CORAL from DEEPER WELL describes it as "an emptiness, a home without warmth. A place to survive, but not to live." Serving as the one constant of the HEADSPACE (if one can even call it part of the HEADSPACE), WHITE SPACE serves as a safe-if-sad place for SUNNY/OMORI to escape from harsh reality and responsibility.
SUNNY's desire to keep himself safe via escapism became strong enough to create an imaginary world known as HEADSPACE. From there, SUNNY could relive happier times with the dream versions of his friends while exploring HEADSPACE on every occasion.
The only thing that ever changes is the LIGHT BULB, a curious object filled with pitch-black darkness instead of light. If a lit lightbulb represents "the birth of an idea", then a black lightbulb is "the repression of an idea" -- it serves as a visual metaphor of SUNNY's repression of the truth, and its darkness pulses stronger the more the truth begins to leak out in the HEADSPACE, often in the form of SOMETHING.
WHITE SPACE is where SUNNY takes on the form of OMORI to explore HEADSPACE, and for much of the game this and its nature as a safe place are the only purposes WHITE SPACE serve for the plot. However, even after SUNNY manages to find a short lived peace, his mind continues to plague him with reminders of the truth. But as the game nears its end, WHITE SPACE gains more significance.
PROLOGUE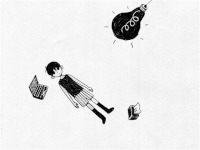 The game opens with OMORI standing in WHITE SPACE. He checks his laptop, sketchbook, tissues, and talks to MEWO before hearing "Something fell nearby." He then finds a SHINY KNIFE, which he can equip as his default weapon. The door to the NEIGHBOR'S ROOM, and by extension, the rest of HEADSPACE can be opened, starting OMORI's adventures with his friends.
As OMORI reaches points in his adventures that bring him uncomfortably close to the awful truth, he will be abruptly pulled back into WHITE SPACE with no companions or any way out. The only way forward is to pick the STAB option to force SUNNY to awaken.
SUNNY ROUTE
In most cases, the player takes control of OMORI while entering WHITE SPACE. After SUNNY has reconnected with all of his friends in FARAWAY and found the strength to face his fears, the player is suddenly controlling SUNNY within WHITE SPACE while a separate OMORI watches and shows no apparent desire to fuse with SUNNY this time.
With no door to HEADSPACE present in this case, the only option is to inspect the LIGHTBULB. Feeling ready to confront the truth, SUNNY smashes the LIGHTBULB on the floor and ends his repression, to the shock of OMORI -- SUNNY is then expelled from WHITE SPACE and thrown straight into BLACK SPACE, where he has his final confrontation with SOMETHING.
Following his ill-fated meeting with BASIL in reality, and after reliving his favorite moments through MEMORY LANE, SUNNY finds himself within WHITE SPACE again. What few objects were within WHITE SPACE before are gone, leaving only the border of the room, the cord that used to hold the LIGHTBULB, and OMORI himself who stares at where it used to be. As OMORI turns to face SUNNY, the border and cord vanish, leaving only SUNNY and OMORI in an empty white void as the two begin to fight for control over SUNNY's mind.
If SUNNY falls but fails to persevere, OMORI takes control of SUNNY's mind and finds himself in WHITE SPACE once again. He leaves for the NEIGHBOR'S ROOM again, but his adventures are cut short as he has seized control of SUNNY's body and hurls himself off the hospital balcony.
If SUNNY perseveres, OMORI falls into his arms and fades away. SUNNY, with his newfound strength, takes one final bow as he leaves WHITE SPACE for good and prepares to come clean to his friends.
OMORI ROUTE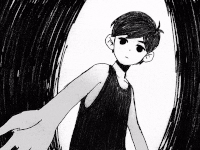 Should SUNNY completely ignore the real world outside of his house on all three days, they will have no desire to find the truth, and thus OMORI will have no reason to be hostile. SUNNY is accosted by SOMETHING as he sleeps, but OMORI saves him and they fuse -- this time permanently as OMORI takes full control of SUNNY's mind.
WHITE SPACE in this case has a couple of subtle changes. The LAPTOP will now serve as a portal to an altered BLACK SPACE, and the LIGHT BULB will continue to pulse erratically with darkness -- but if OMORI and his friends defeat the three major SOMETHINGs in the LOST LIBRARY, the LIGHT BULB's pulsing will cease. The player also gets a very useful skill in WHITE SPACE, known as RED HANDS.
INTERACTIVES
DESCRIPTION
A tissue box for wiping your sorrows away.
A lightbulb hangs from the ceiling, wherever it is. Look into the lightbulb?

YES: It's pitch black inside. You can't see a thing.

You booted up your laptop. What would you like to do?

STARE AT THE SCREEN: You stared at the screen.
OPEN YOUR JOURNAL: (File:Ws_laptop_journal.png)
LOG OFF: The heat from the laptop warmed your lap. It felt nice.

Your sketchbook. Take a look inside?
A white door casts a faint shadow. What would you like to do?

OPEN THE DOOR:
DO NOTHING: You stared at the door.
GALLERY
IN-GAME
SKETCHBOOK
CONNECTED LOCATIONS
TRIVIA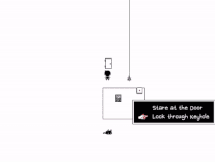 WHITE SPACE was first created for the original OMORIBOY blog. Containing essentially the same items in the game, the only things that did not carry over into the final version are a window and a blanket.
The layout of WHITE SPACE is exactly same as MARI's picnic. The same could be said for BLACK SPACE.
On TWO DAYS LEFT, the player can encounter brief visions of MARI's spirit in the empty space around WHITE SPACE. If found 3-4 times total, she will briefly turn into SOMETHING before disappearing with an ominous noise playing in the background.
If the player does not move in WHITE SPACE for 2 minutes, OMORI will sit down in place.
In the 2017 trailer, there was originally an option to look through the keyhole when interacting with the door. Doing so will lead to short glimpse of KEL smiling back at OMORI. This feature was removed from the full release for unknown reasons.
SITE NAVIGATION